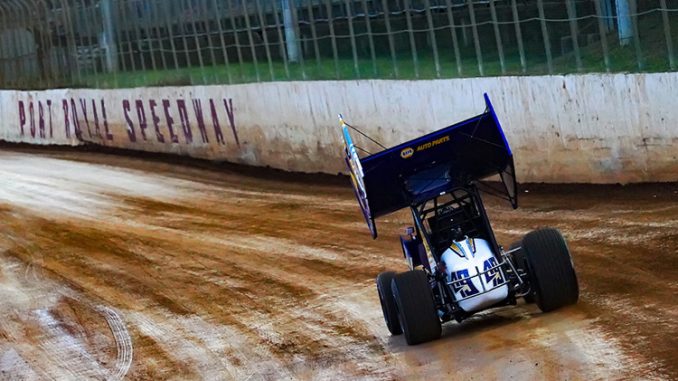 By Alex Nieten
PORT ROYAL, PA (Sept. 8, 2023) – Port Royal Speedway will host the final round of the World of Outlaws versus PA Posse battle this year during the Nittany Showdown doubleheader, Oct. 6-7.
World of Outlaws NOS Energy Drink Sprint Car Series stars will face the best local talent from around Pennsylvania for two straight nights with Friday night's race paying $10,000 to win and Saturday's finale paying $15,000 to win.
Pennsylvania's Anthony Marci led the PA Posse charge at the Nittany Showdown last year, sweeping the weekend – his first two World of Outlaws victories. He's also the only PA Posse driver to have won a World of Outlaws race this year with his win at Lincoln Speedway in May. However, Marci won't be behind the wheel of his family's #39M car at Port Royal for his repeat attempt.
Ten-time World of Outlaws champion Donny Schatz has the most World of Outlaws victories at the track with four (2004, 2017, 2018, 2019). Kyle Larson is the closest behind him with three, including his win at the track in July of 2022.
The World of Outlaws have the upper hand on the PA Posse this year, having won three of the Pennsylvania events (Brad Sweet at Williams Grove Speedway in May, David Gravel at BAPS Motor Speedway in July and Logan Schuchart at Williams Grove in July).
What you need to know:
More Event Info
Track: 1/2 mile in Port Royal, PA
Track Record: 14.868 seconds by Brian Brown on Oct. 10, 2018
Times (ET):
Friday
4 p.m. Pit and Grandstand Gates Open
6:30 p.m. Hot Laps/Qualifying
-Racing to follow
Saturday
1 p.m. Pit and Grandstand Gates Open
5:30 p.m. Hot Laps/Qualifying
-Racing to follow
*Times subject to change with Flex Schedule
Tickets: Available HERE
Last Race Video Recap (8/8/22):

Previous Winners:
2022 –Kyle Larson on July 20, Anthony Macri on Oct. 7 & Oct. 8
2021 – Kerry Madsen on Oct. 8, Spencer Bayston on Oct. 9
2020 – Kyle Larson on Oct. 9, Kyle Larson on Oct. 10
2019 – Donny Schatz on Oct. 25
2018 – Donny Schatz on Oct. 28
2017 – Donny Schatz on Oct. 14
2016 – Logan Schuchart on Oct. 15
2015 – Brad Sweet on Oct. 24
2014 – Ryan Smith on Oct. 25
2004 – Donny Schatz on Sept. 29
2003 – Jason Meyers on Oct. 2
2002 – Brad Furr on Sept. 29
2001 – Danny Wood on Sept. 27
1987 – Doug Wolfgang on May 27
1986 – Don Kreitz, Jr., on May 28
1979 – Lynn Paxton on July 25
If you can't make it to the track, you can watch all the action live on DIRTVision.
The World of Outlaws NOS Energy Drink® Sprint Car Series is brought to fans across the country by many important sponsors and partners, including: NOS Energy Drink (Official Energy Product), CASE Construction Equipment (Official Construction Equipment), CASE No.1 Engine Oil™ (Official Oil and Lubricant), DIRTVision (Official Live Broadcast Partner), Hoosier Racing Tire (Official Tire), iRacing (Official Online Racing Game), Racing Electronics (Official Radio Supplier), Simpson Performance Products (Preferred Safety Gear Partner), SIS Insurance (Official Insurance Provider), Toyota (Official Vehicle), and VP Racing Fuels (Official Racing Fuel); contingency sponsors include ACME Trading, ARP (Automotive Racing Products), Cometic Gasket, COMP Cams, Federated Auto Parts, KSE Racing Products (Hard Charger Award), Lifeline USA, Low-E Insulation, Micro-Lite LLC, Milton Hershey School, MSD, Smith Titanium Brake Systems, and Whiskey Myers; manufacturer sponsors include, FIREBULL, Intercomp, and Sea Foam.
Founded in 1978, the World of Outlaws®, based in Concord, NC, is the premier national touring series for dirt track racing in North America, featuring the most powerful cars on dirt, the World of Outlaws NOS Energy Drink Sprint Car Series and the World of Outlaws Late Model Series. Annually, the two series race nearly 140 times at tracks across the United States and Canada. CBS Sports Network is the official broadcast partner of the World of Outlaws. DIRTVision® also broadcasts all World of Outlaws events over the Internet to fans around the world. Learn more about the World of Outlaws.