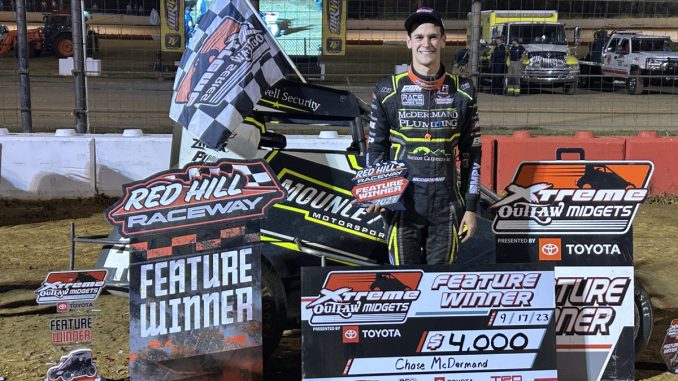 By Jordan Delucia
SUMNER, IL (Sept. 17, 2023) – With the season winding down, Chase McDermand is heating up at exactly the right time.
The 23-year-old from Springfield, IL, notched his second Feature win in two races with the Xtreme Outlaw Midget Series presented by Toyota Sunday night in Midget racing's return to Red Hill Raceway for the first time in 20 years, passing Taylor Reimer early on and holding off all challenges to score his sixth Series victory of the year.
The win comes in he and Mounce/Stout Motorsports' time of great need as they continue to mount a late-season push for the Series championship. Coming into the weekend 118 points out of first place, a perfect night gone wrong in the Feature on Friday set them back to 150 points down.
After wins on Saturday and Sunday, McDermand now sits 100 points out with three races left and a shot at the points title. Despite the steep deficit, he's still keeping the faith.
"It's better late than never, I guess," he said with a chuckle about his late-season success. "We just try to carry as much momentum as we can when we have it. In racing, sometimes it's kind of hard to grasp that momentum, and you've gotta cling to it as much as you can for as long as you can. You just never know how long it's gonna be with you."
The momentum was running high on Sunday as the field took to the fast, 4/10-mile of Red Hill Raceway for 25 laps. From the outside pole, Reimer jumped out to the early lead and looked to be in contention for her first win of the season, but McDermand was quickly on her trail.
From sixth on the grid, McDermand had jumped all the way to second in only three laps. Reimer was never able to completely break away from the field, and by Lap 7, McDermand was right on her heels.
He looked high, he looked low. McDermand tried multiple different avenues to get around the #25K but was finally able to make the move after Reimer stumbled out of Turn 2 on Lap 10. McDermand swung it down low off the corner, drag raced her down the backstretch and threw a slide job into Turn 3 to take the spot.
"I had a good enough run down the backstretch," McDermand said. "It took a couple of times for me to get the right line in Turns 3-4 to be able to pull the pass off completely."
"It's so tough [leading] on tracks that are this big – it's all about momentum," Reimer said. "Turns 1-2, you definitely need to be around the top. I didn't know that because I was out front, so it's kinda hard to gauge where you need to be."
Reimer did not go away quietly, however. She moved up to the top lane and caught back up to McDermand, hounding him for several laps, but was unable to find the speed she needed to make the pass.
"I just didn't have the momentum that he did in the drive off," Reimer said.
McDermand soon put Reimer in the rearview and drove the rest of the caution-free main event unchallenged to bag his third back-to-back victory of the season. Each of his six wins this season have come in back-to-back form, in three different states – Kansas in May, Pennsylvania in August and now his home state of Illinois in September.
Six wins gives McDermand sole possession of the winningest driver on tour this year and ties him with Jade Avedisian as the Series' all-time winnigest driver at seven career victories. The wins keep coming, and his confidence keeps rising as the team heads into championship weekend in Oklahoma next month.
"We just have to focus on winning, and that's no different than any other race," McDermand said. "We always show up to win, but if you're able to win, it takes care of the rest. You know you've done all you can do."
Reimer crossed the stripe with the runner-up spot, but not without a strong challenge from Zach Daum in the final laps. Daum came from seventh on the grid and found his bread-and-butter lane on the bottom, catching all the way up to Reimer and nearly passing her in the final laps.
Despite the pressure, Reimer was able to hold off the defending champion for her seventh podium finish of the season. Though she's not in contention for the points championship, she is focused on winning her first race this year as the season wraps up next month in her home state of Oklahoma.
"I know we have the car and I have the ability to win, it's just whether or not I'm able to put together a whole night," Reimer said. "I'm looking forward to getting back to my home track at Port City. It would be really awesome if I could get a win there; it would mean a lot to me."
Daum crossed the stripe in third to collect his ninth top-five finish in the last 10 Series races. Jade Avedisian crossed in fourth – two spots ahead of Cannon McIntosh – giving her sole control of the Series points lead by 11 heading into championship weekend, where she'll aim to clinch her first national Midget championship with Keith Kunz Motorsports.
NEXT RACES
Championship weekend for the Xtreme Outlaw Midget Series consists of a three-race weekend in Oklahoma, starting with a trip to Port City Raceway on Thursday (Oct. 12), and the final two races at I-44 Riverside Speedway on Friday-Saturday (Oct. 13-14). All three races will be co-sanctioned with the POWRi National Midget League, who will also crown a season champion along with an Xtreme Outlaw-POWRi Challenge Series champion on Saturday night.
Tickets for all three events will be available at the gate on race day. If you can't be there to watch in person, stream every lap live on DIRTVision.
ABBREVIATED RESULTS (view full results)
Feature (25 Laps): 1. 40-Chase McDermand[6]; 2. 25K-Taylor Reimer[2]; 3. 7U-Zach Daum[7]; 4. 71-Jade Avedisian[4]; 5. 97-Gavin Miller[5]; 6. 08-Cannon McIntosh[3]; 7. 1K-Brayton Lynch[1]; 8. 7X-Thomas Meseraull[8]; 9. 97K-Cooper Williams[10]; 10. 81-Dekota Gay[11]; 11. 19AZ-Hayden Reinbold[9]; 12. 31K-Alex Midkiff[12]; 13. 31B-Kyle Beilman[13]
The Xtreme Outlaw Midget Series is brought to fans by important sponsors and partners, including: DIRTVision (Official Live Broadcast Partner), Toyota (Title sponsor of the Midgets Series), Racing Electronics (Official Radio Supplier) and SIS Insurance (Official Insurance Provider). Other partners include: TJ Forged and Whitz Racing Products.