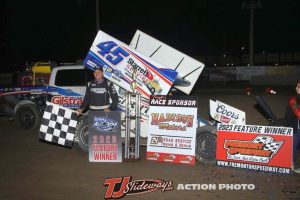 Kyle Reinhardt has been running at or near the front most nights since taking the wheel of the Grove Racing No.45. He had led laps, but thus far a win had eluded him.
When a team has consistent speed like the Reinhardt/Grove combination has, sooner or later they will break through. They did just that at Fremont Speedway's Jim and Joanne Ford Classic.
QUICK RESULTS
DATE: September 15, 2023
Info: Grove Racing No.45 / All Star Circuit of Champions
Event: Jim & Joanne Ford Classic Opener
Track: Fremont Speedway
City, State: Fremont, OH
Quick Stats: 44 cars, Qualifying 2nd in Group D, Heat 1st (1), Dash 4th (6), A-main 1st (4)
DATE: September 16, 2023
Info: Grove Racing No.45 / All Star Circuit of Champions
Event: Jim & Joanne Ford Classic Finale
Track: Fremont Speedway
City, State: Fremont, OH
Quick Stats: 42 cars, Qualifying 2nd in Group B, Heat 1st (1), Dash 5th (5), A-main 2nd (5)
LAST LAP DRAMATICS
Reinhardt got his team's weekend off to a solid start by qualifying 2nd quickest in his group, which put the Grove Racing, Capitol Renegade, Bakers Mobile Home Transport, Coors Banquet Beer, Henry's Wrecker Service No.45 on the pole for the heat race. He then led that race wire to wire to put himself in the Dash.
The redraw handed Reinhardt the 6th starting spot in the 6-lap dash. The Neptune City, NJ native managed to make some progress by advancing to a 4th place finish, which meant a second row starting spot for the 30-lap A-main.
Reinhardt charged into the 2nd position on the opening lap and pursued leader Parker Price Miller throughout the first half of the race. The pair navigated their way through traffic, with Reinhardt looking for the right opportunity to slip by and take command. On lap fourteen he led at the line, but Price Miller battled back to lead the next lap by just a few feet.
Reinhardt took command again on lap sixteen and remained out front until late in the race when Price Miller slipped by with three laps remaining.
Reinhardt wasn't done. He built up momentum on the high side on the final lap and beat Price Miller to the line by 0.094 seconds to take the $6,000 victory.
"I knew I had a great car from the start. Bryan (Grove) and I talk about it every race, you have to be in the dash to put yourself in position to win these races. We've been doing that.", Reinhardt said. "Everybody is so good, so getting two spots in the dash tonight was huge."
"Picking up two spots on the start of the feature allowed me to be patient behind Parker (Price Miller). I was trying to wait for the right opportunity in traffic and it worked out perfectly for me. I kind of gave it back to him there late. I didn't know how many laps were left until I saw the white, so I knew I had to get up on the wheel and get it done."
GOING FOR THE SWEEP
Saturday night Reinhardt was back at Fremont Speedway to go after the Jim and Joanne Classic weekend sweep, and it certainly looked like he was up to the task.
Once again, he timed 2nd quickest in his group and won his heat race from the pole to put the Grove Racing No.45 into the dash. He started 5th in the dash, slipped backwards two spots, then battled back to finish 5th.
Starting inside row three for the 40-lap finale, Reinhardt moved into the 4th spot on lap four and settled in there for the next twenty laps.
With the top five running close together in heavy traffic, Reinhardt's patience paid off. He took advantage of an opening on the low side of turn four, quickly darting into the runner up spot. Over the final fifteen circuits, he gave chase to leader Zeb Wise, nipping at his heels and pulling alongside on several occasions.
Despite a caution with two laps to go that provided a restart opportunity for Reinhardt, he was never able to wrestle the lead away from Wise and finished 2nd, missing the weekend sweep by just 0.958 seconds.
"I can't thank my guys enough. Chris (Shuttlesworth) and all the 45 guys have been working really hard and it shows.", Reinhardt said.
"I got under Zeb (Wise) one time, but he did what he needed to do to keep the position and it broke my momentum."
Reinhardt did not want to see the final caution with two laps remaining.
"He (Wise) doesn't know it, but he's lucky that caution came out because I had my momentum back and was rolling pretty good.", Reinhardt said with a smile.
Sponsorship opportunities are available for the 2023 season.
Kyle can be contacted via kylereinhardt46@gmail.com.
UP NEXT
Reinhardt and the Grove Racing No.45 team will compete with the All Star Circuit of Champions at Eldora Speedway Saturday, September 23rd, at the 4-Crown Nationals.
Follow Reinhardt's social media channels listed below or check Addicted2DirtPR.com/Events for the latest schedule updates.
SEASON STATS
49 races, 2 wins, 10 top 5's, 27 top 10's, 34 top 15's
PARTNER SPOTLIGHT
Capitol Custom Trailers & Coaches is your premier dealer for Renegade, inTech and Bravo.
We have something for any budget and any venue. Capitol has become the leader in new innovative ideas and changes to the Renegade brand. Through our own experiences as Racers and Custom and Antique car collectors we have added many new designs to the product.
Our goal is to not only sell you the product that you want, but to see you through the entire ownership experience and then be there when you want to purchase your next. For 80 years, our business success has endured by this same formula.
When you are considering all your purchase options how many others can truthfully say that and back it up with their actions? Whether you are a Circle Track racer, Drag Racer, Road Racer, Custom or Antique Car Collector, Motorcycle Rider or a Luxury Motorcoach enthusiast, come in and visit to see for yourself what we are all about.
You will not be disappointed!
View our online showroom at CapitolRenegade.com and join the Renegade Life!