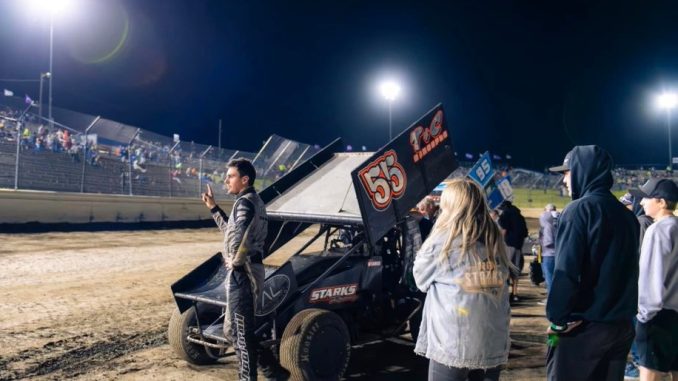 Inside Line Promotions
PUYALLUP, Wash. (Oct. 16, 2023) – Trey Starks delivered another championship season in 2023.
Starks was dominant for the second straight year at Skagit Speedway in Alger, Wash., where eight of his nine triumphs this season occurred. Six of those victories were in the 410ci winged sprint car division, leading Starks to back-to-back titles at the dirt track.
"We've never thought of ourselves as points racers so it's a little different," he said. "It's really just go out and try our best to win. The points fund and program they have at Skagit is so good it's hard to ignore it. It's tough to get back-to-back wins or just wins in general let alone championships so it's special for me to be a track champion again."
Starks recorded a pair of 360ci winged sprint car wins at the track. Despite missing multiple races, Starks placed fifth in the driver standings and his team ended third in the owners standings after having a race car at the track during the shows Starks missed.
Starks' lone win away from Skagit Speedway came during the Prelude to WoO event at Grays Harbor Raceway in Elma, Wash. It kicked off a string of four victories in the final five races of the season, including two during the Skagit Speedway season finale.
"Winning both nights of the finale at Skagit was a cherry on top of the season," he said. "That was pretty cool. You don't get many opportunities to run two cars so to win both the same night is special.
"I think it was a really good year. We had some highs and some lows, but we finished the season really strong. We're still looking for more speed or more luck or more of everything at the big races, but as far as our general speed throughout the year I was really happy with it. I liked our progression with the 410. We definitely made some strides there. We had some bad luck with the 360 at the beginning of the year, but we started to hit our stride by the end of the year."
SEASON STATS –
29 races, 9 wins, 19 top fives, 20 top 10s, 25 top 15s, 26 top 20s
MEDIA LINKS –
Website: http://www.StarksRacing.com
Twitter: https://twitter.com/Starks55Trey
Facebook: https://www.facebook.com/TreyStarksRacing?fref=ts