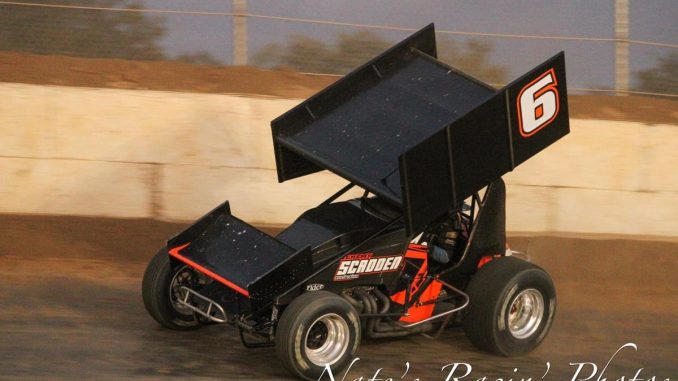 By Bryan Hulbert
LOXLEY, Ala. (October 27, 2023) Amassing a field of 33 cars on Friday night at Deep South Speedway, the ASCS Hurricane Area Super Sprints kicked off the opening night of Halloween Havoc with Indiana's Zane DeVault rolling into Victory Lane.
Zane's first career ASCS-sanctioned victory, the win is his fifth overall triumph on the season in just as many states.
Leading start to finish over the 25-lap affair, a late race caution was not enough to deny the victory, as DeVault jettisoned the Jeremy Scadden Construction/J&J Chassis No. 6z to a 4.078-second victory over Koty Adams.
Dale Howard crossed third, with Sammy Swindell moving 10th to fourth. Michael Miller completed the top five. Ohio's Max Stambaugh was sixth, followed by Brad Bowden from 14th. Terry Gray, Lane Whittington, and Chase Howard made up the top ten.
The ASCS Hurricane Area Super Sprints wrap up their 2023 season at Deep South Speedway on Saturday, October 28. Tickets are $20 for adults, $15 for seniors and military, $13 for youth (8-13), and free for kids seven and under. Pit Passes are $35. For more information, find the Deep South Speedway on Facebook or log onto https://deepsouthspeedway.org.
The ASCS Hurricane Area Super Sprints is under the direction of Stefen Oakes. For questions regarding rules, procedures, and events, contact Stefen Oakes at bigshowmotorsports@yahoo.com or call (985) 285-9177.
The 2023 season will mark the 32nd year of competition for the American Sprint Car Series. Spearheaded by the American Sprint Car Series National Tour, the ASCS Nation includes Regional Tours that encompass both wing and non-wing competition.
For other news, notes, and information on any of the tours under the ASCS banner, log onto http://www.ascsracing.com, follow on Facebook, Instagram, and Twitter (@ASCSRacing).
Race Results:
ASCS Hurricane Area Super Sprints
Deep South Speedway (Loxley, Ala.)
Friday, October 27, 2023
Heat 1 (8 Laps): 1. 47-Dale Howard[2]; 2. G6-Brandon Grubaugh[3]; 3. 4M-Michael Miller[6]; 4. 44-Ronny Howard[9]; 5. 121-Butch David[1]; 6. 5711-John Robicheaux[4]; 7. 57-Levi Beard[7]; 8. 56T-DL (Tank) Brashier[8]; 9. 83-Blake Carrier[5]
Heat 2 (8 Laps): 1. 13-Chase Howard[2]; 2. 6-Koty Adams[5]; 3. 8-Brad Bowden[1]; 4. 47S-Sammy Swindell[7]; 5. 01-Shane Morgan[6]; 6. 28S-Rusty Sanford[8]; 7. 77-David Mabry[3]; 8. 61-Sean Wimpee[4]
Heat 3 (8 Laps): 1. 71H-Max Stambaugh[1]; 2. 10K-Dewayne White[2]; 3. 132-Jamie Manley[3]; 4. 18-Paul Jones[4]; 5. 27-Chase Wood Jr[6]; 6. 67-Blake Mallette[5]; 7. 21-Todd Bliss[7]; 8. (DNS) 1A-Lee Moore
Heat 4 (8 Laps): 1. 6Z-Zane DeVault[3]; 2. 10-Terry Gray[1]; 3. 9-Lane Whittington[6]; 4. 13X-Jake Brashier[2]; 5. 56-Jeff Smith[7]; 6. 6BLACK-Chase Wood Sr[4]; 7. 88-Brandon Blenden[8]; 8. 2H-Tommy Hall[5]
B Feature 1 (12 Laps): 1. 01-Shane Morgan[1]; 2. 88-Brandon Blenden[4]; 3. 13X-Jake Brashier[2]; 4. 121-Butch David[3]; 5. 6BLACK-Chase Wood Sr[5]; 6. 21-Todd Bliss[6]; 7. 56T-DL (Tank) Brashier[7]; 8. 61-Sean Wimpee[8]; 9. 132-Jamie Manley[9]
B Feature 2 (12 Laps): 1. 28S-Rusty Sanford[2]; 2. 27-Chase Wood Jr[1]; 3. 57-Levi Beard[5]; 4. 2H-Tommy Hall[7]; 5. 67-Blake Mallette[3]; 6. 77-David Mabry[6]; 7. 5711-John Robicheaux[4]; 8. (DNS) 83-Blake Carrier
A Feature (25 Laps): 1. 6Z-Zane DeVault[1]; 2. 6-Koty Adams[2]; 3. 47-Dale Howard[3]; 4. 47S-Sammy Swindell[10]; 5. 4M-Michael Miller[6]; 6. 71H-Max Stambaugh[8]; 7. 8-Brad Bowden[14]; 8. 10-Terry Gray[12]; 9. 9-Lane Whittington[7]; 10. 13-Chase Howard[4]; 11. 10K-Dewayne White[11]; 12. 01-Shane Morgan[17]; 13. 88-Brandon Blenden[19]; 14. 132-Jamie Manley[13]; 15. 28S-Rusty Sanford[18]; 16. 121-Butch David[23]; 17. 2H-Tommy Hall[24]; 18. 56-Jeff Smith[15]; 19. 57-Levi Beard[22]; 20. 13X-Jake Brashier[21]; 21. 44-Ronny Howard[5]; 22. 27-Chase Wood Jr[20]; 23. 18-Paul Jones[16]; 24. G6-Brandon Grubaugh[9]