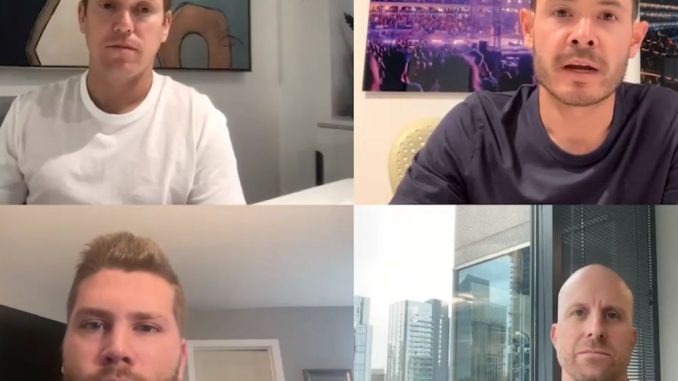 By T.J. Buffenbarger
After absorbing everything from the High Limit Sprint Car Series press conference and having a night to sleep on it, I have some thoughts on the information received in that meeting along with some other conversations and analysis I've done over the past 24 hours.
• Officials from the High Limit Series and myself will never agree on their series being good for the entire sport of sprint car racing. That opinion does not blind me to the observation that if I had the same ambitions and intentions as Sweet, decommissioning the All Star Circuit of Champions is a good tactical move.
With the United Sprint Association and the National Sprint Tour, the All Stars were always there to provide drivers who wanted to race at a very high level, even for a living in some cases, an avenue that may have paid less than the World of Outlaws but offered less travel and some other upsides depending on that person's point of view.
Eliminating that option from the marketplace makes the High Limit Series much more appealing to race teams looking for things such as a point fund, tow money, and other perks a team may not receive by just picking and choosing races.
If the All Stars were still in existence, following the High Limit Series to places like Texas, Washington, and California would be far less appealing. Getting hold of the All Star name might be in some ways one of the best tools the High Limit Series can use to ensure success during their first season breaking out of their original mid-week specials model.
There are a lot of things I do like about the High Limit Series such as the traveling safety crew, the desire to hold track safety as a higher priority, the potential multiple double header programs with the Lucas Oil Late Model Series, and some of the people that have chosen to work with them shows me they are willing to go out and try to obtain the best people to manage their product.
As I said above, getting my buy in for this being good for the sport in the short term is something High Limit officials and I will just agree to disagree on, because in my eyes this benefits a select few and is bad for winged 410 sprint car racing at the regional/local level wiping out the middle of the sport to feed the elite at the top, leaving a canyon instead of a gap between the elite level and the local/regional teams.
• It appears communication from the High Limit Series on some fronts needs to be improved drastically. Leading into the press conference I talked to two promoters with prominent All Star shows that had not received a single phone call from the High Limit Series during or after their acquisition of the All Stars.
Early indications are neither of these tracks appear to be in the High Limit's plans for 2024. It was my lead in question in the press conference, which Sweet responded to with a surprised reaction.
"As far as promoters reaching out or talking. I feel like we've talked to, you know, hundreds of promoters. If they're not reaching out to us, you know, we may be under the impression that they don't want to race. But we feel like we've talked to, you know, seems like every track, you know, it just about the whole United States."
Literally as Brad was saying this during the press conference, I was receiving a text from one of the promoters I inquired about confirming that nobody else on his staff received a call from the High Limit Series.
This coming from a facility that had hosted multiple All Star Shows on traditional dates for a couple of decades even caught me off guard. On top of that the FAST Series, who has been contacted to take over Ohio Sprint Speedweek, had not reached out to this same promoter to discuss that series taking over the event.
If I were obtaining a business one of the first things I would want to do is to reach out to customers, even ones I didn't plan on doing business with. No matter what other associations with other series or partners the track had, they deserved a much better line of communication.
It's clear that High Limit obtained the All Stars, pillaged the races they did want, and left the rest to fend for themselves. A smokescreen from the PR spin of farming out Ohio Sprint Speedweek provides some shielding from the fact that multiple events outside of Speedweek throughout the region the All Stars covered will be forced to promote a lesser-known brand or just go unsanctioned.
For full disclosure I did pass on the contact information for both facilities to Sweet after the meeting, but it shouldn't have taken me doing that to facilitate the communication taking place.
The lack of communication in the Ohio and Michigan markets up has started in motion the same situation Tony Stewart set out to avoid in 2015 where Ohio sprint car resembles The Hunger Games with at least three fractions I know of that run existing series or are trying to create them to fill the void. This all could have been avoided by having a representative reach out to tracks on the All Star Circuit to eliminate the uncertainty.
• This situation with the All Star Circuit of Champions needs to be a wake up call for those that head the tracks and series that currently makeup sprint car racing in Ohio. There are some big personalities among that group and at times the relationships can be contentious. Rather than having an outside party try to act as the mediator as Stewart did, someone needs to step up and lead these parties to the point of working together just enough to make up for losing the presence of the All Stars.
Aaron Fry from FAST could end up being that person. Fry is incredibly passionate about the sport and has done some amazing things with FAST and the Buckeye Outlaw Sprint Series. If Fry is going to take a step forward with FAST though, the series cannot run as lean as I've seen in the past. I've been to tracks for FAST events that have hosted All Star shows, and there is a gap in crowd interest and field quality. Those gaps are not insurmountable though and this could provide the opening for Fry to be that person. I have no doubt Aaron would put the work in and his races would come at a lower price to the racetracks than the All Stars were, even with their new purse structure.
The promoters in the Buckeye state don't even have to like each other, but if they are going to maintain some of the presence of the events the All Stars once sanctioned, they will need to have a somewhat unified front so they can control the region without the use of a sanctioning body that isn't present in their own state.