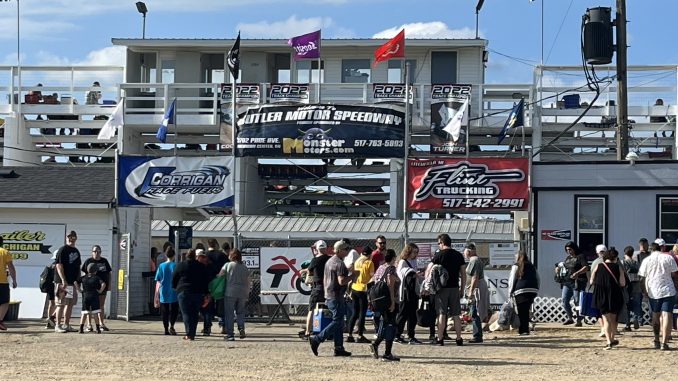 By T.J. Buffenbarger
(November 18, 2023) — Butler Motor Speedway promoter Tim Wilber announced Saturday that the Mace Thomas Classic will be sanctioned by the upstart High Limit Sprint Car Series during the 2024 season. Wilber confirmed the news to TJSlideways.com that June 1st was secured for the High Limit Series inaugural visit to Butler and made the announcement official by telling the audience at the season ending awards banquet Saturday night. The date of the Mace Thomas Classic was also confirmed by TJSlideways.com with High Limit Series officials.
The Mace Thomas Classic has ascended to being one the biggest paying sprint car events in the state of Michigan and known for the hand made trophy that towers over six feet tall and is heavy enough that it takes two or more people to move. The 2024 edition will see the winner not only take home that trophy but a $12,000 top prize along with it.
Landing an event of this stature continues to show the progress Wilber and his family have made revitalizing the facility that will be presenting its 73rd year of racing in 2023. When asked, Wilber feels that gaining events like this and other presents a chance to show off the family's hard work over the past two years after purchasing the speedway.
"I think so," said Wilber when asked about the opportunity to showcase his track to a National audience. "I think there's so many people that still have that bad taste on Butter that it's just one more thing to get them there to change their view about us," said Wilber about his transition from competitor to promoter. "I think I get almost just as much satisfaction out of, I say, watching a good race and I don't care at the end of the day, who wins the race. But if it's a good race, you know, I almost get the same satisfaction out of compared to the days that when I raced, and I won. It makes you feel good at the end of the night."
The Mace Thomas Classic was previously sanctioned by the All Star Circuit of Champions and was contested at I-96 Speedway in Lake Odessa, Michigan before shifting over to Butler Motor Speedway in 2023 in front of one of the largest crowds in Butler Motor Speedway history.
The High Limit Sprint Car Series was announced by sprint car drivers Brad Sweet and Kyle Larson in partnership with Floracing in 2022. The series held a standalone event that season taking place at Lincoln Park Speedway in Putnamville, Indiana in August of that year. In 2023 High Limit featured multiple large paying sprint car events with mid-week dates with Larson winning the point championship. For 2024 the series is expanding to a full calendar of events with Sweet and his Kasey Kahne Racing owned team committing to the entire schedule.
Reserved ticket sales will be available for select seating at the Mace Thomas Classic with a pre-sale expected to begin in early May. More information will be forthcoming on Butler Motor Speedway's website at https://butlerspeedway.com/ and on the track's social media channels.
For Wilber, the prospect of this major event and others will make a long off season of work behind the scenes a little easier knowing what is ahead.
"I guess for the next three months when we go over to the track doing stuff in the snow, it gives us some more drive to that of what you have coming. It's not the only reason, but it's another reason why I'm doing this."