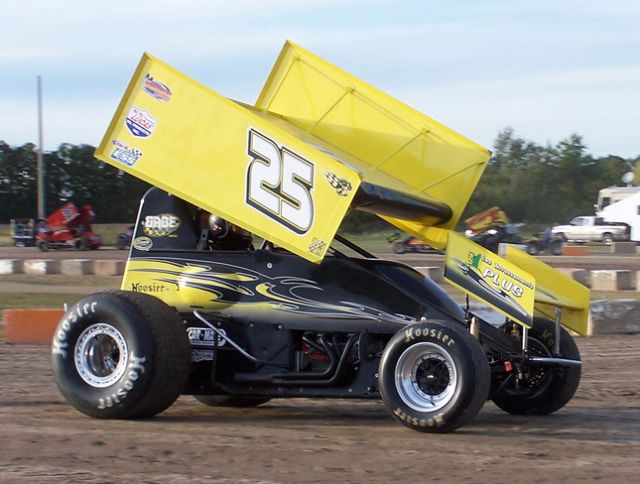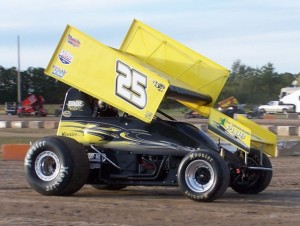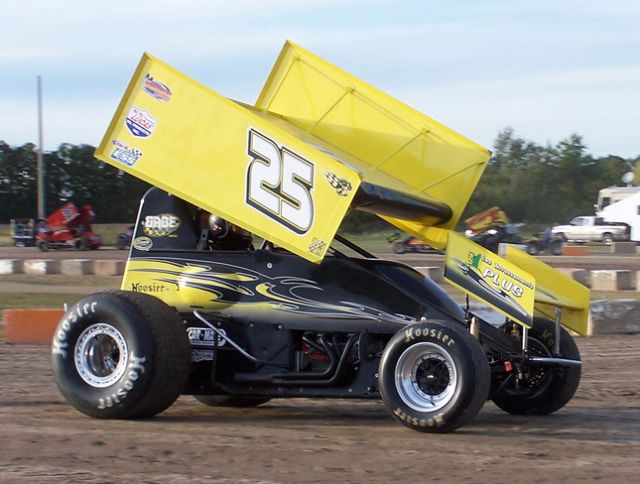 From ESS
Akwesasne, NY — (July 20, 2012) — One could see the relief on the face of Michael Parent as he climbed out his family owned No. 25 after he captured his first career Lucas Oil Empire Super Sprint 25-lap A-Main event victory at the Mohawk International Raceway.
Parent, 22, of Granby, Que., took the lead away from Justin Barger en route to the $1,750 win which was part of the Universal American Stars and Stripes Tour, Le Groupe Ultra Tour of Canada and the SUNY Canton Series.
"This feels so good," stated Parent in Victory Lane. "We've been trying for six years. It's a dream come true tonight. It's awesome, I just have to thank my family for all their support over the years."
Barger and Parent started on the front row of the feature with Barger grabbing the early lead as they raced into the first corner on the lightening quick half-mile oval. Barger, the current point leader, was able to pull away by a couple of car lengths.
With just five laps in the record books, Parent began to close in on Barger as he moved his AMB Moteurs powered Eagle to the bottom of the racing surface. He looked for the lead in turns three and four but Barger closed the door.
Two laps later Barger found himself in traffic and as he went to the outside of turns three and four Parent drove by on the inside to take the lead as the exited the fourth turn.
"This car is awesome on the bottom," said Parent. "It's been awesome since we put it together."
Parent began pulling way from Barger as he was being pressed by veteran driver Lance Yonge. Yonge, who started fifth, was all over Barger and eventually was able to make the move to the runner-up position with ten laps complete.
At the halfway point Parent's lead was nearly a straightaway over Yonge but like Barger earlier in the event he was mired in slower traffic impeding his process allowing Yonge to close the gap.
With five laps to go, Parent found himself behind a slower car while Yonge was nearing his back bumper. He attempted to get by the slower car several times but nearly spun out and then made contact with an implement tire.
"I was looking at the top there," said Parent about the closing laps. "But I looked at the board and saw that Lance (Yonge) was second and I knew he would be on the bottom so I wasn't moving up."
Even through all of that, Parent was able to hold off Yonge in the final few circuits for his first ever series victory.
Yonge, of Penn Yan, N.Y., settled for a second place effort. He got to Parent but wasn't willing to step up out of line to go to the outside to try and make the pass for the lead.
"I wasn't going to get off the bottom," said Yonge. "The car felt good on the bottom and it was coming off the corner good and I wasn't going to risk it. I didn't know who was back there. If Michael (Parent) messed up we were there but I'm glad to see him win."
It was another strong outing for Yonge at the North Country facility after he finished third just two weeks prior to Kevin Ward.
"We are real happy," commented Yonge. "I think the last three or four times we've been up here we've been top five. I've been coming here since 1987 and it was so dark you needed flash lights on the car. With all the improvements it's really enjoyable coming up and racing at a place like this."
Cory Sparks brought his family owned ride home in the third position. The finish gives him consecutive top five finishes for the first time since Memorial Day weekend. It was a much needed pick me up for the Edinburg, N.Y., campaigner after struggling for much of the 2012 season with poor luck.
"We had a really good run tonight," said Sparks. "I'm really happy with third place. We've had a rough year so far. If lady luck was on our side this year we'd be fine. We just haven't had any luck."
Shawn Donath drove from the 16th starting position in his first run with the Doug Emery owned Eagle to finish in fourth while Barger, who started on the pole, faded to fifth.
ESS/Mohawk Notes: A total of 25 sprints made the trek to the Akwesasne Reservation to make up the June 8th event that weathered out…Paul Habeck was a flip victim in his heat and scratched for the night…Tyler Rand was running second in his heat when his rear end broke and he also loaded up…Kory Gurney's motor locked up during the A-Main pace laps and did see the green flag…Next up for the Lucas Oil Tour will be this Wednesday at Utica-Rome Speedway for the Lucas Oil New York Invasion. The Lucas Oil Late Models will share the card with the winged warriors.
Lucas Oil Empire Super Sprints A-Main – Michael Parent ($1750), Lance Yonge, Cory Sparks, Shawn Donath, Justin Barger, Patrick Vigneault, Paul Kinney, Alain Bergeron, Chuck Hebing, Matt Tanner, Mike Stelter, Kevin Ward Jr., Sammy Reakes IV, Tommy Wickham, Joe Trenca, Lee Ladouceur, Anthony Cain, Devin Caron, Etienne Girard, Steve Hutchinson, Jeff Cook.
DNS – Kory Gurney
Did Not Qualify – Paul Habeck, Brandon Warner, Tyler Rand.
Lap Leaders – Barger 1-6, Parent 7-25.
Car Mate Custom Built Trailers Heat 1 – Bergeron, Barger, Yonge, Ward Jr., Reakes IV, Donath.
Car Mate Custom Built Trailers Heat 2 – Sparks, Stelter, Tanner, Parent, Gurney, Wickham.
Car Mate Custom Built Trailers Heat 3 – Vigneault, Kinney, Hebing, Trenca, Cain, Caron.
Allen Peters/Cobra Coaches Dash – Bergeron
B-Main – Cook, Ladouceur, Girard, Hutchinson.
Bonuses:
Westward Painting Company Halfway – Parent $100
Lee's Repair Auto and Truck Hard Charger – Donath (12 pos.) $50
Ohsweken Speedway Winners Bonus – Parent $50
Fondations 55 Pick 5 – Barger $50
North Eastern Pool and Spa Power Pick – Parent, Hebing $50
Car Mate Custom Built Trailers – Bergeron, Sparks, Vigneault $25