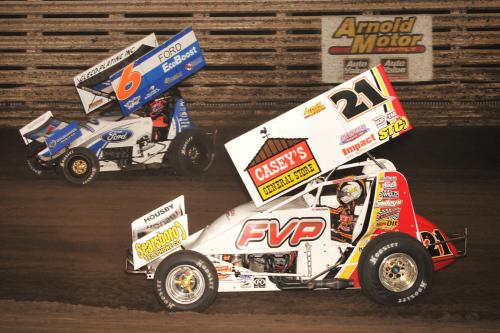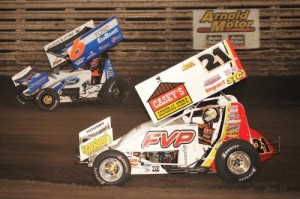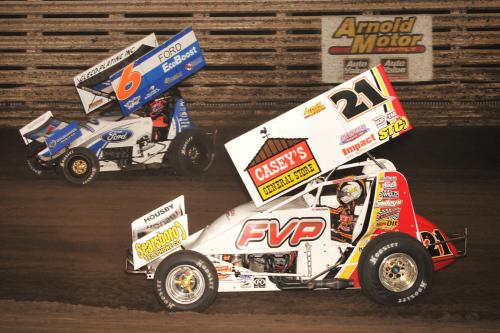 From Bill W
August 6, 2012 – At the Knoxville 360 Nationals, you need to be fast every time you hit the track.  Though Brian Brown and the Casey's General Stores/FVP #21 had troubles in qualifying, they put on a show for the fans the rest of the weekend with three big charges through the field.  The Grain Valley, Missouri driver is hoping things are a bit easier for this week's 52nd Annual Knoxville Nationals, and he can start a little further towards the front.
The 360 Nationals started with a late pill and a 35th fast time in qualifying on Thursday.  That sacrificed a lot of points.  "We had high hopes going into Knoxville to qualify well," says Brian.  "That was why we ran there a couple of times…to get better.  We just didn't get our job done.  I think the coolest thing was, the crew didn't get down about it.  They didn't drag around.  They wanted to still win the thing, and that kept my confidence up."
Brian did his job of getting in the prelim feature with a run from seventh to fourth in his heat.  "It was a tough heat," he says.  "We were able to get up to fourth, which was the key.  We just needed to get in.  We continued to work on the car for the feature and we were able to go from 19th to 2nd."
The charge had the healthy crowd on its feet.  "It was good wherever we wanted to go," says Brian of his Maxim.  "It's a testament to the team we have built the last five years or so.  They all work so hard, and they never give up.  I think that shows on the racetrack.  It was unfortunate for me, but it was good for the fans.  Sometimes racing can get one-lane without a whole lot of passing.  That's why we try to put on a show no matter where we start."
Brian's point total landed him starting twelfth in Saturday's B.  With eight cars to pass in 15 laps, he had to get going.  He waited until the last lap to take the fourth and final transfer in dramatic fashion!  "You never would have thought the B main would go non-stop," he says.  "We got to sixth pretty quick.  I felt like I was the same speed as those guys in front of me.  Honestly, I didn't think I was going to make it.  But it looked like Tony (Bruce) slowed down a little bit and Dustin Daggett kind of got balled up and I was able to get by him.  Then I was able to run two of my best laps to catch Tony and get by him.  The plan was not to do it on the last lap though!"
Starting dead-last in the A, Brian passed 16 cars to finish eighth in the non-stop 25-lap championship event.  "I felt we had as good a shot as anyone," he says.  "We just needed some yellows.  We kept plugging away and running it as hard as it would go.  We were good.  I think we passed as many cars as we could in the amount of time we had.  To get all the way to eighth was pretty cool.  I think with one caution, we could have gotten to the top five.  With a second, who knows?"
Brian would like to congratulate four-time winner, Shane Stewart, and his car owner, Paul Silva.  "Shane and Paul did a great job of putting themselves in position to win," he says.  "They always do.  We didn't.  We had to scratch and claw, but it is something to build on with the strength of our team."
The team will compete at the Front Row Challenge tonight at the Southern Iowa Speedway in Oskaloosa, Iowa before the Nationals.  They hope that a ninth quick time amongst 67 cars last night at the 1st Annual "Capitani Classic" at Knoxville is a good omen.  "Our 410 program has been on 'kill' all year long really," says Brian.  "When you go out that late and lay down a good lap, that's a good sign for this week.  If I could just get a good draw, that would help."
After getting through a tough heat that only took the top three finishers, Brian finished seventh in the main event.  "There was some stuff we wanted to try in the feature," he says.  "It just didn't work out.  The car wasn't where we needed to be.  We were lucky to finish as well as we did really."
Web site info
For up to date information on Brian Brown Racing visit www.BrianBrownRacing.com
Casey's: www.caseys.com
FVP: www.fvpparts.com
Brian's Q&A
Bill W asks: How do you like your chances heading into the 52nd Knoxville Nationals?
Brian answers: You like to think that you have a shot at being in contention to win it.  You don't want to get your hopes to high.  I've done that before and had some checkered dreams.  Our hopes and goals are to be consistently fast every time we hit the track.  We'll use all of our notes to our advantage.  We want to put a good solid night down Thursday and put ourselves in position.
Got a question for Brian? Send it to us at sprntcar@iowatelecom.net, and we may answer it in this section! Put "? for Brian" in your subject line.
Brown's Bits
Last year's Nationals saw Brian finish with a career-best seventh place finish.  He is hoping to climb the ladder a few more rungs this year!
About Casey's General Stores
Casey's General Stores is a Fortune-500 company (NASDAQ CASY) operating nearly 1700 convenience stores in 11 states through the Midwest. Known for its "Homemade-To-Go" pizza, sandwiches, donuts and bakery items, Casey's strives to consistently deliver quality gas, fresh kitchen-prepared food, clean environments and friendly service at every retail location.  Casey's is currently the 12th largest c-store chain and sixth largest pizza chain in the United States.
About FVP
We are very excited to introduce our new line of automotive chemicals, oils and fluids to our product offering.  These new products will be available at many retailers across the country.  We continue to offer a full line of high quality oil, air, cabin air and fuel filters, plus a complete line of high quality batteries for multiple applications including cars, trucks, SUV's, commercial and other specialty vehicles.  All products are made to OE manufacturer fitment specifications.  FVP products are engineered to provide our customers with quality products that are equal or superior in performance to the major national brands at a competitive price.  To learn more about our FVP products or to find out where you can have FVP products installed in your vehicle, visit us at www.FVPparts.com!  FVP…The Confident Solution
SPLASH
In addition to our line of seasonal safety products, we are very excited to introduce a full line of SPLASH Wiper Blades.  Our SafeView Performance Blades fit 95% of the vehicles on the road with quick and easy installation for everyone.   The AccuVision Beam Blade offers memory curve steel, which provides uniform pressure for a clear wipe, without the streaks.  Look for these great new SPLASH products!  Whether it's keeping your windshield clean or free of ice, protecting your RV, boat or pool from freezing in the winter, or your sidewalk safe to walk on, SPLASH Products are what you need!  Check out our new SPLASH website at www.SPLASHWash.com!  SPLASH…SEE SAFELY!
Marketing Partner of the Week – Searsboro Telephone Company's www.FaxeMeService.Com
Brian says, "Don Long is an avid sprint car fan, and has been a part of the team for a few years now.  We're just really happy to have him here."
Receive faxes through your e-mail when you're away from the fax machine!  Visit www.FaxMeService.com for easy sign-up options!  It's the simplicity of a fax through the convenience of e-mail.  It's easy to use, with no setup and a low fee!
Associate Marketing Partner of the Week – Smiley's Race Products
Smileys Racing Products and Hoosier Tire Southwest have been in the racing business for 30 years in the Dallas, Fort Worth area. Visit Smiley's the next couple of weeks, either in Kennedale, at the showroom store in Mesquite, or at the racetracks.  All employees at Smiley's Racing Products and Hoosier Tire Southwest are directly involved with race teams either as owners, drivers, pit crew members etc.  What this means to you our customers is racing advice that has been tested on the track first, and then we pass our findings on to you our customers.  From parts and tires to complete race cars, Smiley's Racing Products and Hoosier Tire Southwest is ready to help you get to the checkered flag first. All aspects of our business can be seen at www.SmileysRacing.com.  Click on catalog and put your information in and we will send you a catalog free of charge.
Brian Brown Racing would like to thank Casey's General Stores, FVP, Searsboro Telephone Company, Impact Signs Awnings Wraps / impact4800.com, Champion Brands, SPLASH, Ditzfeld Transfer, Maxim Racing, Smiley's Racing Products, Weld Wheels, Housby Trucks, www.RateWin.com, Arctic Cat, K&N Filters, Hostiowa.net, FSR Race Products, TI64, Fuel-Safe Tanks, Awesome Racewear, Wolfe Eye Clinic, Bell Helmets, CP Pistons, Carrillo Rods, Engler Machine, Vortex Wings, Penray, All Pro Cylinder Heads, Butler Built Seats, AkzoNobel Sikkens, AllDayParts.com, Jack Links, Rockstar, Deli Express, Snap-On Tools, Rod End Supply, KSE Racing Products, Winters Performance Products, Santomauro Racing Products, Cometic Gaskets, Kaeding Performance, Donovan, Magtech, ISC Racers Tape, Kinsler, Racing Optics, Mothers Wax, Don's Truck Wash, Gardner Farms, Hoosier Tires, GoPro, XYZ Machining, Brown and Miller Racing Solutions, Peterson Fluid System, Red Devil Brakes, Schoenfeld Headers, and WSIB Insurance for all their support!