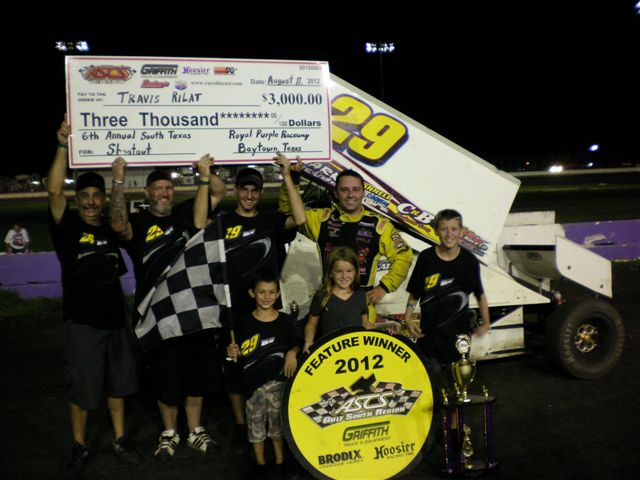 Bryan Hulbert,Craig Johnson Photo
– Baytown, Texas (August 11, 2012) Jumping back behind the wheel of the Shop the Boss.com No. 29, Travis Rilat lined his pockets to the tune of $3,000 at Royal Purple Raceway this past Saturday, taking the 6th annual Southeast Texas Shootout victory with the Griffith Truck and Equipment ASCS Gulf South Region.
Taking the field in the eight position Rilat wasted little time getting to the front. Surviving a caution on lap four followed by a red on lap six involving front runners Bruce Crockett and Logan Bledsoe, the Forney, Texas driver threaded the needle on lap ten between Brandon Berryman and a lapped car to gain the race lead.
From there Rilat was on top as the No. 29 raced to the checkered flag. Brandon Berryman settled for second with Ray Allen Kulhanek rounding out the podium. Tommy Bryant and Travis Elliot made up the drivers in the top five.
Michael McNeil took sixth with Michael Lang charging from twenty-second to claim seventh. J.J. Simmons was eighth with Beau Smith and Chris Sweeney rounding out the top ten.
Griffith Truck and Equipment ASCS Gulf South Region
Royal Purple Raceway – Baytown, Texas
August 11, 2012
Car Count: 24
Heat 1 (8 Laps): 1. 29-Travis Rilat; 2. 0-Channin Tankersley; 3. 25M-Michael McNeil; 4. 2-Wes Miller; 5. 28-Tommy Bryant; 6. 51-Beau Smith; 7. 7W-Dustin Welch; DNS 15-Andrew VanBlarcum
Heat 2 (8 Laps): 1. 21T-Ray Allen Kulhanek; 2. 12-Logan Bledsoe; 3. 3-Gary Watson; 4. 66-J.J. Simmons; 5. 93-Chris Sweeney; 6. 35-Greg Rilat; 7. 24-Brandie Jass; 8. 02-Harry Yerrington
Heat 3 (8 Laps): 1. 31-Brandon Berryman; 2. 87-Aaron Reutzel; 3. 19-Klint Angelette; 4. 8-Bruce Crockett; 5. 15T-Travis Elliott; 6. 69-Larry Howery; 7. 17-Bruce Griffith Jr; 8. 14-Michael Lang
A Feature (30 Laps): 1. 29-Travis Rilat; 2. 31-Brandon Berryman; 3. 21T-Ray Allen Kulhanek; 4. 28-Tommy Bryant; 5. 15T-Travis Elliott; 6. 25M-Michael McNeil; 7. 14-Michael Lang; 8. 66-J.J. Simmons; 9. 51-Beau Smith; 10. 93-Chris Sweeney; 11. 69-Larry Howery; 12. 3-Gary Watson; 13. 2-Wes Miller; 14. 17-Bruce Griffith Jr; 15. 35-Greg Rilat; 16. 24-Brandie Jass; 17. 19-Klint Angelette; 18. 0-Channin Tankersley; 19. 7W-Dustin Welch; DNF 12-Logan Bledsoe; DNF 8-Bruce Crockett; DNF 87-Aaron Reutzel; DNS 15-Andrew VanBlarcum; DNS 02-Harry Yerrington