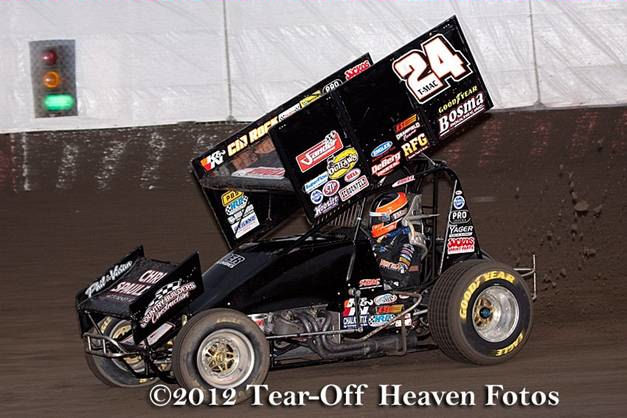 By Bill W
August 21, 2012 – Another win at the Huset's Speedway in Brandon, South Dakota has Terry McCarl primed for his seventh track championship at the popular oval. This weekend, the Altoona, Iowa driver will try to also pull down a seventh track championship at the Knoxville Raceway. He enters the night a mere eight points behind Davey Heskin in the standings.
TMAC started Sunday night registering quick time at Huset's. After a fourth place heat finish, he posted outside row three for the main event. "The car was a little tight early on," he says. "I was a little bit off on the car, but we got stronger. I got to third, and at one point, I actually spun out. I was able to save it really quick, and I only lost one spot."
A caution let TMAC catch his breath in his #24. "There was a yellow, and I was able to get back to third behind (Jody) Rosenboom and Justin Henderson," he says. "I was able to get Justin coming hard off of turn four."
Next up, was the leader. "Then I was able to get by Rosenboom late in the race," says TMAC. "We were able to get around there really well. The car was working well. We were able to get by Jody with two laps to go, and off we went."
It was a tougher night for son, Austin. "It was kind of a disappointing for Austin," says TMAC. "He was fourth quick, and got up into the cushion and blew a tire in the heat race. You can't do any work during the heats, so he was done and had to start at the back of the feature."
Still the McCarl's stand 1-2 on top of the Huset's Speedway point standings. "He started last, and worked his way to seventh," says TMAC. "It was disappointing on that end, but on the other side, he took over second place in points. So that is kind of cool."
To check out opportunities to partner with TMAC Motorsports on a nightly basis, visit www.TerryMcCarl.com or call 515 957-0020!
Websites for the McCarl Gang!
Driverwebsites.com develops the websites for the McCarl boys. Check out www.TerryMcCarl.com, as well as www.AustinMcCarl.com and www.CarsonMcCarl.com!
In"Terry"gation
Got a question for TMAC? Send it to us at sprntcar@iowatelecom.net , and we may answer it in this section! Put "? for TMAC" in your subject line.
This Month in TMAC History!
TMAC had a win on August 26, 2001 at the Huset's. He beat Chad Meyer, Gregg Bakker, Kenny Hansen, Justin Henderson and his mechanic Glen Freeland (DNF) that night. On the same date in 2005, he had a great weekend at the Grays Harbor Raceway Park in Elma, Washington. He finished third after starting 11th with the World of Outlaws, following Steve Kinser and Jonathan Allard. That locked him into the next night's event, in which he finished fourth. As a prelude to the WoO shows, he won in Paul Silva's #57 besting Roger Crockett in 360 NST action.
"Tuesdays with TMAC"!
"Tuesdays with TMAC" is an up close and personal look at colorful sprint car veteran Terry McCarl. To receive "Tuesdays with TMAC", send an e-mail to sprntcar@iowatelecom.net with "TMAC" in the subject line.
TMAC Motorsports would like to thank sponsors "Lord I Apologize BBQ Sauce", Deanfield Farms, Bosma Poultry, Eagle Chassis, DeBerg Concrete, AmeriCashAdvance.com, RFG, Phil and Vivian, Ryan Yager Trucking, 212 The Boiling Point Bar & Grill, Vortex Racing, Hoosier Tire, Chris Spaulding – Attorney at Law, Schoenfeld Headers, K&N Filters, Don Ott Engines, HRP, All Pro Cylinder Heads, Bob and Beulah Elder, Country Builders Construction, Engler Injection, Superflow Technologies, T&P Brothers, Larry Fleck Trucking, Winters, DriverWebsites.com, CM Rock, Jocko's Sprint Parts, Sander, Brown and Miller, Chase Graphics, Pro Shocks, Ben Cook, Bell Helmets, Burnett's Rock and Landscaping, Fatheadz Eyewear, Van Der Brink Designs, Morgan Strawberry Farms, Bulldog Pest Control, Aurora Rod Ends, Crow Safety, Justice Brothers, KSE Steering, Strange Performance, Saldana Racing Products, Scribner Plastics, Waterman Fuel Pumps, Weiland Racing, Butlerbuilt, PBS Bushings.