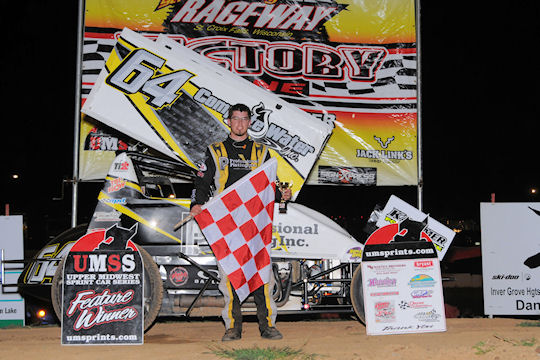 Greg Parent,Track Rat photo
St. Croix Falls, WI
Making the long tow over from Sheboygan, Wisconsin once again paid off for Scotty Thiel in Upper Midwest Sprintcar Series (UMSS) racing action. Thiel drove to an impressive second career UMSS victory at the St. Croix Valley Raceway on Friday August 24. Chris Graf of Glencoe had led from the onset of the race, but on lap 15 of the 20 lap event, Thiel ducked under Graf exiting turn two for the top spot. Just as it appeared the race would go green the entire distance, Tony Kaus scraped the wall and stopped in turn three. This put seven-time 2012 UMSS winner Brooke Tatnell right behind Thiel for the quick two lap dash to checkers. Thiel knew where he needed to be on the restart and held off Tatnell for the win.
On a warm, humid evening with a heavy track, the cushion grew tall in the corners and both the winged and non-winged sprint cars would use that ledge to lock in their right rear tires and power around the turns. For Thiel, he was able to not only find traction on the cushion but also near the bottom of the track as well. Commenting after the race, Thiel stated "My car was working very well on both the top and the bottom tonight. This is a fun track to drive. I enjoy making a few trips west each year to run with the UMSS. It's a competitive group with some really good drivers. I'm looking forward to tomorrow night at Rice Lake." Thiel will attempt to make it a weekend sweep but Tatnell, Graf, Richert and company will have other thoughts.
Following the usual double-round of qualifying races, high point driver Brooke Tatnell redrew the #4 pill for the feature race invert. This put current UMSS point leader and defending champion Jerry Richert, Jr. on the pole with Chris Graf to his outside. Thiel and Tatnell comprised row two. Graf immediately grabbed the lead, as he blasted around the 1/4 mile bullring on the berm up top. Richert held second briefly until Thiel got by and then Richert's brother-in-law Tatnell. The laps clicked off at a quick pace with Graf in control, but Thiel began reeling him in using both the top and the bottom at various times. Soon Graf knew that a competitor was on his heels, and it turned out to be Thiel instead of Tatnell. Once Thiel made his winning pass, he had to survive the final two lap green-white-checker dash to the cash following the only caution of the race. Tatnell had moved into second on lap 16, so it would be no easy task keeping the talented Aussie behind him. The Sheboygan hot-shoe was up to the challenge and went on to record the victory. The win paid the Thiel Motorsports team $1,000 thanks to some sponsorship from GRP Motorsports. GRP also helps the team with some tow money each time they head west to compete with the UMSS.
Graf finished third behind Thiel and Tatnell with Richert in fourth and 2009 UMSS Champion Leigh Thomas in fifth from his ninth starting spot. Rounding out the top ten finishers were Sye Anderson, Jason Tostenson, Andy Jones in a brand new car, Rick Kobs making his winged sprint car debut in the Ron Olson sprinter, and 2011 Co-Rookie of the Year Anna Kouba. Ultimate sprint heat race wins went to Richert and Tatnell while Graf and Tatnell topped the two challenge races. The UMSS winged sprints were on the program with the TSCS non-winged cars and the micro sprints in addition to the usual stock car classes at SCVR.
Jerry Richert, Jr. continues to lead the GRP Motorsports High Five Championship Bonus standings in pursuit of his second UMSS title. Although he was not on hand tonight, Scott Broty still holds the runner-up spot in the standings over Sye Anderson, Chris Graf and Brooke Tatnell. Racers and fans can follow the UMSS Championship Chase on their website at www.umsprints.com or become a friend of the UMSS Facebook page. The season still has seven races left before the final checkers wave at the Elko Fall Dirt Nationals in early October.
UMSS Race Results – St. Croix Valley Raceway August 24, 2012 (Race #13)
Alpha Apparel & Promotions Ultimate Sprint Race #1 (6 laps): Jerry Richert, Jr. 63, Tony Kaus 3TK, Chris Graf 20G, Rick Kobs 34, Leigh Thomas 29, Andy Jones 73.
Meeks Video Ultimate Sprint Race #2 (6 laps): Brooke Tatnell 86AU, Scotty Thiel 64, Sye Anderson 37, Anna Kouba 5, Jason Tostenson 36 DNF.
Mastell Brothers Trailer Service Challenge Race #1 (8 laps): Graf, Thiel, Richert, Thomas, Tostenson, Kouba.
Driverwebsites.com Challenge Race #2 (8 laps): Tatnell, Jones, Anderson, Kaus, Kobs.
GRP Motorsports A Main (20 laps): Thiel, Tatnell, Graf, Richert, Thomas, Anderson, Tostenson, Jones, Kobs, Kouba, Kaus.
Lap Leaders: Graf 1-14, Thiel 15-20.
Cautions: (1)
GRP Motorsports High Five Championship Chase: Richert 2599, S Broty 2522, Anderson 2480, Graf 2470, Tatnell 2465.