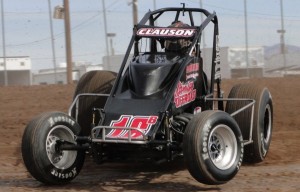 From Scott Daloisio
Perris, CA — (March 6, 2013) — When the Amsoil USAC/CRA Series returns to the "Southern California Home of Major League Sprint Car Racing," Perris Auto Speedway, for the Sokola Shootout this Saturday night, March 9th, the field will be packed with stars hoping win the 2013 title.  However, one visiting driver only has his eyes on the victory and the winner's paycheck that comes with it.  Bryan Clauson, the defending USAC National Sprint Car champion, will be making a rare regular season PAS appearance in Mike Martin's #16.  Spectator gates for the 18th season opener for open wheel action will open at 5:00 pm and the first race will be at 7:00.
The 23-year-old Carmichael, California native, who now lives in Noblesville, Indiana, brings an impressive resume into Saturday's event.  In addition to last season's USAC National Sprint Car title, Clauson is a two-time (2010 & 2011) USAC Midget National champion, has won the first three years of USAC's National Drivers Championship and he is no stranger to victory circle in Southern California.  He won the Glenn Howard Memorial at The PAS in 2009 and a couple Oval Nationals preliminaries as well as the prestigious Turkey Night Grand Prix at Irwindale in 2009 and 2010.
While racing in Southern California is nothing strange for Clauson, being out west this time of year is.
"There is snow in Indiana," the affable driver laughed over the phone on Wednesday afternoon when asked why he came west.  "Actually we got hooked up with Mike Martin (car owner) at the Western World last year.  He just acquired a 410 and has some nice racecars and great equipment and I was planning on making my trip out to drive for him at the Copper.  Things went well (they won last Friday and finished third on Saturday) so we decided to carry it on to Perris.  We have had a lot of fun racing together.  Him and I get along really well.  We are excited to come out to race at The PAS.  It is a place that we have always run fairly well at.  It is nice to have something on the west coast that is as strong as his stuff is."
When asked if he would be back out to drive Martin's car later in the season, Clauson laughed again and said, "We have not gotten that far yet.  If there is an opening in the schedule that works, we might.  Obviously with the 360 stuff he does with his schedule and with my schedule it is hard getting it to fit.  We will see.  We would love to.  The PAS is a place where the locals are tough to beat.  They spend all summer racing there and when Oval Nationals time comes they are all tuned up.  Any extra night we can get at The PAS will help us late in the year at a place that may determine the championship."
Thus far, Clauson's biggest triumph at the famous Riverside County clay oval was when he led every single lap and won the Glenn Howard Memorial in 2009.
"That was a huge race for us as there is a lot of tradition with that name," he said.  "It was a very exciting race to win.  We have also won a couple of prelim nights at the Oval Nationals.  We are going to work hard this summer to hopefully knock off the finale this year."
Clauson is very happy with his wins in the USAC National Drivers championship the last three years.  A driver's combined 25 best finishes in the National Sprint Car, Midget and Silver Crown Series determine that title.
"It is exciting as it shows diversity," he stated.  "It shows how well a driver does between all three series.  To be on top of that board the last three years has been exciting and it has led to some great opportunities.  The "Road to Indy Scholarship" and running the Indy 500 last year have all been big from that.  Also from a competitive standpoint, anytime you can win a championship against the caliber of drivers USAC has and it covers all three divisions, it is tough to do."
The veteran racer hopes to add three more titles to his already crowded mantelpiece this year and those are the National Sprint, Midget and Silver Crown championships.  He will drive for Tony Stewart Motorsports in the sprint and Silver Crown Series and be in the Tucker/BCI/Curb-Agajanian entry in the midget ranks.
"Anytime you can win a USAC National Championship, it is big," he says from past experience.  "The sprint car title is probably closest to my heart, because I grew up around sprint car racing.  To become a USAC National Champion last year was really big on a personal level and to do it the way we did after missing a few races was huge.  I would like to repeat that one, but we have our eyes set on all three."
As well as staying busy in those three divisions, Clauson hopes to get back into the Indianapolis 500 field again this year.
"We are working on it," he said.  "It is a giant puzzle and we are working hard to get all of the pieces put together.  Last year things seemed to fall together for us.  We are still working on it trying to make sure it is the right opportunity with the right team and the right people behind us.  Nothing done yet, but we will continue to work every day on it."
The now veteran driver, who moved to Indiana about the time he was 10 when his father got a job there, has his two Turkey Night on pavement wins, but would love to get one at the dirt on at The PAS this Thanksgiving.
"It would be great to take it at The PAS," he enthused.  "It is such a tough race and The PAS is a track that is historically tough in a midget.  As more of a dirt guy, I would love to add my name to the Aggie trophy as a guy who won it on the dirt.  I am not too sure there are that many guys who have won it on the pavement and the dirt.  We are back in the family #39 midget this year and got off to a quick start at the Copper on Dirt.  So, we are excited about building for the year and hopefully taking another Turkey Night Grand Prix."
As race fan and Clauson friend Fred Zirzow pointed out, there is another reason Clauson likes being in California.   He loves Round Table Pizza and he plans on taking advantage of being in Southern California to have some of his favorite.
"Oh yeah, I love Round Table Pizza," he stated with a loud laugh.  "That is my favorite.  Any time I get out to California, I have to get my Round Table.  I don't know quite why, but I grew up on it and it is something that I love.  It is kind of like my In N' Out Burger.  It is just what I have to have when I am out here.  It is my favorite place to eat on the west coast."
Adult tickets for Saturday night are $25.00 and seniors are $20.00.  Active military members with proper id, teens 13-18 with their school id and kids 6-12 are just $5.00. Children 5 and under are admitted free. Advance tickets are available by calling 1-800-595-4849.  You can also order tickets online at  http://www.perrisautospeedway.com/ or http://www.tix.com/