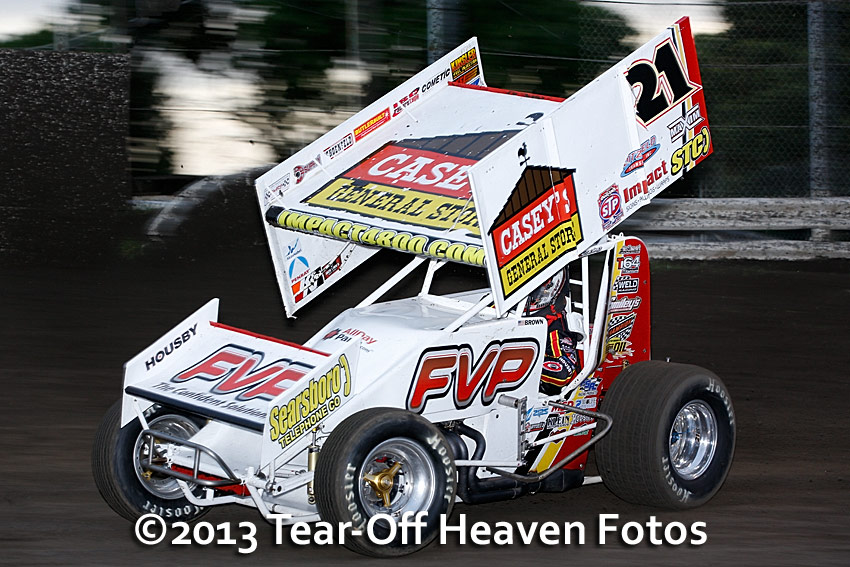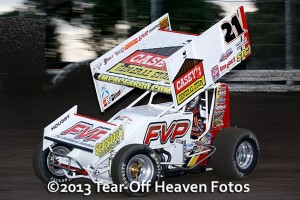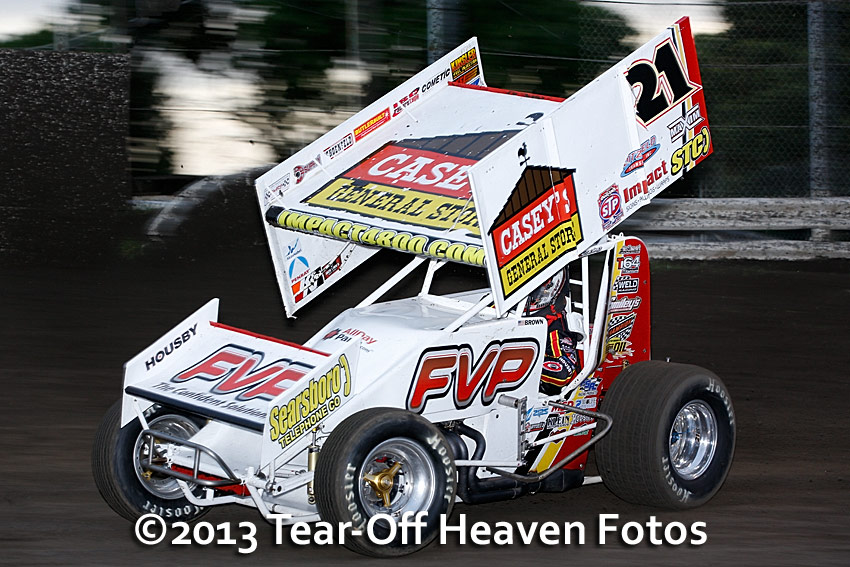 From Bill W
April 8, 2013 – It had been a bit of a drought, but Brian Brown and the Casey's General Stores/FVP #21 team picked up a much needed win in the state of California last Saturday night.  The victory came at the Gary Jacob Memorial for Rebel Cup Series sprints at the King's Speedway in Hanford.  The Grain Valley, Missouri driver will return to Hanford Friday with the World of Outlaws before hitting the Perris Auto Speedway on Saturday.
You ran Friday night with the WoO and got behind the 8-ball in qualifying (27th).
Qualifying had been our strong suit on this whole west coast trip, and racing had been the downfall.  We'd been working so hard on our race setup that I think we got away from our qualifying setup.  That bit us in the butt on Friday.  I didn't cut the best laps either.  That puts you in a bad bad spot.
Unfortunately, that did set the tone for the night.  You didn't make it through the heat and that put you in the B.
The track got better as the night went on.  It got wetter and wetter, and there was less and less passing.  I thought about not even going out for the B.  There wasn't any passing and some good cars in front of us.  We decided to go out and a car got sideways in front of us.  We had nowhere to go and we got tore up.
How bad was it?
Luckily, we didn't tear anything up too bad…just a couple of bolt on pieces.  You don't want to tear anything up though, big or small.  It was just unfortunate.  It was the first feature we missed.  We wanted to get through it making all the shows.
You decided to put the 360 in and run the Gary Jacob Memorial at King's Speedway on Saturday.
It was a pretty good 360 show that paid $2,500 to win.  It was with the Rebel Cup Series.  It concerned me a little, because a lot of those drivers have open 360 motors.  They don't have the ASCS one like we do.  In some cases, some of them were probably up 20 or 30 horsepower.
You were able to get yourself on the front row of the feature.
We qualified seventh.  I think we were the fastest ASCS motor.  We were able to win the heat from fourth.  The track was similar to what we've dealt with out here.  It was narrow and tough to pass.  It makes for tough conditions.
You lined up in the front row with Kyle Hirst.  What was your thought process?
We knew whoever got the lead was probably going to win.  Kyle has really been coming on strong.  He is becoming a really good racer, and has a good team (Beefpackers) behind him.
There had to be a lot of lapped traffic.
Traffic was tough at times, but we were able to pull through and get a win.  It was big for the team.  We haven't had the most success the last couple weeks.  Chad Morgan and Travis Marsch have kept their head up and kept my morale up to.  We needed this, and I hope our laps at Hanford help us this Friday.
There is usually good racing at Perris.  You'll be there on Saturday.
We were pretty good there last year.  I think we ran twelfth.  It can be good.  All these places they say can be good, but I've yet to see multiple racing grooves on this trip.
Are you ready to run in the Midwest?
We're ready to get home.  We'll do these next two nights and head back to the Midwest.  I'll give Brian Stickel a big hug and a kiss.  I can't wait to get to Knoxville, I can guarantee you that!  We want to get someplace where it is two or three lanes wide and you can race.  It has been one-lane out here.  We're using 35 tear-offs in a feature.  It makes for not fun racing really.  The awesome fans out here deserve better racing than they've been seeing.
Win at T-shirt!
Go to FVP Racing's Facebook page and play Brian Brown trivia to win a new t-shirt!
Follow Brian on the Web, Twitter and Facebook!
Follow Brian at his website located at www.BrianBrownRacing.com!
Also keep up with FVP, Casey's and Brian on Facebook and Twitter at the following links…
Twitter Links – @BrianBrown21, @FVPRacing, @CaseysGenStores
Facebook Links
Brian Brown Racing – www.facebook.com/pages/Brian-Brown-Racing/200630163294222
Casey's General Stores – www.facebook.com/pages/Caseys-General-Stores/112073528804354
FVP Racing –  http://www.facebook.com/FVPRacing?ref=ts&fref=ts
Other Web site info
Casey's: www.caseys.com
FVP: www.fvpparts.com
Brown's Bits
In 55 sprint features in 2009, Brian accumulated six wins (11%), 29 top fives (53%) and 36 top tens (65%).  His wins came in the postponed Turkey Classic at the Springfield (MO) Raceway in March, three in 410 competition at the Knoxville Raceway, in ASCS-Midwest racing at Nebraska Raceway Park in July, and at Sedalia's (MO) State Fair Speedway in August.