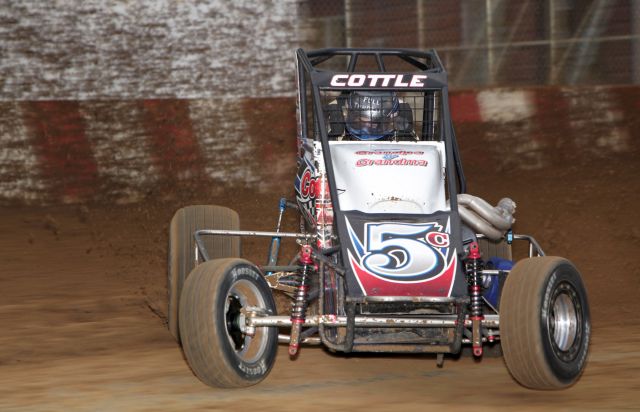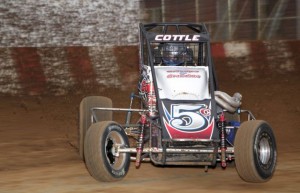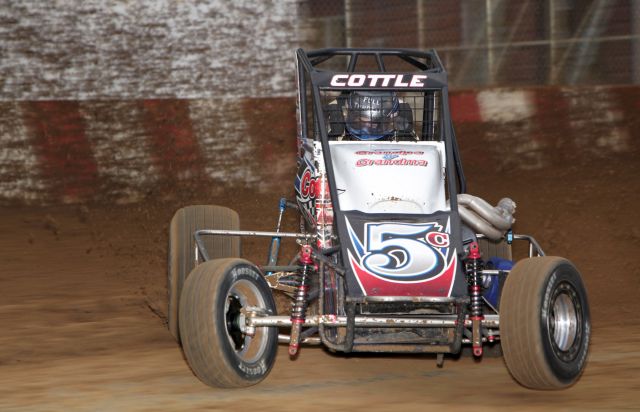 From Tim Tuttle
Pontoon Beach, IL — (May 28, 2013) — Co-sanctioned by the POWRi Lucas Oil National Midget Series and the Honda USAC National Dirt Midget championship, the fabled Hut Hundred will be held at Tri-City Speedway for the first time Friday (May 31).
The 61st running of the 100-lap feature that will have 33 starters is expected to attract one of the outstanding fields in Midget racing this year.
"It's a classic, one of the best Midget races going," Zach Daum, the 2011 Hut Hundred winner, said. "It has a great history. There will be a bunch of good cars there. I'm looking forward to it."
Daum of Pocahontas, Ill., won the Hut Hundred at Tri-State Speedway in Haubstadt, Ind., where it was held the last three years. Brady Bacon of Broken Arrow, Okla., won in 2012 and Bryan Clauson of Noblesville, Ind., won in 2010.
"I've always been a fan of the Hut Hundred and wish it was still at Terre Haute because of the history there," Daum said. "But I love Tri-City and always have. I loved it when it was the old quarter-mile and half-mile and now it's three-eighths and it's a great race track. It's not so big that big motors drive away. It still races like a short track.
"Tri-City is more of a home track for me and I'd love to get a second Hut Hundred there."
Andrew Felker of Carl Junction, Mo., is the POWRi National Midget points leader four events into the season over Daum, 610-510. Tyler Thomas of Collinsville, Okla., is third with 490.
Felker, the 2012 POWRi National Midget champion, finished 11th in the Hut Hundred a year ago.
"I've run at Tri-City six or seven times," Felker said. "It's real fast. It usually gets pretty slick and you can run the top and the bottom. It's going to be real interesting with 33 cars on it. I think the change of venues to Tri-City will be huge.
"It's definitely a pretty hard track and will be pretty tough on tires. You need to make sure the stuff (equipment) is where it needs to be before getting there and you don't want to use your stuff up too early. You need to save your equipment for the second half. You need to have something to race with at the end."
Felker has four top-10s this season: Second at Jacksonville (Ill.) Speedway, fourth at Belle-Clair Speedway in Belleville, Ill., seventh at Macon (Ill.) Speedway and 10th at Angell Park Speedway in Sun Prairie, Ill.
Felker was forced to take a provisional at Belle-Clair and went from 23rd to fourth. He started 21st at Macon and finished seventh.
"When you can salvage finishes like those, it makes a big difference in the championship," Felker said. "I'm extremely happy with where we are."
Daum is running for the POWRi title for the first time in several seasons. He was 16th at Jacksonville and rebounded to take third at Belle-Clair, fifth at Macon and eighth at Angell Park.
"We're running well," Daum said. "I sure hope we can win the Hut Hundred again. It brings a different type of Midget racing, a lot of strategy and finesse. You need to be smart with the car and save tires. It's a great race."
The POWRi Speedway Motors 600cc Outlaw Micro Series will run its fourth event of the season at Tri-City. Jeremy Camp of Blue Mound, Ill., leads Dereck King of Vienna, Ill., 490-410, and Max Pozsgai of Lincoln, Ill., is third with 400.
King has won two of the three features this season, but was 22nd at Belle-Clair. Camp has been fifth at Jacksonville and Belle-Clair and sixth at Macon.
POWRi Lucas Oil National Midget Series top-10 points standings (after four of 32 events: 1. Andrew Felker 610, 2. Zach Daum 510, 3. Tyler Thomas 490, 4. Jake Blackhurst 460, 5. Brad Kuhn 310, 6. Shane Cockrum 300, 7. (tie) Tyler Robbins, Austin Brown 280, 9. Justin Peck 270, 10. Terry Babb 260.
POWRi Lucas Oil National Midget Series feature winners: Jacksonville, Ill.—Shane Cockrum; Belleville, Ill.—Chris Bell; Macon, Ill.—Brady Bacon; Sun Prairie, Wis.—Michael Pickens.
POWRi Speedway Motors 600cc Outlaw Micro Series top-10 points standings (after three of 22 events: 1. Jeremy Camp 490, 2. Dereck King 410, 3. Max Pozsgai 400, 4. Joe B. Miller 390, 5. Aaron Andruskevitch 380, 6. (tie) Cale Thomas, Jacob Patton 330, 8. (tie) Nathan Benson, Jason Harms 320, 10. Jeremy Zumwalt 300.
POWRi Speedway Motors 600cc Outlaw Micro Series feature winners: Jacksonville, Ill.—Dereck King; Belleville, Ill.—Joe B. Miller; Macon, Ill.—Dereck King.
For more information, go to www.POWRi.com.