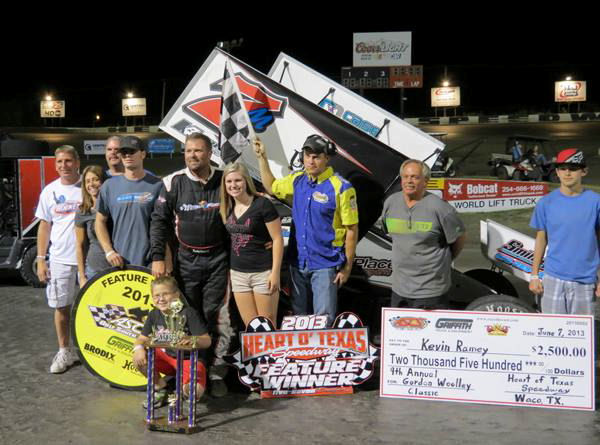 By Bryan Hulbert
– WACO, Texas (June 7, 2013) Patience is a virtue, especially on slick race tracks and that is exactly what Kevin Ramey had to contend with on his way to victory at Waco's Heart O' Texas Speedway, going back to back in the Gordon Woolley Classic with the Griffith Truck and Equipment Gulf South Region.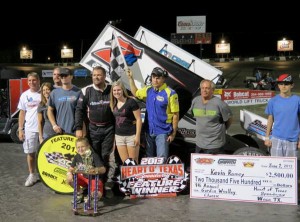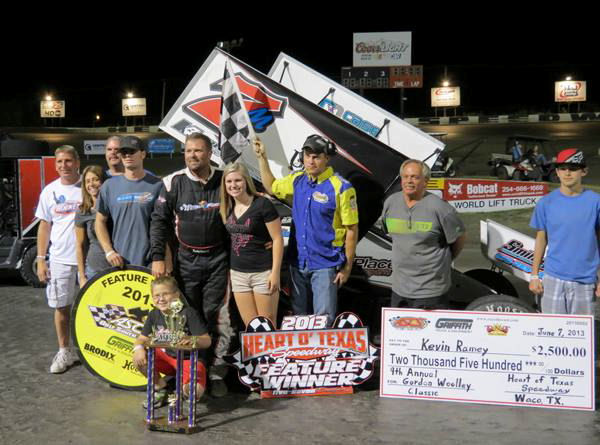 The eighth different winner in ten dates, Ramey held off Cole Wood for most of the beginning stages of the night's 25 lap affair. Working amongst the back makers near the halfway point, the pair was joined by Channin Tankersley before the caution displayed for the spun No. 54 of Evan Pardo.
Underway, Ramey was able to bolt to a comfortable advantage with Wood in tow, and making up ground, before an engine failure sidelined the Elk Grove Ford No. 17w a mere two laps from the finish.
Putting the race for second between Tankersley and eighth starting Ray Allen Kulhanek, the No. 21t worked the outside of the No. 71 of Tankersley in the final turns, but lost the handle on the Miller RV Park No. 21; spinning to a stop as the field race by for the finish. Kulhanek would be credited fifteenth.
Tankersley raced on to the runner up finish with B-Main winner Tommy Bryant third from fifteenth. Brandon Berryman and Martin Edwards made up the top five. The top ten rounded out with Klint Angelette, Patrick Stasa, Kolt Walker, Claud Estes, and Evan Pardo.
The Griffith Truck and Equipment Gulf South Region moves to Killeen, Texas on Saturday, June 8 for the series final appearance at the Texas Thunder Speedway as the facility is slated to close after Aug. 31, 2013.
Griffith Truck and Equipment Gulf South Region
Heart O' Texas Speedway – Waco, Texas
9th annual Gordon Woolley Classic
Car Count: 28
Heat 1 (8 Laps): 1. 74E-Claud Estes III; 2. 19S-Patrick Stasa; 3. 69-Larry Howery; 4. 24-Brandie Jass; 5. 15-Andrew VanBlarcum; 6. 92-Harry Yerrington; 7. 17X-Josh Baughman
Heat 2 (8 Laps): 1. 7M-Kevin Ramey; 2. 71-Channin Tankersley; 3. 45-Martin Edwards; 4. 31-Brandon Berryman; 5. 51-Beau Smith; 6. 52-Roger Oakes; DNS 7W-Dustin Welch
Heat 3 (8 Laps): 1. 17W-Cole Wood; 2. 19-Klint Angelette; 3. 87-Aaron Reutzel; 4. 12M-Kolt Walker; 5. 14-Michael Lang; 6. 10-George White; 7. 15T-Travis Elliott
Heat 4 (8 Laps): 1. 2L-Logan Forler; 2. 21T-Ray Allen Kulhanek; 3. 45X-Johnny Herrera; 4. 28-Tommy Bryant; 5. 54-Evan Pardo; 6. 17-Blake Hahn; DNF 66-J.J. Simmons
B Feature (12 Laps): 1. 28-Tommy Bryant; 2. 24-Brandie Jass; 3. 54-Evan Pardo; 4. 51-Beau Smith; 5. 14-Michael Lang; 6. 15T-Travis Elliott; 7. 17-Blake Hahn; 8. 10-George White; 9. 52-Roger Oakes; 10. 66-J.J. Simmons; 11. 15-Andrew VanBlarcum; 12. 92-Harry Yerrington; DNS 17X-Josh Baughman; DNS 7W-Dustin Welch
A Feature (25 Laps): 1. 7M-Kevin Ramey; 2. 71-Channin Tankersley; 3. 28-Tommy Bryant; 4. 31-Brandon Berryman; 5. 45-Martin Edwards; 6. 19-Klint Angelette; 7. 19S-Patrick Stasa; 8. 12M-Kolt Walker; 9. 74E-Claud Estes III; 10. 54-Evan Pardo; 11. 15T-Travis Elliott; 12. 51-Beau Smith; 13. 69-Larry Howery; 14. 14-Michael Lang; 15. 21T-Ray Allen Kulhanek; DNF 2L-Logan Forler; DNF 17W-Cole Wood; DNF 24-Brandie Jass; DNF 87-Aaron Reutzel; DNF 45X-Johnny Herrera
Lap Leader(s): Kevin Ramey (1-25)