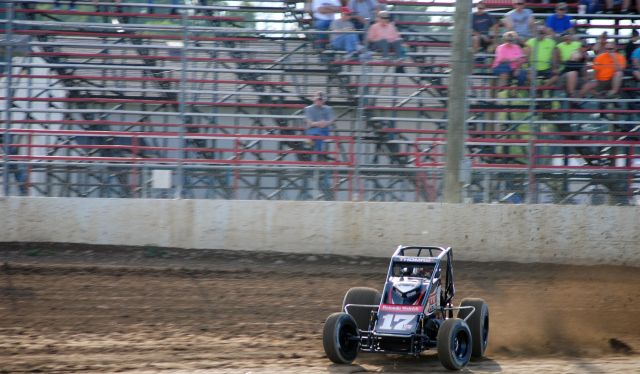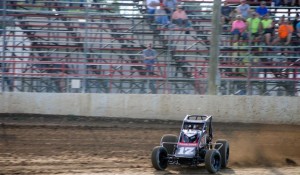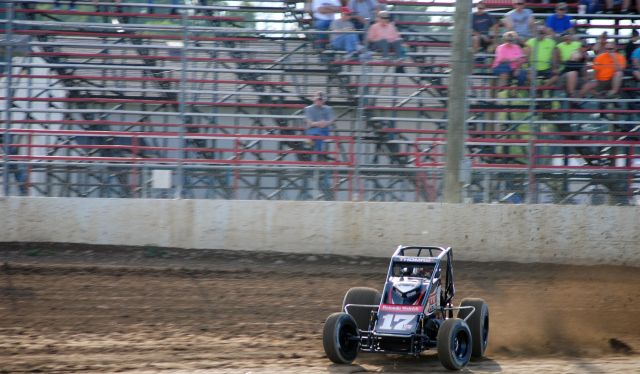 The return of the Amsoil USAC National Sprint Car Series to I-96 Speedway was circled on my calendar for over two years due to Mother Nature intervening last season Having a chance to cover a USAC event and sleep in my own bed at a reasonable hour rarely happens
The rational side of me that knows the racing climate in Michigan was apprehensive.  USAC events in the past have had mixed results on car and fan counts.   Early shows at Berlin in the heyday of Thursday Night Thunder did well until it was replaced with a cheaper Sprints on Dirt program.  Of the sporadic appearances in Michigan since either fan, cars, or something both did not turn out for the event.
Undaunted Mike and Sarah Mouch were extremely enthusiastic about the show.
"I wanted to have this show the first year we bought the track," said Mouch before the program.  "I'm only worried that people are not going to show up because they don't know what (USAC Sprint Cars) are."
There were radio ads, various ticket packages offered to entice people to come, and pounding on social media.  Even with that I do not believe enough fans showed up to make this happen again next year.  The Engine Pro Sprints on Dirt presented by ARP program and even a couple of the weekly shows at I-96 had more people in the stands than for the USAC program.
Having the race scheduled away from the UMP Hell Tour show instead of on the same weekend might have enticed a few more casual local fans that had to pick between a relatively unknown entity to them versus an established program, but I still think it would have been a losing proposition.   Having the event on the first truly hot day of the year in the Great Lakes state was not in I-96's favor as well.  USAC at I-96 or another Michigan venue could grow into something if it was paired up with a Friday show at Gas City and was cultivated for a few years.  The problem is its unrealistic for any promoter to book a show that draws well under expectations again.
The feature itself was much better than expected when Bryan Clauson ended up on the pole with a heavy race track.  Clauson along with Kevin Thomas, Jr. and winner Brady Bacon put on a great race for the lead.  In addition watching Robert Ballou and Thomas come from the back after tire issues was a treat as well.
Ironically in a season dotted with rain outs on my personal schedule I have managed to see all three sprint car races at I-96 Speedway this season.   Recently I-96 has been a magnet for bad weather when sprint cars are on the schedule, but the sun was shining on Saturday.  I see the Mouch family doing so many things better than when they started at I-96 as far as track prep and fan hospitality, it was just disappointing to see a big show not turn out well when Mike and Sarah stuck their necks out to schedule it.
Do I think a USAC Sprint Car program can work in Michigan?  I believe so in the right place at the right time.   Hopefully at some point a Michigan promoter can find success with it so USAC fans in the area can have one "home game" every year.   For Michigan fans that did not make their way out to I-96 you missed a good show and no longer are allowed to complain there are no USAC programs in Michigan.
Notes…
Bacon's win kicked off a marathon run of 14 races in 16 days leaving to run Ohio and Pennsylvania Sprint Speedweeks in his own winged car.  Bacon will follow that up with a USAC race at Lincoln Park Speedway and Indiana Sprint week for the Hoffman's.
Local participation in the USAC event was higher than anticipated.  Joe Bares won a heat race event while Steve Irwin led his heat until the white flag lap.  2012 SOD champion Gregg Dalman was on hand looking to shake down his car in non-wing trim before going up north to run an MTS program at Merritt Speedway later in the season.  Dustin Shriver, Jay Steinbach, and Mark Strpko also competed.
Canada also had representation with veteran driver Dick Mahoney and Jon Watson making their first USAC starts.
Strpko, Bares, Irwin, Mahoney, and Watson all participated in Friday night's MTS show at Tri-City and Saturday's USAC program at I-96.
Michigan resident Taylor Ferns was assisting on Tracy Hines sprint car Saturday at I-96 Speedway.  Ferns is under Hines' tutelage this season in the USAC National Midget Car Series and ran at Angell Park Speedway with Hines on Sunday.
Robert Ballou has parted ways with the Baldwin Brothers and is now driving the Pollock #21 car that Chris Windom wheeled earlier this season.  Ballou suffered a flat tire during the feature, but raced back up to a top five finish.
Saturday was a homecoming of sorts for standout crew chief Mike Dutcher.  Dutcher used to turn wrenches on Ryan Grubaugh's Sprints on Dirt car and is very familiar with the Lake Odessa half mile oval.  Unfortunately the homecoming did not go according to place as Thomas suffered a flat tire while leading.   Dutcher indicated after the feature he was disappointed and felt they had the field covered, but was already looking ahead to Putnamville and Indiana Sprint Week.
Of course I want to thank everyone at USAC and I-96 Speedway for the hospitality on Saturday.   Hopefully if this ever gets tried again there will be a few more fans on hand to witness it.