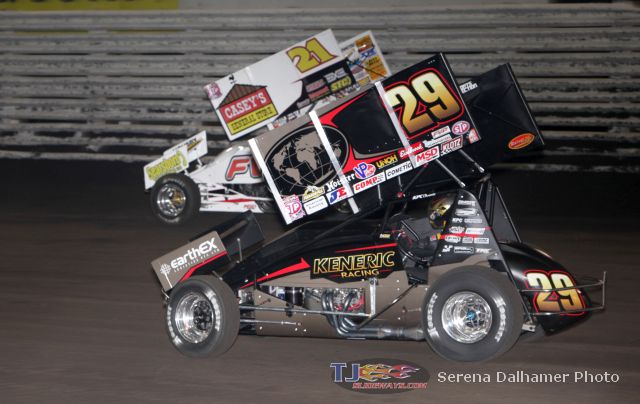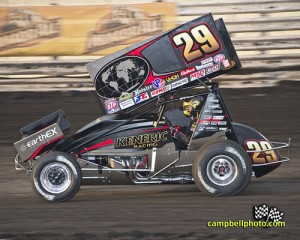 From Bill W
Knoxville, IA — (August 13, 2013) — Kerry Madsen and the Keneric Racing #29 team are looking forward to hitting the road again with the World of Outlaws following the Knoxville Nationals after finishing 16th on sprint car racing's biggest stage.  Tonight they will compete in Nebraska, before moving on for a pair of weekend shows in North Dakota.
Things started where we left off on Saturday, August 3 at the "Ironman 55" in Pevely, Missouri.  "We drew late to qualify and the track had slowed down, but we qualified fourth quick, which we thought was pretty good," says Kerry.  "Unfortunately, we couldn't get to the top two in the heat, so we missed the Dash and started 11th in the A main."
Kerry would move up to seventh at the checkers.  "We actually had a pretty fast racecar," he says.  "Fifty-five laps is a long way to pass four cars, but the track was fast.  We felt we were quicker than some of the cars in front of us, but we weren't able to capitalize on it.  The track was super-slick.  It was a good finish."
The St. Mary's, New South Wales, Australia native was the 49th car to qualify last Thursday in his prelim for the Nationals, but he pulled a good time out of the fire.  "We knew quick time was out of reach at that point, so we were really happy with twelfth," he says.  "A lot of strong cars went in front of us and we out-qualified them, so we were very pleased with that."
After going from sixth to second in the all-important Nationals heat race, Kerry lined up fourth in the main event, and found himself running second to Brian Brown.  "We were really strong," he says.  "We thought we had a shot at Brian.  I took a shot on a restart.  I committed myself to a run on the inside and he closed that door on us.  The rest of the way, I thought I may have a chance again at him, but it never eventuated.  It locked us into eighth in overall points, so we were extremely confident going to Saturday."
Being locked into Saturday's finale allowed Kerry and the team to focus on Friday's World Challenge.  "We brought a different car out for the World Challenge, which was probably a wise choice," he says.  "We thought we would try something, and we weren't very good.  It was worth a try, because you never know when you may trip over something.  We started twelfth and ran eleventh.  It was disappointing, because we want to run good in that race.  It strung out a bit, but we just didn't have a good racecar."
Kerry would start eighth in Saturday's finale, and it did not go well from the start.  "We just weren't very good," he says.  "I don't know what else to say.  We were blocked a couple of times, and I lost a spot every time that happened.  We just didn't have the car to capitalize on anything.  We just weren't very good."
The crew went to work on the #29 at the mandatory stop at the halfway point of the 50-lapper.
"We had the plan to change some things if we weren't very good at the halfway point," says Kerry.  "We got some things changed, but we just didn't get done what we needed to do.  We were so far out of the ballpark the first 25 laps.  We got the car a little better, but overall, we missed the boat."
The end result was 16th in the main event, worth $10,500.  "We definitely expected to run better than we did," says Kerry.  "We ran so well our preliminary night; to not back it up our second night was unfortunate.  Any other race, you just try something, chalk it up and move on, but you don't want to do it at the big one."
The team is headed to McCool Junction, Nebraska tonight and the Junction Motor Speedway.  They will head north to River Cities Speedway in Grand Forks, North Dakota on Friday and the Nodak Speedway in Minot on Sunday.  "It's a love/hate relationship at River Cities," says Kerry.  "I feel like I should have won five times up there already and I haven't.  We're just trying to enjoy it after the Nationals.  We're just going out having fun and trying to win some races."
Follow Keneric Racing & Kerry Madsen on Facebook and Twitter!
Keneric Racing
www.KenericRacing.com
http://www.facebook.com/kenericracing
http://twitter.com/kenericracing
Kerry Madsen
http://www.facebook.com/pages/Official-Fan-Page-for-Kerry-Madsen/101145169933686
To receive Kerry's Releases, send an e-mail to sprntcar@hotmail.com  This e-mail address is being protected from spambots. You need JavaScript enabled to view it with "Madsen" in the subject line!
Kerry Madsen (KMR) Bob & Peter Gavranich (Keneric Racing)
Earthex (Des Johnstone & Murray Lumsden) Morrison Motors (Brian Morrison) KPC Chassis (Steve Kent)