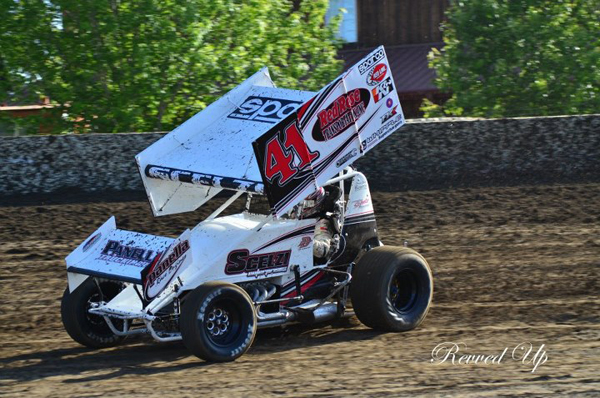 PETERSEN MEDIA
 Competing close to home over the weekend against both the Rebel Cup Series and the King of the West Series, Dominic Scelzi had a rough weekend, but the young driver showed perseverance on Saturday night, and salvaged his weekend with a seventh place finish.
"I really have to thank all of the people who work on this thing," Scelzi said. "Getting into the wall on Friday, then having some rotten luck on Saturday night, I definitely kept them busy."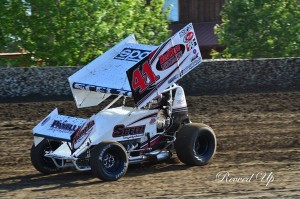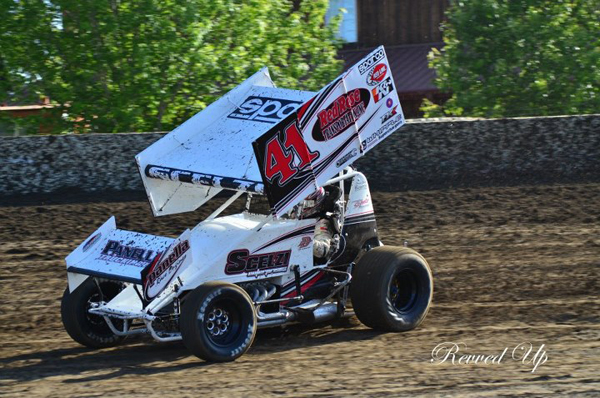 Scelzi's weekend started on Friday night at the King's Speedway in Hanford, CA as he took on the Rebel Cup Series aboard his SE Inc./Red Rose Transportation/Panella Race Engines powered No. 41.
Fighting engine issues most of the night, Scelzi still timed in ninth fastest, putting himself on the front row of his heat race.
Getting the jump in his Fowler Packing/Sparco/Fuel Delivery Services entry, Scelzi went on to pick up the win, transferring him directly into the 30-lap feature event.
Starting in the ninth spot on what was a tricky, and heavy track, Scelzi had his hands full early as he fought his racecar.
Bouncing through a rut in turns three and four, Scelzi made contact with the front stretch wall, ultimately knocking off his W-link.
Scelzi would fight his now very tight racecar, until ultimately pulling off with a DNF.
Bolting in the 410ci engine, Scelzi and his team headed south to the Tulare Thunderbowl to take on the King of the West Series.
With 28 cars on hand, Scelzi timed in 12th fastest, putting him on the outside front row of his heat race for the second night-in-a-row, and the Fresno, CA driver again got the job done and picked up the win, earning his way into the Dash, as well as the feature event.
Scheduled to start fifth in the Dash, Scelzi's bad luck started, as he blew a U-Joint while lining up, and was unable to compete in the Dash, putting him in the fourth row of the 'A' Main.
Thrashing to get his machine ready, Scelzi was able to make the call, but his bad luck would continue.
When the green flag waived, the field headed into turn one, and mayhem ensued to the tune of a 10-car pile up, and one of those involved with the Red Line Oil/K&N/Factory Kahne/Whipple backed No. 41.
Making contact with a flipping car, Scelzi again lost a W-Link, right-rear shock, and right-rear arm, and was forced to the work area for repairs.
Unable to make the initial restart, Scelzi and his crew were bailed out by another yellow, and he was able to restart the race with no laps completed.
With a beaten, and battered car, Scelzi was hoping to get through the feature with no more issues, but on the 10th lap, two cars flipped in front of him cutting his right-rear tire, but he was able to stay under power, and drove to the work area.
With a fresh tire, Scelzi restarted the race and was able to salvage his night with a seventh place finish.
"The entire night was wild," he said. "I don't know if I have ever seen so many multi car wrecks before, but unfortunately we were in a couple of them. My guys worked their butts off all night, and I wouldn't have been able to finish without their hard work."
2013 BY THE NUMBERS: Starts- 38, Wins-3, Top-5's-13, Top 10's-24
ON TAP: Scelzi will take a bit of a break from his Sprint Car as he will pilot the Pace Chassis House Car at Lemoore during the Cal Cup on October 4th-5th., before returning to sprint car action on October 12th at the King's Speedway.
STAY CONNECTED: Stay updated with Dominic by following him on twitter @DominicScelzi41, or by visiting his website at www.garyscelzi.com.