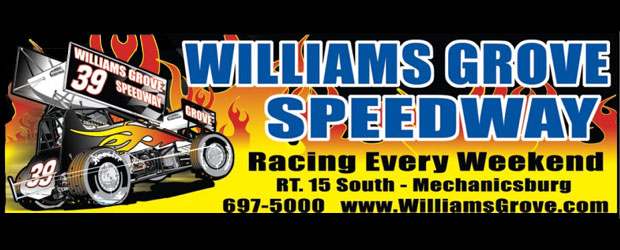 From Williams Grove Speedway
Mechanicsburg, PA — (October 26, 2013) — Gene Knaub, Rich Eichelberger, Tyler Ross and Don Kreitz Jr. took the feature events at Williams Grove Speedway's Fall Fest on Saturday night to close the 2013 racing season.
Knaub, the winner of the 20-lap 358 late model feature, started third in the field and led every circuit of the caution-laden affair to pick up his fifth victory of the season at the track.
Early in the race Bobby Beard trailed Knaub before JR Rodriguez took over late for the spot.
Chaz Walls, Travis Mease and Pat McNeal rounded out the top five.
Eichelberger started on the pole of the super sportsman main and wired the field for his victory that was his second of the year at the oval and the 83rd of his overall career anywhere.
Eichelberger too was forced to lead in a frequently slowed event.
Eighth starter Scott Geesey powered into second with five laps to go in the 20-lap main but failed to challenge Eichelberger for the win.
Carmen Perigo Jr., Russ Mitten and Bobby Hockenberry took the top five spots at the finish.
The son of veteran open wheel racer Sam Ross, Tyler Ross wired the field for his victory in the 358 sprint feature event.
He was chased the entire distance by Chandler Leiby and Ryan Wilson.
Point champion Kevin Nouse started 12th in the field and took fourth spot with seven laps to go in the 20-lap main.
Austin Hogue rounded out the top five.
Kreitz started 10th in the 410 sprint main and put on a driving clinic to record his fourth win of the season at Williams Grove Speedway.
Rick Lafferty led from the outset from the pole with Pat Cannon chasing him.
Kreitz was up to sixth by the sixth lap and used his traditional low lane to mow down the competition, getting by Danny Dietrich, Steve Buckwalter, Brian Montieth and others until he came up on teammate Ryan Smith.
Smith tried to defend the third spot by taking Kreitz's line away but the Sinking Spring veteran simply switched methods and raced just off of Smith's right rear, through the middle, to snare third.
Cannon fell victim to a low pass by Kreitz for second and then Kreitz again had to change it up to get by Lafferty running to his outside with nine laps to go.
Kreitz pulled away to the finish after taking control to close the year with a victory.
Brian Montieth roared around the top groove late to cross in second followed by Lafferty, Cannon and Smith.
Point champions Kevin Nouse, 358 sprints; Fred Rahmer, 410 sprints; Don Kreitz Jr., Diamond Series (410 sprints); and Frankie Herr, super sportsman; were honored with trophy presentations during the night.
Special awards were also handed out in the 410 and 358 sprint divisions.
Rookie of the Year honors in the 410 sprints went to Ryan Wilson while Moon Byers and Fred Rahmer III. shared Mechanic of the Year awards.
The 410 sprint Jerry Reigle Sportsmanship Award went to Kreitz. Most Improved laurels went to Ryan Smith.
In the 358 sprints, Rookie of the Year went to Austin Hogue and sportsmanship went to Jay Galloway.
October 26, 2013 Feature Finish:
410 sprints, 25 laps: 1. Don Kreitz Jr., 2. Brian Montieth, 3. Rick Lafferty, 4. Pat Cannon, 5. Ryan Smith, 6. Steve Buckwalter, 7. Brent Marks, 8. Danny Dietrich, 9. Adam Wilt, 10. Lance Dewease, 11. Greg Hodnett, 12. Glenndon Forsythe, 13. Derek Sell, 14. Rodney Westhafer, 15. Tim Glatfelter, 16. Troy Fraker, 17. Mark Zimmerman, 18. Ryan Slothower, 19. Bradley Howard, 20. Jim Shuster, 21. Logan Schuchart, 22. Jacob Allen, 23. Bobby H oward, 24. Jay Reichard
358 sprints, 20 laps: 1. Tyler Ross, 2. Chandler Leiby, 3. Ryan Wilson, 4. Kevin Nouse, 5. Austin Hogue, 6. Jay Galloway, 7. Kody Lehman, 8. Adrian Shaffer, 9. Jordan Givler, 10. Doug Hammaker, 11. Alan Spriggle, 12. Scott Wilson, 13. Ryan Higgins, 14. Brian Alleman, 15. Dale Hammaker, 16. Zach Eucalano, 17. Chris Shuttlesworth, 18. Mike Markey, 19. Brie Hershey
DNS: Danny Massey, Ted Thomas Jr.
Super sportsman, 20 laps: 1. Rich Eichelberger, 2. Scott Geesey, 3. Carmen Perigo Jr., 4. Russ Mitten, 5. Bobby Hockenberry, 6. Mike Enders, 7. Chris Meleason, 8. Paul Miller, 9. Tom Wyckoff, 10. Kenny Edkin, 11. Doug Dodson, 12. Steve Wilbur, 13. Dave Berkheimer, 14. Todd Leonard, 15. Eric Walker, 16. Lanny Hake, 17. Scott Dellinger, 18. Rick Barr, 19. Duaine Smith, 20. Jay Fannasy, 21. Dave Socks, 22. Chad Criswell, 23. Frankie Herr, 24. Stan Wanner
358 late models, 20 laps: 1. Gene Knaub, 2. JR Rodriguez, 3. Chaz Walls, 4. Travis Mease, 5. Pat McNeal, 6. Dave Latshaw, 7. John Ebersole, 8. Carl Leach, 9. Steve Stitt, 10. Chad Julius, 11. Randy Croop, 12. Tom Smith, 13. Mike Walls, 14. Bobby Beard, 15. DJ Mease, 16. Zach Kauffman, 17. Ken Stitt Jr.