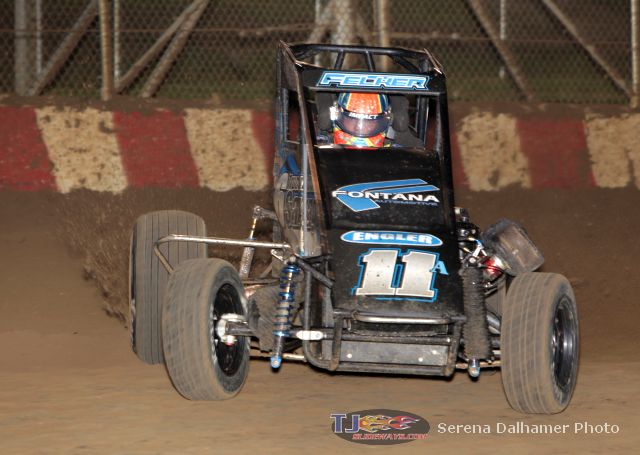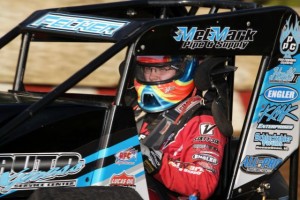 From  Inside Line Promotions
Carl Junction, MO — (December 10, 2013) — Andrew Felker recently ended another successful campaign, which he hopes will springboard him to new heights next season.
Felker overcame a couple of hurdles to place second in the POWRi Lucas Oil National Midget Series standings and eighth in the Honda USAC National Dirt Midget Series championship standings.
"We started off really strong right out of the box," he said. "The first part of the year we were running top five in USAC points and leading POWRi points. There was a streak right in the middle of the season where we had some bad luck. Looking back it's the same week at the same tracks that has bit us in the past.
"Overall, I felt like it was a good year. I learned a lot. It was our first full year with USAC and running a lot of those tracks the first time. This year the biggest thing was running against the USAC guys; getting out, running the Indiana tracks that are normally USAC only. Running with that competition steps up everyone's game."
Felker nearly captured a monumental USAC victory during the season finale at the 73rd annual Turkey Night Grand Prix at Perris Auto Speedway in Perris, Calif., on Nov. 28. Felker led the first 49 laps before his left rear tire went flat.
He did record a POWRi win during Speedweek action on June 8 at Macon Speedway in Macon, Ill., which hosted more than 50 other drivers.
"Definitely our highlight was winning the POWRi Midget Week race at Macon," he said. "We had a good midget week going up to that point. I think we started fifth that night. I got to second pretty early in the race and kept throwing slide jobs. Jerry Coons Jr. was leading and I probably slid him 12 to 15 times. It was a hard battle."
Felker, who notched 19 top fives and 34 top 10s, said next season will entail a similar schedule.
"As long as the schedules are close to what they were last year, we will run USAC and POWRi and fill in the schedule with some Badger stuff when we can," he said. "We were able to run a diverse schedule this year and I really want to thank my family and all of our sponsors for helping us achieve the success. It was a great year and I can't wait for next season."
Next season kicks off in a couple of weeks at the 29th annual Tulsa Shootout, which is held Jan. 1-4 at the Tulsa Expo Raceway in Tulsa, Okla.
SEASON STATS –
51 races, 1 win, 19 top fives, 34 top 10s, 44 top 15s, 48 top 20s
UP NEXT –
Jan. 1-4 at Tulsa Expo Raceway in Tulsa, Okla., for the 29th annual Tulsa Shootout
MEDIA LINKS –
Website: http://www.AndrewFelkerRacing.com
Twitter: https://twitter.com/AndrewFelker11a
VIDEO –
Here is a link to XSANTV's in-car footage of Felker finishing second at Jacksonville Speedway in Jacksonville, Ill., on April 26: http://youtu.be/tSwLTs5L1Zk
SPONSOR SPOTLIGHT – Engler Machine & Tool, Inc.
Established in 1980, Engler Machine & Tool, Inc., builds fuel injection systems, custom made pulling chassis, gears, shafts, specialty CNC products, racing engines and some custom machining. For more information, visit http://www.EnglerMachine.com.
"I've been with Engler Machine & Tool for three and a half years now and you can't get better customer service than Engler," Felker said. "I wouldn't drive a race car without Engler injection on it."
Felker would also like to thank Auto Xpress, 66 Truck & Foreign Salvage, Fontana Automotive, MelMark Pipe & Supply, Schluckebier Farms, Pro Powder Coating, CSI Shocks, All-Pro Auto Interiors, Aggressive Graphics, Momo's Racing Engines, KBR Performance, Weld Wheels, KMK Enterprises, Heath II, Wilwood, Maxim Racewear and Leading Edge Composites for their continued support.