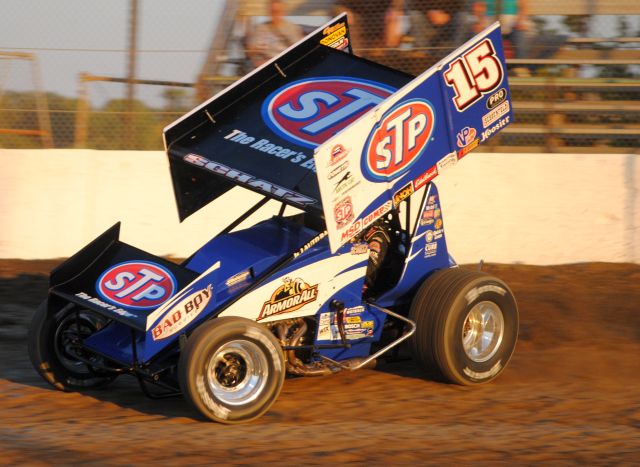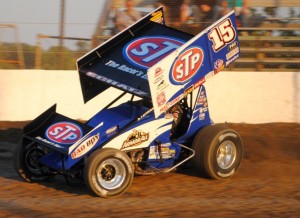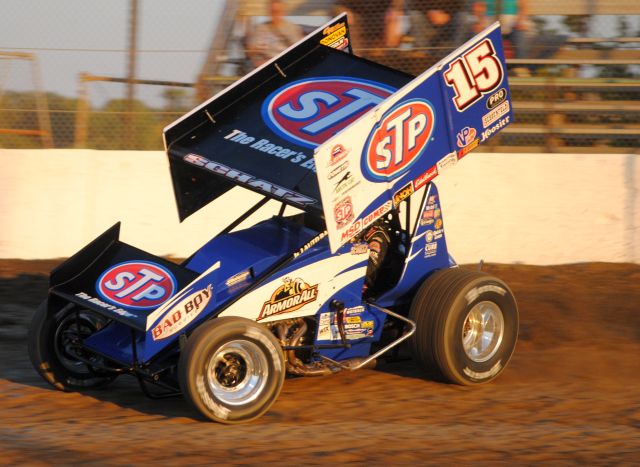 From WSS
Brisbane, AU — (January 5, 2014) — 5 times World of Outlaws Champion Donny Schatz won the 30 lap A-Main for Round Six of ENZED World Series Sprintcars at Supercheap Auto Archerfield Speedway tonight but not before South Aussie Luke Dillon impressed the strong Queensland crowd on hand by leading most of the race.
Schatz led home Dillon in second, James McFadden third, Andrew Scheuerle fourth, Bryan Mann fifth, Luke Oldfield sixth, Brent April seventh, Jason Sides eighth, David Murcott ninth, Brooke Tatnell tenth, Daniel Pestka eleventh, Jamie Veal twelfth, David Muir thirteenth, Danny Reidy fourteenth, Shane Stewart fifteenth, Garry Brazier sixteenth, Peter Lack seventeenth, Dylan Jenkin eighteenth and Terry Bracken nineteenth.
Steven Lines was classified as a DNF when he unfortunately blew a motor within sight of the last lap.
Dillon started on the front row in his Diamond Bay Motorsport #26 Maxim alongside fellow SA hard charger Steven Lines in his Halls Haulage KPC for the main event and it Luke who led into turn one for the first time.
Lines slipped into second whilst Bryan Mann (who had earlier set his first ever Revolution Racegear "Quick Time" in Qualifying) slid his #16 Eagle Motorsports entry into third ahead of Schatz's STP J&J.
The Outlaw superstar eventually moved by Mann on lap seven and eight laps later had replicated the move on second place Lines who had his hands full with a car that was clearly very tight.
It culminated in two uncharacteristic spins on separate laps.
"I caught the slippery stuff in turn four," Lines admitted, "and we spun. I dropped a few spots but I was really struggling with the car."
The Mt. Gambier throttle man and Speedweek Series winner eventually looped the #3 KPC in turn one and two later in the race.
"I was pushing too hard. Trying to get a couple of spots back and I turned it around. Completely my fault," he conceded.
(Lines would eventually detonate his second motor for the series, forcing the team to go to a back up plan for next weekend with QLD builder Scott Inglis lending a hand.)
Meanwhile James McFadden was motoring from his fifth row starting spot in the #1 Totally Workwear Cool and making progress towards the podium.
Andrew Scheuerle was supremely consistent in the Ausdeck Patios #25 Cool whilst Bryan Mann was intent on finishing inside the top five given half a chance.
Luke Oldfield recorded a career best sixth place in his #17 JB Automotive entry.
After setting up the move for several laps previously Donny Schatz eventually moved his #15 car to the cushion in turns three and four on lap 23 and shot around the outside of Dillon's #26 to take the lead and never look back.
"There's a lot of good cars here tonight," conceded the gracious winner later in ENZED Victory Lane, "this is a good build up for next weekend's Australian Open. I can't thank Luch Monte (his car owner) enough for his support. I've been driving for Luch for the best part of 18 years I reckon. I'm really pleased we can get this one for him and I hope we can do the same next weekend when he's over here."
Schatz's car is for sale, complete with motor.
Luke Dillon was encouraged by what was easily his best result at Archerfield.
"This place (Archerfield) is foreign territory for me in a lot of ways, so to lead here and run second to Donny Schatz is a pretty good result for this team and for me personally. I'm disappointed we didn't win for sure, but it's encouraging to get a result like this. He's (Schatz) a pretty good driver after all."
Dillon now has a slender 23 point Championship lead over Lines in second and Tatnell third.
McFadden's eventual third was also satisfying for the two-time WSS champion.
"A win can't be far away," he mused, "we really got going tonight in the main event and I know we've got the car speed, we just need things to turn our way a bit. It's a good build up for the 50 lapper next weekend anyway."
For his seven position haul in the main event McFadden won the American Racer Hard Charger award.
Brooke Tatnell came from 15th to 10th but the end result was certainly not what the 8 times WSS champion was hoping for in the KMS #2 Cool Chassis.
The B-Main was marred by a nasty flip involving Queenslander Paul Morris on the main straight going into turn one of the opening lap.
Morris' #67 Supercheap / Hungry Jacks J&J flipped several times and gave it's driver quite a work over before the Supercar driver climbed clear of his once pristine race car.
As some consolation Morris was awarded the "Go the whole hog" Hog's Breath Cafe award.
Brooke Tatnell went on to win the B-Main narrowly from Shane Stewart in second and Jamie Veal in third.
Awards:
American Racer Hard Charger: James McFadden
Hog's Breath Cafe "Go the whole hog" award: Paul Morris
Revolution Racegear Quick Time: Bryan Mann
Top 20 in Championship points after Round 6:
1. Luke Dillon 1334*
2. Steven Lines 1311*
3. Brooke Tatnell 1260*
4. James McFadden 1254*
5. Robbie Farr 1181
6. David Murcott 1088
7. Shane Stewart 1027*
8. Jamie Veal 966*
9. Brad Keller 962
10. Dylan Jenkin 915*
11. Daniel Pestka 911*
12. Garry Brazier 859*
13. Kyle Hirst 801
14. Matt Egel 756
15. Jackson Delamont 730*
* Indicates contracted WSS drivers