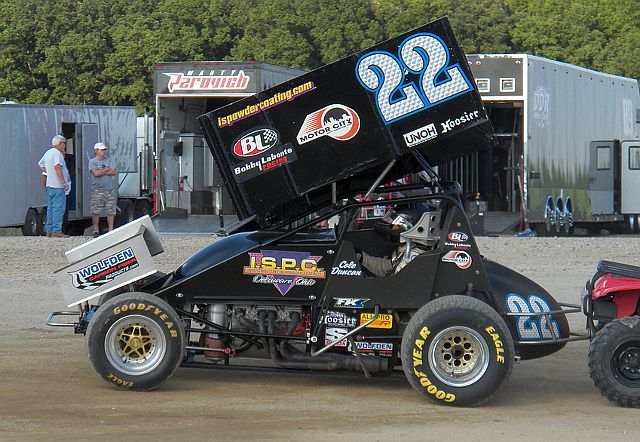 By Scott Wolfe
CHILLICOTHE, OHIO-Twenty-six of the hottest modifieds in the Midwest battled for a spot in the 2014 version of "Modified Mayhem" at McCown's Atomic Speedway, where the field was whittled down to the $1,500 winner Kenny Johnson of Mineral Wells, West Virginia. Claiming the companion AMRA Late Model victory was Rod "Hot Rod" Conley, while Cole Duncan, Lockbourne, Ohio outran Todd Kane to the finish in the 410 Sprints, Dean Boyd won his third straight Street Stock main, and Rob Stambaugh claimed the sport mod victory.
Three exciting heat races set the stage for a barnburner of a feature in the AMRA Octane/Advanced Services Modifieds. Travis Dickson, Gallipolis, Ohio, last week's feature winner, set fast time with a 15:491.  Heats were won by Dave McWilliams, Verona, Kentucky; Johnson, and Luke Jordan, of South Webster, Ohio. Anthony Kincade, Zanesville, Ohio won the B-main. What may have been the difference in the feature finish was a last-to-first run by Johnson, high against the wall in the night's second heat.  Kenny "Worth the Price of Admission" Johnson lived up to his name in a stacked heat that was more reflective of a feature.   That win earned him an outside pole starting slot, along with a throng of new fans that joined his fan base.
McWilliams and Johnson paced the field to the unfurled green flag of starter Frank Lemaster. Johnson won the drag race to the first turn cushion to take the lead, then never looked back in a torrid flag-to-flag win.  While Johnson worked traffic to perfection, Luke Jordan continued a great evening with a solid second place run most of the event. Early on, Jordan stayed within striking distance, but Johnson's surge enabled the Mountaineer to check-out as the race unfolded.
After a lap 8 restart, Jimmy Lennex, Maysville, KY restarted 11th.  Just six laps later the Bluegrass ace was up to 7th place and on a charge to the front.  Meanwhile, Greggie Oliver, doing double-duty in Late Models and Modifieds moved into third over McWilliams.  McWilliams two laps later jumped the cushion and was shuffled back to 14th after anchoring third for much of the race.
Doug Adkins, Tanner Wilson, Jess Hartman, Rick Hensley, Travis Dickson, and Fireball Pinkerton went "two stacks deep" of three-wide racing for the fifth spot. Adkins ran anywhere from fifth to 7th much of the race, but began a late race surge along with 16th place starter Kincade. Pinkerton's great run ended with a flat tire and early exit. On a lap 18 restart, Oliver made a bonsai pass of Jordan, and yet another restart gave Oliver a late race bid for number one.  Oliver made the dive low, but Johnson's momentum carried him through turn two and on to an impressive win.
Adkins continued his forward advance to fourth with Lennex now anchoring a top five with Kincade, Craig Christian and McWilliams battling for a spot in the top ten.
At the finish it was Johnson, Oliver, Luke Jordan, Doug Adkins, Jimmy Lennex, Tanner Wilson, Jess Hartman, Anthony Kincade, Craig Christian, and  McWilliams. Lennex charged from 14th to fifth and Kincade from 16th to eighth.  Craig Christian was credited with the hard charger award in a 20th to 9th place run.
"I really like to run the bottom," joked Johnson in victory lane. "No, seriously, I hooked up on the high side and tried to put on a show for these fans.  I drive past two other tracks to race here because these fans are among the best.  They are great to me and that's why I am here. That (the great fans) and Brad provides us with a great race track."
"I screwed up in the heat race and ran hard into turn one and right upon Mark Dickson. I was my fault, and when I went to the tail I didn't know if I could come back through the pack.  There were a lot of good drivers in my heat. But we did it and that allowed me a good start in the feature."
In the Pine Tree Towing 410 Sprint cars, Todd Kane, Delaware, Ohio claimed his heat in the Charlie Brown #99 and was looking for his first 2014 feature win.  The veteran took the lead over Stuart Brubaker and led the first 20 circuits, pulling away to a straight-away lead by the 10th circuit and lapping much of the field up to 13th.
Brubaker ran a fast, steady second, but fell victim to Cole Duncan on the 13th circuit.  Jimmy Stinson, Aaron Higgins, Taylor Ferns, and Josh Davis all jockeyed for a top five.  Some of the best battles of the night came from this group, while Kane's lead started to diminish.
Kane was straight and fast, but as the track locked down with rubber, the 99 displayed some tire smoke at the apex of the turns.  Duncan, meanwhile, was on a rail.  His ISPC/Motor City Maxim with Gressman power started to reel in the fading Kane.  On the 19th circuit Duncan tried Kane, but Kane closed the door, then one lap later, the second generation driver dove low under Kane and made it stick, then held off Kane's charges to the finish.
"The track was excellent tonight and racy all the way around," said Duncan.  "We had several of our sponsors here tonight and we are glad to bring home the win for them.  Todd and I go way back.  He was fast tonight, but we were able to be in the right places at the right times."
Rounding out the top ten behind  Duncan were Kane, Stuart Brubaker, Jimmy Stinson, Aaron Higgins, Taylor Ferns, Josh Davis, Ryan Broughton, Brandy Bower, and Tyler Courtney.  The Hummel -Factory Kahne Racing Shock 'Hard Charger' was Duncan with a 7th to first place run, while Brandy Bower had a 14th to 9th place run. Davis went from 11th to 7th in a good run.
The Gullion Enterprises LLC AMRA Late Models were fewer than normal, but of high quality.  The late model main went green to checkered without a caution.  Heat winners were Greggie Oliver, Rod Conley, and Delmas Conley.  The best LM heat of the night was a torrid battle between Oliver and Billy Gullion, who battle tooth and nail for all of ten laps in a masterful display of racing-Great driving and great racing by two outstanding drivers.
Oliver, the fast-timer, sat on the pole with outside starter Hot Rod Conley.  Conley blitzed into turn one first then fended off early challenges from Oliver.  Delmas Conley, Gullion, and Kevin Wagner went three wide for position in the early stages as the top five distanced themselves from the rest of the field.
The Conley-Oliver dual was short-lived by lap 9, when Conley began to check out on the rest of the field.   Conley's Rocket/Draime powered machine diced through traffic with great precision as the second generation driver blasted into victory lane.  Delmas Conley came home third, leading the trio of himself, Wagner and Gullion, who battled race-long for position.  The current point's leader will get a provisional for the Atomic Blast next Saturday, a show that pays $15,000 to the NDRL Late Model winner.
That battle went down to the wire between Wagner, the points leader, and Gullion, the runner-up, with Wagner narrowly escaping with the one-up over Gullion in the feature finish.  Should Wagner make the show Saturday, then second in points would take the provisional, if needed, and right on down the line for the current Atomic points' race. Going into the event Wagner led  Gullion 228 to 221 in a close 2014 points battle. Current points were not available at press time.
Rounding out the top ten were Rod Conley, Greg Oliver, Delmas Conley, Kevin Wagner, Billy Gullion, Mark Frazier, Curtis Deisenroth, Avery Taylor, Mick Sansom, and Darin Kattine.  Deisenroth was the hard charger in a 9th to 7th place run.
"This was a fine race track tonight, and a whole lot better than last week," noted Conley.  "Last week it was a power track–  You could flat-foot it all the way around this place. Tonight, it was a driver's track.  You had to drive the car to be good, and this Rocket worked perfectly."
In the Street Stock feature, Dean Boyd, Williamsburg, Ohio checked out earlyin his Adams Chassi/Cropper Engines #11B and by the mid-point was in a different time zone.  In the process Boyd claimed his third straight win. Rounding out the top ten were Boyd, Tommy Mossbarger, Justin Poling, Adam Jones, Tim Cutler, Dave Landman, Brian McQuay, Keith Elliott, Larry Highland, and Brandon Thompson.
In the C & M Racing sport mods, Rob Stambaugh drove his nephew's X car to victory lane over Harley Martin and Emily Jordan.  Earlier Stambaugh and Jordan, who led much of the heat, had a great battle in the qualifying event.  Stambaugh's win put him on the pole for a continuation of that battle.  Two-time winner Harley Martin got into the mix and edged Jordan with Steve Nobile, Greg Litteral, Kyle Call, David Lunsford,  and Mike Brust rounding out the finish.
Next Thursday, Friday, and Saturday May 8-10 is the Atomic Blast Weekend with three complete shows each of the three nights. On Thursday Modifieds run for $750 to win along with Street Stocks, Sport Mods and NDRL Late Model Practice and autograph sessions.  Friday features a $5,000 to win $500 to start Late Model main featuring some of the biggest names in Late Model racing plus AMRA modifieds paying $750 to win and Street Stocks. Saturday will be the big Atomic Blast feature paying $15,000 to win, $1,000 to start plus $1,000 to win for the AMRA Modifieds ($130 to start), plus Street Stocks.
Three day passes are available or tickets can be purchased separately for each night.
Gen admission :
Thurs $15
Friday $20
Saturday $35
Buy a 3-day pass and save!
3-day gen adm. pass- $50
Pits :
Thurs $30
Friday $35
Sat $45
3-day pit pass-$75
For more information please call 740-703-9749 or 740-663-4141 or visit the Atomic Speedway website at <<<   www.atomicspeedway.net >>>  Atomic is located 12 miles South of Chillicothe, Ohio off SR 23, two miles out Blain Highway between Chillicothe, Ohio and Waverly, Ohio at Alma.
Atomic is a Hoosier only track.  Check the website for rule details and the NDRL site for the weekend tire rule for late models.
Coming Events!
3 DAY NDRL WEEKEND:
May 8- NDRL Late Models (Practice only), Full race program of AMRA Modifieds, Sport Mods, Street Stocks plus Autographs
May 9- NDRL Late Models complete show $5,000 TO WIN, AMRA Modifieds, Street Stocks
May 10- NDRL Late Models complete show $15,000 TO WIN, AMRA Modifieds, Street Stocks
May 17- KIDS NIGHT-KIDS BIKE RACES  Sprints, AMRA Modifieds, Street Stocks, Sport Mods
May 24- Hall of Fame night honoring the 'rich' Atomic History of 'Racing Greats'
Visit << www.atomicspeedway.net  >> or call;  Camping is available for the weekend!!
The summary:
Pine Tree Towing and Recovery 410 Sprint Cars (21)
Fast Time: Cole Duncan 12:517
Dash:
Heat One: Todd Kane, Ryan Broughton, Cole Duncan, Mark Imler, Cody Gardner, Eddie Slone, Nate Reeser
Heat Two: Stuart Brubaker, Jimmy Stinson, Tyler Courtney, Josh Davis, Brandy Bower, Nick Roberts, Randy Fink
Heat Three:Aaron Higgins, Taylor Ferns, Jesse McCreary, Ronnie Blair, Kevin Roberts, John Shewbrooks, Rick Fraley
Feature: Cole Duncan, Todd Kane, Stuart Brubaker, Jimmy Stinson, Aaron Higgins, Taylor Ferns, Josh Davis, Ryan Broughton, Brandy Bower, Tyler Courtney, Mark Imler, Ronnie Blair, Jesse McCreary, Nate Reeser, Cody Gardner, Eddie Slone, John Shewbrooks, Rick Fraley, Randy Fink, Kevin Roberts, Jr., Nick Roberts