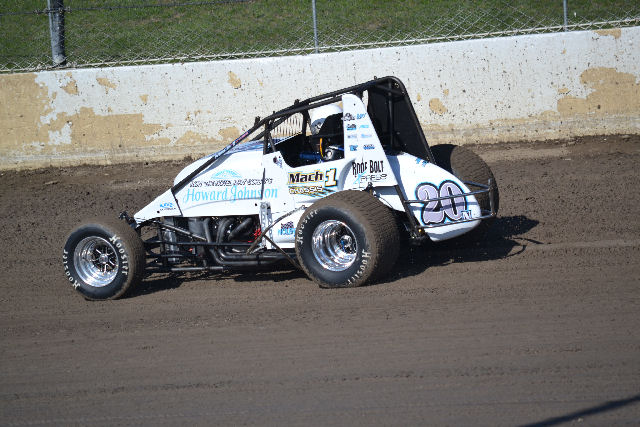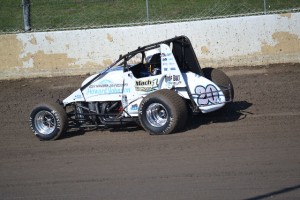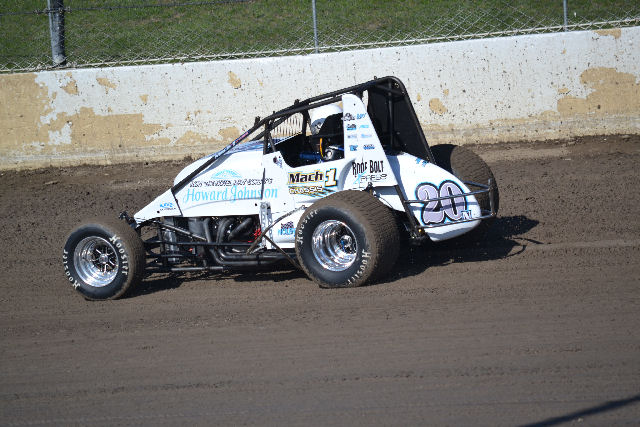 From Bob Miller
Delmar, DE — (June 2, 2014) — If you have never seen a non-wing sprint car race, you don't know what you're missing.
So plan to be at the Grandview Speedway Tuesday night, June 3 when the NAPA Auto Parts Thunder on the Hill Racing Series continues with the Jesse Hockett Classic for the USAC non-wing sprint cars and ARDC non-wing midgets presented by Window World. Race time is 7:30 PM.
The nation's best non-wing sprint car drivers from around the county will gather on the "hill" Tuesday night. Drivers like Jarrett Andretti of Indianapolis, IN, Shane Cottle of Kokomo, IN, the " Modern Day Cowboy" Daron Clayton of Sikeston, MO, Dave Darland, Lincoln, IN, Tracy Hines of New Castle, IN, Kevin Thomas, Jr. of Cullman, AL, Robert Ballou of Rocklin, CA, Nathan Moore of Tyler, TX, Chad Boespflug of Hanford, CA and Brady Bacon of Broken Arrow, OK are some of the expected entries. Look for ARDC defending champion Trevor Kobylarz of Birdsboro, PA to make his initial non-wing sprint car outing at Grandview and some other locals to include Billy Pauch Jr and Central PA driver Mark Smith.
Non-wing sprint car racing is not for the "faint of heart". This is as extreme as dirt track racing gets.
In many forms of racing, time trials can be a yawner, but not when the USAC cars take to Grandview Speedway. Some say, USAC time trials along are worth the price of admission. Well, have no fear, there is much more to the show then just time trials.
These non-wing sprint car drivers use the outside boiler-plate as a way to slow down. There is always wheel rubbing, countless slide-jobs and racing in a pack is just the norm. In the 2013 running of the Jesse Hockett Classic, Daron Clayton did it all to win the $6,000 first place prize. In a three car battle for the win, Clayton, Levi Jones and Bryan Clauson were on the inside berm, glazing the boiler-plate and offered a three car battle for the lead for the final fifteen laps. Daron Clayton may have failed trying to move the outside boiler-plate at Grandview, but he did win the prestigious event.
Gates will open at 5 PM and for advance ticket holders, you may enter the grandstands at 4:30 PM. Warm-ups will begin at 6:45 with time trials getting underway at 7:30 PM.
USAC time trials, heat races and the 40 lap Jesse Hockett Classic are on the program along with the ARDC non-wing midgets, competing in a series of heat races all leading up to a 25 lap feature event. On May 25 at Grandview, ARDC put on the best show of the night, with Alex Bright taking the win in the non-stop 25 lap feature with Bright starting twenty-first. . . It was an awesome race!
The popular pre-race pit tours introduced at the May 25 Thunder on the Hill event will be offered on Tuesday night as well as the Inside/Out Promotion where fans may watch the warm-ups from inside turn four. What a treat with USAC on the hill.
And don't forget to welcome our newest sponsor, Window World, America's largest home improvement company. Window World of Lehigh Valley is your local specialist to help you with your window, vinyl siding, entry door or patio door needs. They can be reached at 610-432-6878, online at www.WindowWorldAllentown.com or at their show room 5925 Tilghman St, Allentown, PA 18104.
Following Grandview, the AMSOIL USAC Eastern Swing will include stops at the Lincoln Speedway Wednesday, June 4, New Egypt Speedway, Thursday, June 5, Port Royal on Saturday, June 7 with the finale set for Sunday, June 8 at the Susquehanna Speedway.
Previous Eastern Storm Champions
2014 8th Annual
2013 Bryan Clauson/Nobelsville, IN
2012 Bryan Clauson/Nobelsville, IN
2011 Levi Jones/Olney, IL
2010 Levi Jones/Olney, IL
2009 Cole Whitt/Alpine, CA
2008 Cole Whitt/Alpine, CA
2007 Levi Jones/ Olney, IL
2014 NAPA Auto Parts Thunder on the Hill Racing Series Next Event:
Presented by: Window World, Pioneer Pole Buildings & GALCO Business Communications
Grandview Speedway
Route 100
Ten mile north of Pottstown, PA
GPS Users: 43 Passmore Road Bechtelsville, PA 19505
Adult Admission: $25 Children 6-11 $10, five and under Free Pits $35 No license required.
Speedway Phone: 610-754-7688
Thunder on the Hill Information: 443 513 4456
Websites: www.thunderonthehillracingseries.com or www.grandviewspeedway.com Follow us on Facebook and Twitter @TOTHRacing
Thunder on the Hill fans are encouraged to engage on social media platforms using the hashtag #TOTHRacing before, after and during racing events. #TOTHRacing content will be promoted across the Thunder on the Hill official social media platforms on Facebook: www.facebook.com/thunderonthehill, Twitter: @TOTHRacing and Instagram: @TOTHRacing.
Grandview Speedway is a high-banked one-third mile clay oval, celebrating their 52nd Anniversary season in 2014. The facility offers free parking, quality food at reasonable prices (be sure to try the french fries), a program book, Grandview Speedway and Thunder on the Hill race wear and great viewing from every seat in the house. Race fans may take part in the Inside/Out promotion, where you can sign up (no charge) to watch warm-ups from inside turn four. Race fans are also invited to victory lane following the racing program and, race fans may enter the pits after the races to meet the drivers. Be ready to enjoy the spine tingling fireworks salute on the feature event parade lap.