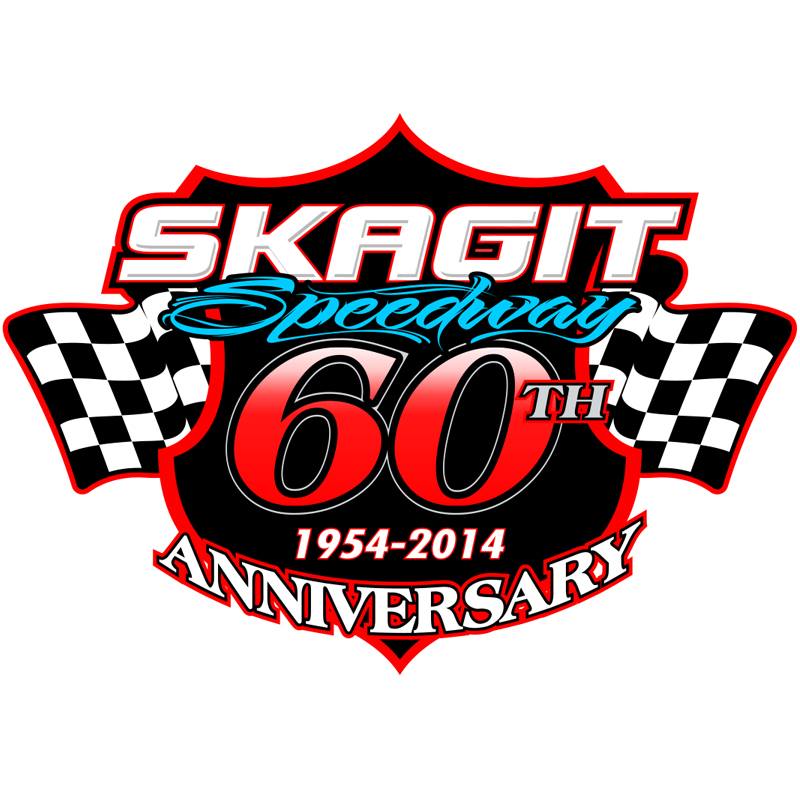 From Skagit Speedway
Alger, WA – (July 25, 2014) – Jason Solwold's experience at Skagit Speedway paid dividends on the preliminary night of the 2014 Bob's Burgers & Brew Summer Nationals. Solwold used a late race restart to pass Alberta's Sean MacDonnell to take home the victory on night one of the biggest 360 race in the Northwest on Friday night. Also on Friday night, Tyler Ketchum won the first night of the Outlaw Tuner Nationals.
The early portion of the 30 lap A Main event for the sprint cars was dominated by Matt Jensen. Jensen, searching for his first Skagit Speedway main event win, led with a sizeable advantage for the first 12 laps of the main event before slower traffic gave Sean MacDonnell a chance to narrow the gap. As Jensen attempted to lap Steve Reeves, MacDonnell fought to the top of the race track and powered by both Jensen and Reeves to take the lead on lap 20. At the same time, Jason Solwold had narrowed the gap between him and the lead pack, and also soared by Jensen to take the runner up spot. The race would feature five restarts over the next seven laps, with the fifth restart determining the fate of the race leader. Solwold, who'd lost a right rear shock somewhere around lap 15, was committed to running the bottom and put heavy pressure on MacDonnell each restart as the bombed into turn one. Following a Kenny Rutz spin on lap 27, Solwold took advantage of a small hole that MacDonnell opened in the low groove to slide in front of him and take his line away. Jason then turned away Sean's crossover move on corner exit and held strong to win. Seth Bergman raced from 14th to take second at the checkered and earn the high point night heading into the finale. MacDonnell would settle for third. Kelsey Carpenter was the fast qualifier on the night. Heat winners were Justin Youngquist, Eric Fisher, Bergman, Rutz and Jensen. Trey Starks won the B Main. 16 cars will lock into the A Main based on Friday night's points. The top six will participate in the A Scramble. A full point run down is located in the results section at the bottom of this article.
Tyler Ketchum emerged triumphant on night one of the Tuner Nationals weekend. Ketchum stalked Brian Michelson for the lead before mounting a big charge in the outside groove on lap 11 to take over the lead and eventually picking up the win. Michelson tied a career best finish with second. Freddie Vela was third. Ketchum and Brandon Berg were the heat race winners. Saturday night's main event will be lined up by points accumulated on Friday night's program as well as heats from Saturday.
360 Sprint Cars
Fast Time – Kelsey Carpenter 11.692
Heat 1 – Justin Youngquist, Chris Schmelzle, Henry Van Dam, Kelsey Carpenter, Rod Perkins, Jason Reed, Steve Vague
Heat 2 – Eric Fisher, Colton Heath, Devin Madonia, Trey Starks, Luke Didiuk, Daniel Anderson, Ben Gunderson
Heat 3 – Seth Bergman, Robbie Price, Sean MacDonnell, Steve James, Lawrance Kirkham, Daniel Cernich, Brock Lemley
Heat 4 – Kenny Rutz, Derek Roberts, Jared Peterson, Steve Reeves, Bud Ashe, Michael Bollinger, Zeth Custer
Heat 5 – Matt Jensen, Jason Solwold, Tayler Malsam, Reece Goetz, Jeff Dunlap, Greg Hamilton, (DQ-Failure to Scale) JJ Hickle
B Main – Trey Starks, Kelsey Carpenter, JJ Hickle, Rod Perkins, Steve Reeves, Reece Goetz, Bud Ashe, Luke Didiuk, Jason Reed, Brock Lemley, Greg Hamilton, Ben Gunderson, Steve James, Jeff Dunlap, Daniel Cernich, Zeth Custer, Daniel Anderson, Lawrance Kirkham
A Main – Jason Solwold, Seth Bergman, Sean MacDonnell, Trey Starks, Eric Fisher, Tayler Malsam, Derek Roberts, Colton Heath, Chris Schmelzle, Kelsey Carpenter, Henry Van Dam, JJ Hickle, Kenny Rutz, Robbie Price, Justin Youngquist, Matt Jensen, Jared Peterson, Steve Reeves, Devin Madonia, Rod Perkins
Lap Leaders – Jensen 1-19 MacDonnell 20-27 Solwold 28-30
Outlaw Tuners
Heat 1 – Tyler Ketchum, Brian Michelson, Kevin Reuter, Freddie Vela, Becky Boudreau, Matt Powers
Heat 2 – Brandon Berg, Jon Edwards, Vance Hibbard, Howard Vos, Jon Gunderson, Duane Warner
Main – Tyler Ketchum, Brian Michelson, Freddie Vela, Becky Boudreau, Jon Gunderson, Matt Powers, Kevin Reuter, Howard Vos, Jon Edwards, Clint Meins, Duane Warner, Vance Hibbard
Lap Leaders – Michelson 1-11 Ketchum 12-15
Summer Nationals Points – Top 6 Scramble – Top 16 Locked Into A Main
1. 572 – #23 – Seth Bergman
2. 554 – #18 – Jason Solwold
3. 553 – #55 – Trey Starks
4. 542 – #33 – Colton Heath
5. 540 – #26 – Tayler Malsam
6. 531 – #8j – Kelsey Carpenter
7. 530 – #44h – Eric Fisher
8. 523 – #9 – Sean MacDonnell
9. 517 – #42 – Derek Roberts
10. 514 – #8r – Kenny Rutz
11. 511 – #33v – Henry Van Dam
12. 509 – #36 – Chris Schmelzle
13. 503 – #21 – Robbie Price
14. 503 – #3 – JJ Hackle
15. 499 – #56 – Justin Youngquist
16. 490 – #7n – Jared Peterson
17. 486 – #98 – Matt Jensen
18. 479 -#5r – Steve Reeves
19. 476 – #42m – Devin Madonia
20. 465 – #69 – Rod Perkins
21. 455 – #9r – Reece Goetz
22. 450 – #57 – Bud Ashe
23. 445 – #9a – Luke Didiuk
24. 436 – #97r – Jason Reed
25. 432 – #29w – Steve James
26. 430 – #96 – Greg Hamilton
27. 423 – #68 – Ben Gunderson
28. 420 – #44nz – Daniel Anderson
29. 420 – #15 – Jeff Dunlap
30. 418 – #62 – Lawrance Kirkham
31. 416 – #3c – Daniel Cernich
32. 409 – #27z – Zeth Custer
33. 226 – #14 – Brock Lemley
34. 213 – #08 – Steve Vague
35. 212 – #5b – Michael Bollinger