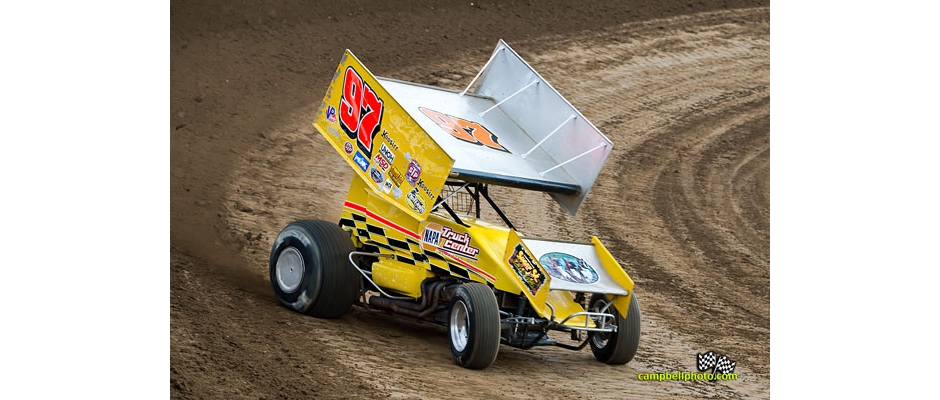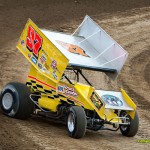 From Brian Liskai
Attica, OH — (May 1, 2015) — Dean Jacobs has been very close to winning the $10,000 Kistler Racing Products Fremont Attica Sprint Title (FAST) Championship Series and it has made him even more determined to hoist one of those Kistler Cups.
The Wooster, Ohio driver is off to a FAST start toward that goal as he drove to his second series win of the season in the O'Reilly Auto Parts 410 Sprints at Attica Raceway Park Friday on Sutton Bank night. The victory aboard the Joe and Diane Seeling owned #97 was his 12 career victory at "Ohio's Finest Racing" venue.
"Actually I didn't want to see any cautions at all. With the lapped traffic…I could run the top if I had to. The car was better on the bottom but if I needed to go up there I could and pass cars. Floyd (Green) and Ronnie (Landin)…they are working very hard to give me a good race car and it shows. We've won two races out of four. I can run the car anywhere I want as hard as I want to," said Jacobs beside his Northwest Ohio Towing 7 Recovery/NAPA Truck and Auto Center/Beaverdam Fleet Services/Sugar Street Bar and Grill backed machine.
"We're going to give it a hell of a try this year to win the FAST title and both Attica and Fremont's championships…that would be a $25,000 payday," said Jacobs with a big grin.
In a crash-filled Summit Racing Equipment UMP Late Model feature, Ashland, Ohio's Ryan Markham would hold off Rusty Schlenk's last lap charge to claim his first win of 2015. It was his fifth career Attica victory.
"We've had a fast car here all year…we've just not had any luck. I just tried to be patient out there. This track is fast and right now everyone is just hammer down. I want to thank all the fans for coming, my wife, Lora, my daughter Emma and Logan and all my sponsors. I'm glad to get this first win," said Markham of his Cool It Thermo Tech/H&T Demolition/Lias Tire by Tye Twarog, Accu-Force backed #5m.
"I knew he (Ryan Missler) had been running the middle and his car was a little too tight to rotate on the bottom. We've been fighting that same problem all year and we've been making adjustments to try and free the car up so it would rotate on the bottom," added Markham.
After a tremendous early race battle involving Jordan Ryan, Steve Rando and Jamie Miller, Ryan would pull away the last five laps of the Foster's Auto Body 305 Sprint feature to record his fourth win in a row. It is the defending track champion's 9th career win at Attica.
"My dad's got the car perfect. It's just sitting on the left rear just like I like it so I can drive the bottom. It's hard for me to mess up when he's got the car like that. He has it perfect every week," said Ryan of his Frosty Frog/Sandwisch Hay and Straw/Village Pizza house/KDB Rentals/Burns Electric/Kistler Racing Products/Griff's Engines/Big D's Lawncare/Walton's Cutting Crew/Precision Body and Frame backed machine.
Rookie Nate Dussel and Jimmy Light would bring the field to green for the 30 lap 410 feature with Dussel gaining the advantage as Jacobs drove into second bring Craig Mintz to third. Light would spin in turn four and Broc Martin in turn two after a lap was completed.
On the ensuing restart Jacobs would drive around Dussel to take the lead with Mintz, Cap Henry, Duane Zablocki, Byron Reed and Jody Keegan in tow. Mintz grabbed second on lap four as Dussel, Henry, Keegan, Reed, D.J. Foos and Zablocki gave chase.
The leaders would hit lapped traffic by the ninth circuit with Jacobs leading Mintz, Dussel, Keegan, Reed, Henry and Foos. Zablocki would bring out the caution on lap 13 with the running order Jacobs, Mintz, Dussel, Keegan, Reed, Henry and Foos.
When the green flew so did Jacobs, pulling away slightly from Mintz as Dussel and Keegan battled for third. Keegan would take the third position at the half-way point. Jacobs and Mintz drove away from the pack as Keegan, Dussel, Foos, Henry, Caleb Griffith and Chris Andrews gave chase.
With 18 laps scored Jacobs and Mintz had comfortable advantages but the battle for third was fun to watch between Keegan, Dussel and Foos. Foos would take the third spot on lap 19 as the leaders began to race into lapped traffic.
The caution would fly with four laps to go when Henry spin in turn four. On the restart Gary Taylor would spin in turn two. When the green flew for the third time Jacobs could not shake Mintz with Foos, Reed, Dussel, Keegan, Griffith and a closing Stuart Brubaker in tow.
Jacobs and Mintz ran nose to tail the last four laps with Jacobs rocketing to the win. Mintz, Foos, Reed and Dussel would round out the top five.
In the 25-lap 305 feature it was rookie Alex Hill and Jamie Miller leading the field to green but a bad start necessitated a caution during which Jeremy Duposki would flip. He was uninjured.
On the second start Miller would gain the advantage over Steve Rando, Hill, Ryan, Seth Schneider, Trey Jacobs, Tyler Street and Bobby Clark. Ryan would move into third a lap later and the battle for the lead between Miller, Rando and Ryan was on. Dylan Kingan would spin on lap four. When the green flew the three cars battle resumed. Ryan would take second on lap seven held a narrow lead over Miller on the next lap.
The leaders raced into traffic by the 10th lap with Ryan still clinging to a small lead over Miller with Rando, Schneider, Clark, Jacobs, Ricky Peterson, Hill and Kyle Capodice in pursuit.
Ryan would begin to pull away until the caution flew on lap 15. Ryan bolted away on the restart as Miller, Rando, Clark, Schneider, Peterson, Jacobs, Paul Weaver, Hill and Capodice gave chase. Street would stop on lap 17 for the final caution.
When the green flew so did Ryan as he pulled away from Miller. Rando had his hands full with Clark as Schneider and Peterson tried to close. With five laps to go Ryan was unchallenged while Miller and Clark battled for second and Schneider and Rando traded third back and forth.
Ryan would drive to the victory over Miller, Clark, Schneider and Rando.
Attica Raceway Park will play host to the 305 Engine Builders Challenge paying the feature winner $1,200 on Friday, May 8. It is also the first leg of the Attica Raceway Park/Wayne County Speedway Late Model Challenge with the dirt trucks also in action.
For more information go to www.atticaracewaypark.com
Attica Raceway Park
Sutton Bank Night – May 1, 2015
O'Reilly Auto Parts 410 Sprints (27 cars)
[#]-Starting Position
Qualifying
1.53-Cap Henry, 12.665; 2.21-DJ Foos, 12.755; 3.1st-Gary Taylor, 12.869; 4.33M-Caleb Griffith, 12.871; 5.09-Craig Mintz, 12.964; 6.40DD-Nate Dussel, 13.011; 7.5R-Byron Reed, 13.011; 8.9Z-Duane Zablocki, 13.011; 9.19-Chris Andrews, 13.041; 10.15H-Mitch Harble, 13.093; 11.16-Stuart Brubaker, 13.106; 12.23-Jimmy Light, 13.157; 13.97-Dean Jacobs, 13.181; 14.45L-Brian Lay, 13.228; 15.60-Jody Keegan, 13.277; 16.83M-Broc Martin, 13.439; 17.8M-TJ Michael, 13.483; 18.33K-Kyle Patrick, 13.516; 19.77-Dain Naida, 13.518; 20.787-Jimmy Pooler, 13.574; 21.68G-Tyler Gunn, 13.598; 22.71H-JoJo Helberg, 13.789; 23.7-Critter Malone, 13.829; 24.35-Wes McGlumphy, 14.042; 25.91-Cale Thomas, 14.198; 26.41J-Jeremy Powley, 14.599; 27.9x-Rob Chaney, 99.990;
Nitro Black Performance by Engine Pro Heat 1, Group A – (8 Laps, top 5 to A)
1. 97-Dean Jacobs[1] ; 2. 21-DJ Foos[4] ; 3. 09-Craig Mintz[3] ; 4. 15H-Mitch Harble[2] ; 5. 68G-Tyler Gunn[7] ; 6. 45L-Brian Lay[5] ; 7. 71H-JoJo Helberg[8] ; 8. 8M-TJ Michael[6]
Summit Racing Equipment Heat 2, Group B – (8 Laps, top 5 to A)
1. 5R-Byron Reed[1] ; 2. 40DD-Nate Dussel[2] ; 3. 53-Cap Henry[4] ; 4. 33M-Caleb Griffith[3] ; 5. 19-Chris Andrews[5] ; 6. 16-Stuart Brubaker[6] ; 7. 33K-Kyle Patrick[7] ; 8. 7-Critter Malone[8] ; 9. 41J-Jeremy Powley[9]
Ultra Shield Race Products Heat 3, Group C – (8 Laps, top 5 to A)
1. 23-Jimmy Light[2] ; 2. 60-Jody Keegan[1] ; 3. 9Z-Duane Zablocki[3] ; 4. 1st-Gary Taylor[4] ; 5. 83M-Broc Martin[5] ; 6. 9x-Rob Chaney[9] ; 7. 77-Dain Naida[6] ; 8. 787-Jimmy Pooler[7] ; 9. 35-Wes McGlumphy[8]
Computer Man B-Main 1 – (10 laps, top 5 to A)
1. 16-Stuart Brubaker[2] ; 2. 45L-Brian Lay[1] ; 3. 9x-Rob Chaney[3] ; 4. 77-Dain Naida[6] ; 5. 71H-JoJo Helberg[4] ; 6. 8M-TJ Michael[7] ; 7. 7-Critter Malone[8] ; 8. 33K-Kyle Patrick[5] ; 9. 787-Jimmy Pooler[9] ; 10. 35-Wes McGlumphy[11] ; 11. 41J-Jeremy Powley[10]
A-Main 1 – (30 Laps)
1. 97-Dean Jacobs[3] ; 2. 09-Craig Mintz[6] ; 3. 21-DJ Foos[9] ; 4. 5R-Byron Reed[7] ; 5. 40DD-Nate Dussel[1] ; 6. 60-Jody Keegan[8] ; 7. 33M-Caleb Griffith[11] ; 8. 16-Stuart Brubaker[16] ; 9. 19-Chris Andrews[14] ; 10. 9x-Rob Chaney[18] ; 11. 53-Cap Henry[5] ; 12. 77-Dain Naida[19] ; 13. 1st-Gary Taylor[12] ; 14. 68G-Tyler Gunn[13] ; 15. 45L-Brian Lay[17] ; 16. 83M-Broc Martin[15] ; 17. 15H-Mitch Harble[10] ; 18. 9Z-Duane Zablocki[4] ; 19. 23-Jimmy Light[2] ; 20. 71H-JoJo Helberg[20]
Hard Charger – 8. Stuart Brubaker [16] +8
Foster's Auto Body 305 Sprints (21 cars)
Nitro Black Performance by Engine Pro Heat 1 – (8 Laps, top7 to A)
1. 77X-Alex Hill[1] ; 2. 4*-Tyler Street[3] ; 3. 2-Ricky Peterson[5] ; 4. 11G-Luke Griffith[6] ; 5. 97-Kyle Peters[7] ; 6. 7-Dylan Kingan[2] ; 7. 7S-Tyler Schinderle[4]
Summit Racing Equipment Heat 2 – (8 Laps, top 7 to A)
1. 8-Bobby Clark[1] ; 2. 1W-Paul Weaver[6] ; 3. 3J-Trey Jacobs[3] ; 4. 19R-Steve Rando[7] ; 5. 25-Jason Keckler[4] ; 6. 13-Jeremy Duposki[2] ; 7. 12-Kyle Capodice[5]
Ultra Shield Race Products Heat 3 – (8 Laps, top 7 to A)
1. 36-Seth Schneider[1] ; 2. 5R-Jordan Ryan[5] ; 3. 39-Jamie Miller[3] ; 4. 7M-Brandon Moore[2] ; 5. 22M-Dan McCarron[6] ; 6. 77I-John Ivy[4] ; 7. 75-Jerry Dahms[7]
A-Main 1 – (25 Laps)
1. 5R-Jordan Ryan[8] ; 2. 39-Jamie Miller[2] ; 3. 8-Bobby Clark[7] ; 4. 36-Seth Schneider[3] ; 5. 19R-Steve Rando[4] ; 6. 2-Ricky Peterson[11] ; 7. 1W-Paul Weaver[12] ; 8. 3J-Trey Jacobs[6] ; 9. 12-Kyle Capodice[20] ; 10. 77I-John Ivy[18] ; 11. 7M-Brandon Moore[10] ; 12. 25-Jason Keckler[14] ; 13. 11G-Luke Griffith[9] ; 14. 7S-Tyler Schinderle[19] ; 15. 97-Kyle Peters[13] ; 16. 75-Jerry Dahms[21] ; 17. 7-Dylan Kingan[16] ; 18. 77X-Alex Hill[1] ; 19. 4*-Tyler Street[5] ; 20. 22M-Dan McCarron[15] ; 21. 13-Jeremy Duposki[17]
Hard charger – 9. Kyle Capodice [20] +11