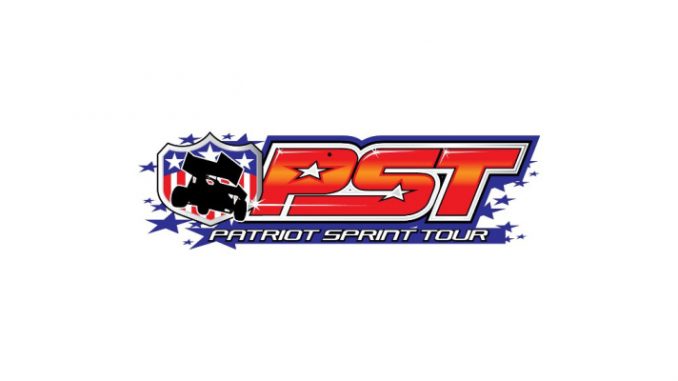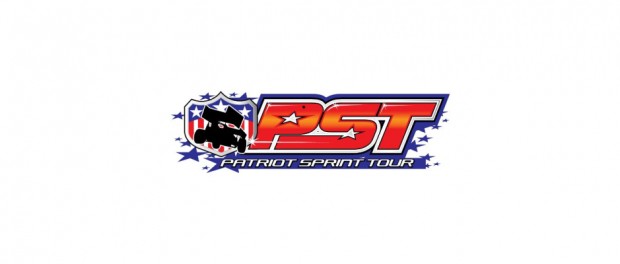 From Rich Vleck
Rochester, NY –(May 31, 2014) — After a pair of weekends out west, the Patriot Sprint Tour to visit two original tour stops for a pair of the most highly-anticipated shows of the season.
On Friday Night, the PST makes its first of two visits of 2015 to the Ransomville Speedway before travelling down the thruway Saturday for a return trip to the high-banked Fulton Speedway. This is the second-straight year where these two Upstate New York staples have been paired together on the same weekend. A-Verdi Storage Containers will help sponsor the action Saturday Night at Fulton while their night at Ransomville is in August. The Dave and Scott Just Racing Team has helped to make this trip to Niagara County possible.
The tough 4/10-mile high-banked Ransomville oval requires precise driving to go along with a well-handling race car in order to succeed. Dave and Scott Just hope that they can find glory at their hometown track. The 2014 "Patriots of the Year" have each had shining moments this year and with this race night being held in memory of the late Ray McIver, there would be no place more special to get up front.
Defending Patriot Sprint Tour Champion Jared Zimbardi was the dominant force at "The Big R" in 2014. He dominated the June event and appeared to have scored the win in August, only to have the victory taken away due to an incorrect tire choice.
Zimbardi's biggest challenger last year appeared to by Stewart Friesen. The sprint car moonlighter charged from the back in June to finish second and was caught up in an incident in August and certainly wants revenge in front of his most friendly audience.
Jason Barney was declared the winner of last August's race at Ransomville. Racin' Jason is also the most-recent winner at Fulton, as he dominated the lone 2014 to the high banks by using the very bottom groove. The Brewerton, NY driver will lose to add to his win total this weekend.
Bryan Howland was in his own zip code on Friday Night, dominating the PST event at Raceway 7 in Conneaut, OH for his second win of the 2015 season. Howland has not won at Ransomville in 10 years but has 3 straight top 10s in Niagara County. He also has two wins at Fulton, although neither of them were in PST competition.
Current PST America Point Leader Sammy Reakes IV will travel to Ransomville with his No. 17 sprint car for the first time, but will be much more familiar on Saturday at Fulton. Just down the road from his Palermo, NY residence, "The Honeybadger" was fifth at Fulton in last year's event and should be in the mix this weekend.
Kyle Drum is second in the PST standings but has not visited either track in nearly a decade. Steven Hutchinson Jr of Oswego, NY will feel the local flare Saturday at Fulton, the first track he competed at in his No. 2 sprint car. Other series regulars including Steve Glover, George Suprick, Tyler Graves, Paul Habeck and Jake Muench should be around all weekend.
Darryl and Alysha Ruggles, Dan Bennett and Stan Zanchin will be on hand Friday while a slew of local drivers are also expected on Saturday such as Larry Wight, Dave Wickham and Shawn Donath.
Ransomville Speedway is located on Braley Rd just North of Ransomville and Rt. 93. Pit gates swing open at 5:00 P.M., with racing getting underway at 7:15 P.M. Please keep in mind that no child under 12 years of age is permitted in the pits and those near that age should be prepared to provide proper age identification. Those ages 12-17 will need a parent to sign the insurance waiver for them to receive enterance.
Fulton is located just south of the town on Rt. 57, with gates opening at 5:00 as well at Fulton, with racing starting at 7:00 P.M. This event will kick off the A-Verdi Sprint Series at Fulton/Brewerton. For more information, be sure to visit www.PatriotSprintTour.com.
Patriot History at Ransomville
Races: 11
7/11/2003- Billy Krull
9/17/2004- Chuck Hebing
7/1/2005- Bryan Howland
7/29/2006- Rick Wilson
6/29/2007- Jared Zimbardi
8/3/2007- George Suprick
6/27/2008- Chuck Hebing
6/18/2010- Stewart Friesen
7/27/2012- Chuck Hebing
6/6/2014- Jared Zimbardi
8/1/2014- Jason Barney
Patriot History at Fulton:
Races: 7
7/26/2003- Rick Wilson
7/24/2004- Rick Wilson
5/5/2007- Chuck Hebing
9/8/2007- Justin Barger
8/8/2009- Dan Kaszubinski
4/14/2012- Steve Poirier
6/7/2014- Jason Barney