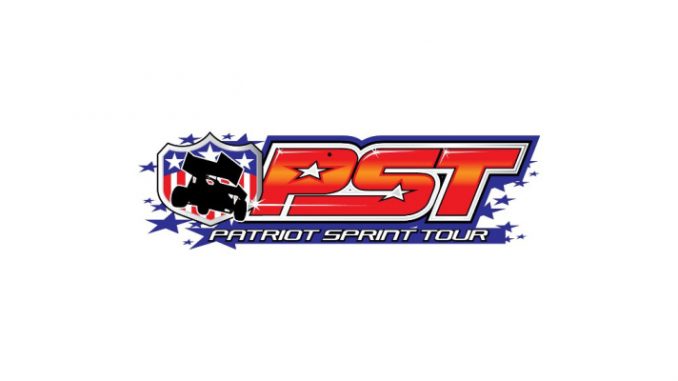 From Rich Vleck
Ransomville, NY — (June 5, 2015) — Coming in to Friday Night's event at Ransomville, Jared Zimbardi stated that he felt he needed redemption from last year's win gone awry at "The Big R"; after 25 quick laps in the feature, it was clear he had earned his retribution.
Zimbardi, 28, of Bradford, PA, dominated the caution-free A-Main, winning by over five seconds for his second win of the year and earning his third official win at Ransomville. After winning this event in 2014, Zimbardi has seemingly won the return visit in August only to be scored in last for accidently running an incorrect tire that effectively provides no competitive advantage. On Friday Night, the correct tires were on, and "The Juice" was untouchable.
"I really like Ransomville and it was definitely fast tonight," stated a jovial Zimbardi in Victory Lane. "I like getting up against the wall and making it exciting but getting through lapped traffic was tricky, I had a couple close calls with the wall and we all know what Ransomville's walls can do to you. I don't know how close second place was but it was definitely a handful for me to get around."
Racing was in peril to start the evening, as persistent rain hit the grounds for well over an hour. With a clear forecast the rest of the night speedway management decided to push on and despite a late start things ran off rather smoothly. The moisture provided incredible speeds, but also put passing at a premium.
Zimbardi started third in a loaded heat race three and stayed put in third, barely making it in to the redraw as the final car. After a string of poor redraws or heat race problems thus far in 2015, the three-time and defending PST Champion got the Pole Position Raceway Pole and made sure to capitalize on it.
With his brother-in-law Kyle Drum sharing the front row with him, Zimbardi quickly nosed in front as the duo entered turn one. Drum closed back in as the duo approached lapped traffic, but after a few laps entangled in the back of the field, Zimbardi said he was able to find his groove and stretched his lead out again, without a caution flag ever appearing, he was untouchable.
"I am happy we were able to keep everything clean," added Zimbardi, who moved his career PST win total to 21. "You just never know if someone is behind you. I could have sworn I heard someone and I started thinking 'am I going fast enough' but thankfully the 25 laps went pretty quick."
As Zimbardi was driving away, the battle was fierce for second. With four laps remaining, Todd Hoddick moved by Kyle Drum for second, only to see Drum take the spot back two laps later and hang on for the runner-up spot. The Zimbardi-Drum 1-2 finish mirrors the May 15 race at Black Rock, where evening rains made for a fast and narrow track with an exciting caution-free feature.
Todd Hoddick's PST Career-best 3rd place showing was a quality run on a night he was not even planning on. After getting rained out at Ohsweken, where he is the current point leader, Hoddick and team made the detour to Ransomville where he turned the fastest lap of the night in heat race action at 14.905 seconds.
Passing was at a premium all night long, but local favorite Stewart Friesen made the best inroads he could, driving up from 10th to fourth without the aid of a caution. After falling on spot short of the redraw in the heats, the 2010 Ransomville winner was on a mission in the A-Main, but needed a caution or two to have a chance at the win.
Coming in fifth was Ransomville's own Dave Just, driving the Ray MacIver-Tribute No. 68. Just helped to sponsor and organize a number of details on the night and was on a mission on the track. When Friesen passed him for fourth-place on lap 19, Just all but spun in turn two, but saved after falling back to seventh, however in the final six laps got back in to the top five for his career-best finish.
Canadian Chris Durand put on a quality performance, finishing in sixth in his first trip to "The Big R", ahead of PST America Point Leader Sammy Reakes IV, who was seventh in his first appearance at Ransomville. Heat winner Darryl Ruggles was eighth, with Steve Collins and Tyler Graves moving up to round out the top 10.
A total of 21 sprints helped to fill the pits on the night. Because of time constraints, the Evingham Site Excavation Dash4Cash was removed on the night. The only time sprint car action was slowed was in the hot laps, when Jake Muench's climbed up on the turn one wall and literally perpendicular to the ground as he rode the barrier for the entire corner before flipping and landing on all four tires. Miraculously, the No. 14 made it back out for the heat and the feature.
For more information, visit www.PatriotSprintTour.com.
Patriot Sprint Tour America Series Results: 6/5/15, Ransomville Speedway, Ransomville, NY.
A-Main (25 Laps)- 1. Jared Zimbardi (35), 2. Kyle Drum (47), 3. Todd Hoddick (49), 4. Stewart Friesen (33), 5. Dave Just (68), 6. Chris Durand (67D), 7. Sammy Reakes IV (17), 8. Darryl Ruggles (48JR), 9. Steve Collins (67), 10. Tyler Graves (25G), 11. Justin Barger (5), 12. Joe Trenca (98), 13. Derek Jonathan (81), 14. Steven Hutchinson Jr. (2), 15. Jake Muench (14), 16. Steve Glover (121), 17. George Suprick (87), 18. Stan Zanchin (94), 19. Dan Bennett (X), 20. Alysha Ruggles (48A), 21. Scott Just (54JR).
Lap Leaders- Zimbardi 1-25.
Heats (8 Laps Each)-
Race 1: Reakes, Jonathan, Friesen, Hutchinson, Trenca, Zanchin, S. Just.
Race 2: Drum, Durand, D. Just, Graves, A. Ruggles, Muench, Suprick.
Race 3: D. Ruggles, Hoddick, Zimbardi, Collins, Barger, Glover, Bennett.
Hoosier Tire Canada/ Mike Emhof Motorsports Recipient: D. Just.
Pole Position Raceway Pole Winner: Zimbardi.
Patriot Sprint Tour America Series Point Standings (Top 10)- Reakes 964, Drum 908, Zimbardi 856, D. Just 812, Collins 808, Hutchinson 793, S. Just 775, Glover 762, Suprick 757, Kreutter 705.
Evingham Site Excavation Four Laps of Fame Dash Series Standings (Top Five)- Kreutter 16, Zimbardi 12, Brown 11, Lorenc 9, Four tied with 7.
Patriot Tank Lines Hard Charger of the Season Standings (Top Five)- Zimbardi 48, D. Just 25, T. Wickham 24, Reakes 23, Drum and Suprick 22.
Danny Willmes Enterprises Lap Leader Standings (Top Five)- Zimbardi 40, Howland 28, Reakes 21, S. Just 19, Barney and Stillwaggon 16.