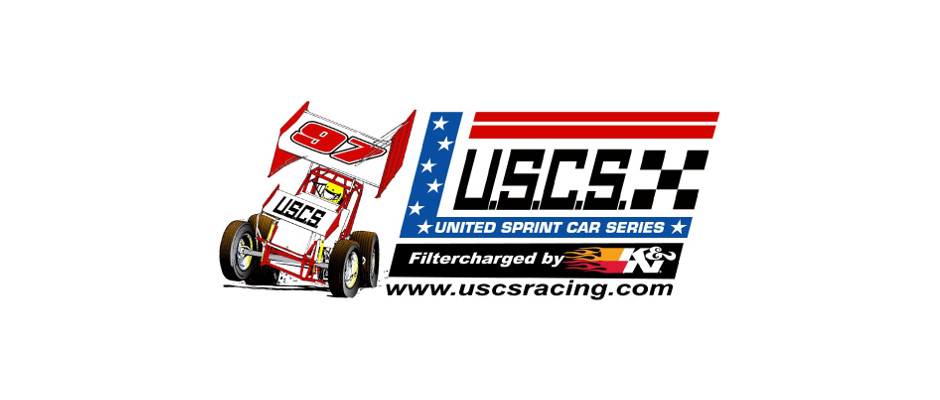 From USCS
Ocala, FL — (October 17, 2015) — At one point in Saturday night's 30-lap finale to the United Sprint Car Series Florida State Championships at Bubba Raceway Park it appeared as if home state driver Danny Martin Jr. was going to walk off with a weekend sweep.
However, circumstances got in the way – and opened the door for a first-time United Sprint Car Series presented by K&N Filters winner.
19-year-old Trey Starks, from Puyallup, Wash., inherited the lead from Martin after the latter blew a right rear tire entering turn one with seven laps to go and endured three agonizing restarts inside of the final five laps before he could pull into the www.rockauto.com USCS Victory Lane.
The reigning Western Sprint Tour champion led those final seven laps over Mississippi hot-shoe Michael Miller, pulling away after each caution period to notch his first career USCS victory in thrilling fashion.
"It seemed like [the field] really didn't want us to win this race, did they?" Starks laughed after climbing from his car. "We weren't very good on restarts at all – either I wasn't great or the motor just wasn't taking off – one or the other. We had a great handling car though, and we had a little bit of luck, but sometimes it's just as good to be lucky than good and that's what we were tonight. This is an awesome weekend."
The win was the first in USCS competition for Starks' car owner, Jeff McCall, since 2008 at Travelers Rest (S.C.) Speedway with Australian driver Steven Lines.
"This feels really good," McCall said. "We've more focused on our 410 program for the last five or six years – we haven't really run the 360 stuff. I met Trey through Jack Elam – he got the two of us hooked up, and I had never met him before this weekend – but we flew him down here and it worked outto be an awesome go of it."
"He's super talented, and I'm excited to be working with him coming up at several events including the World Finals at Charlotte as well. This is a heck of a start for the pairing."
The night's two most serious incidents all happened prior to halfway in the main event, kicking off on lap two when the "Jacksonville Jet," Matt Kurtz, got into fellow Florida driver Gene Lasker exiting turn four. Kurtz's car tipped onto its side, but was quickly righted and Kurtz climbed from his mount without injury.
The chaos continued two laps later, when K&N Filters pole-sitter and early race leader Shawn Murray was being overhauled by Miller in turn four and washed up too high, tagging the wall with his right rear. That caused the front end of Murray's No. 22 sprinter to catch air, sending him flipping wildly into the catch fence right below the flagstand at the start/finish line. Murray was unhurt in the wild ride.
After a short repair period to work on the frontstretch clay and a small portion of the safety fencing, the race resumed with Miller leading the way, but the story was Martin, who wrested the top spot from Miller at lap 18 and appeared to be driving into the Florida night before running over a piece of debris that caused his right rear to go down five laps later.
While the Sarasota, Fla. native would rally to finish fourth, it was a night of what might have been for the Shaw Racing Products No. 24.
"I felt [the tire] getting soft in three and four," Martin said. "It tripped over the cushion and I thought I was going to hit the wall. I knew something was up, and a few feet later it went. I hate it, but we'll be back next time to try it again. Fourth is heartbreaking though, but we knew we had the fastest car tonight. That counts for something at least."
As Starks rolled away to victory lane, Miller could do no better than second, where he settled at the checkered flag, just ahead of Ocala, Fla. young gun Tyler Clem. The 13-year-old used a banner drive through traffic and took advantage of attrition as the race went on to claim a career-best USCS finish of third in just his second career series start.
Martin and Jacksonville, Florida's Matt Kurtz rounded out the top five, with Kurtz rallying from his lap two incident to give the Sunshine State three of the first five cars at the end of the night.
National points leader Morgan Turpen was sixth with Eric Riggins Jr., from Charlotte, N.C., finishing seventh after hesuffered from a late-race flat tire as well. Marco Island, Florida's Nick Snyder used an eighth-place finish to clinch 2015 USCS Rookie of the Year honors, while another 13-year-old, Danny Sams III, chased Snyder to the line in finishing ninth. Mark Ruel Jr., out of Jacksonville, Fla., capped off the top 10.
Riggins kicked off the evening's racing action by winning the Hoosier Tire Speed Dash, and Witherspoon scored the win in the Engler Machine and Tools First Heat. Murray rolled to the victory in the Butlerbuilt Second Heat, and Starks took the checkers in the Schoenfeld Headers Third Heat.
Starks was also the provisional polesitter after scoring the most passing points in heat race action, but after a four was rolled on the K&N Inversion Die, Murray received the K&N Filters Pole Award. For the second night in a row, Ocala native Tyler Clem passed the most cars in the A-main (13) to grab the Wilwood Disc Brakes Hard Charger Award.
The United Sprint Car Series filtercharged by K&N continues their 2015 schedule on Friday night, Oct. 30 with the rescheduled North/South Shootout Round #1 opener at Carolina Speedway in Gastonia, N.C. The series then competes in Round #2 on the following night (October 31st) at Cherokee Speedway in Gaffney, S.C.
For rules and updated schedule information about the United Sprint Car Series Outlaw Thunder Tour, please visit www.uscsracing.com or call the series office at 770-460-7223 or 770-865-6097.
RESULTS: USCS Sprint Car Series "Florida State Championship"; Bubba Raceway Park; Oct. 17, 2015
Hoosier Tire Speed Dash: Eric Riggins Jr., Matt Kurtz, Trey Starks, Garrett Green, Morgan Turpen, Danny Martin Jr.
Engler Machine and Tool First Heat: Terry Witherspoon, Michael Miller, Eric Riggins Jr., Danny Martin Jr., Nick Snyder, Tyler Clem, Joe Larkin.
Butlerbuilt Second Heat: Shawn Murray, Terry Gray, Garrett Green, Gene Lasker, Tanner Witherspoon, Danny Sams III, Brandon McLain.
Schoenfeld Headers Third Heat: Trey Starks, Morgan Turpen, Matt Kurtz, Mark Ruel Jr., Brandon Grubaugh, Clint Weiss, Jeff Willingham.
USCS Sprint Car Series filtercharged by K&N Florida State Championships finale A-main: 30-laps
1. #23 – Trey Starks, Puyallup, WA
2. #4M – Michael Miller, Ocean Springs, MS
3. #14 – Tyler Clem, Ocala, FL
4. #24 – Danny Martin Jr., Sarasota, FL
5. #82 – Matt Kurtz, Jacksonville, FL
6. #10M – Morgan Turpen, Cordova, TN
7. #47 – Eric Riggins Jr., Charlotte, NC
8. #116 – Nick Snyder, Marco Island, FL
9. #24D – Danny Sams III, Gergetown, KY
10. #83 – Mark Ruel Jr., Jacksonville, FL
11. #0X – Clint Weiss, Jesup, GA
12. #33 – Joe Larkin, Suwanee, GA
13. #21B – Brandon McLain, Indian Trail, NC
14. #28G – Garrett Green, Valrico, FL
15. #G6 – Brandon Grubaugh, Ocala, FL
16. #43JR – Tanner Witherspoon, Jacksonville, FL
17. #43 – Terry Witherspoon, Jacksonville, FL
18. #28 – Jeff Willingham, Ripley, MS
19. #10 – Terry Gray, Bartlett, TN
20. #22 – Shawn Murray, Jacksonville, FL
21. #02 – Gene Lasker, Tampa, FL