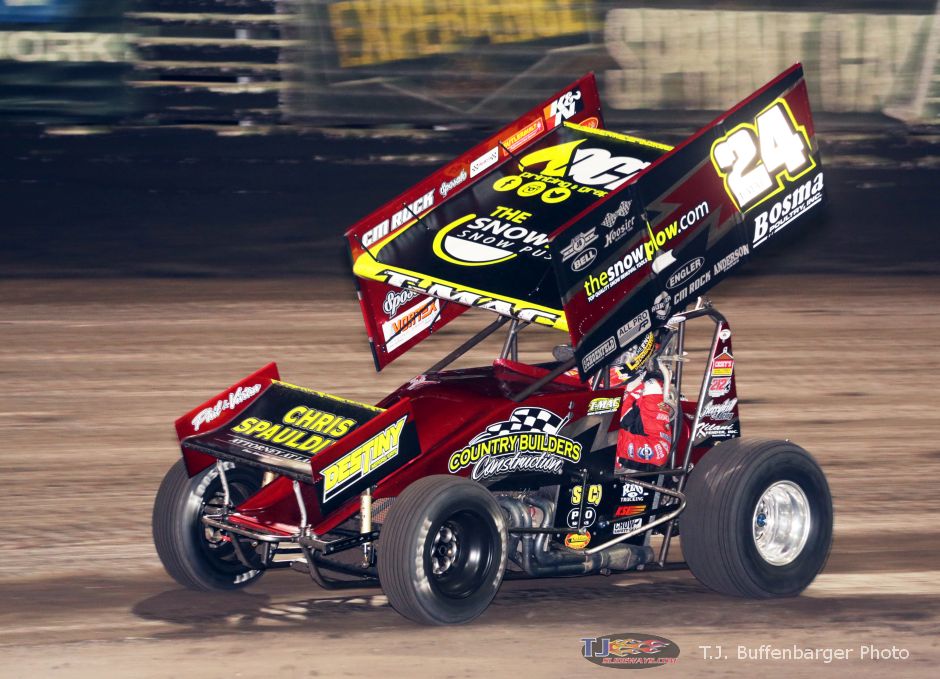 By Bill W
November 24, 2015 – Terry McCarl and the TMAC Motorsports #24 team turned in their best season in six years in 2015. Ten big wins were a testament to that. Five of those wins paid $10,000 or more. Topping the season for the Altoona, Iowa driver were a pair of wins he won during Southern Iowa Sprintweek, in which he was named "Mr. Sprint Car". He picked up his fourth 360 Nationals title as well as his preliminary night at the Knoxville Nationals. The season had its big low, of course, too. TMAC fractured a vertebrae in his back in May, which he is still feeling today.
Things got off to a good start for TMAC with the World of Outlaws this season. "We had a really strong start with the Outlaws," he says. "I left that in early April to come back and run with the NSL. When we left, we had led the most feature laps of anyone. That was pretty cool. Of course, we won Vegas, we led 31 laps at Tulare before we had a mechanical issue and we ran third, and we finished second in Stockton after leading that race."
He was poised to run for championships at Knoxville and with the NSL, before a major crash broke his back. "We were excited to come back into the opener at Knoxville," says TMAC. "We had a good starting spot there. Then something broke in the front end, which was nobody's fault…and then the accident happened. But to come back and run fourth the next week…that got us going, and then we won the big $10,000 Folkens Brothers Trucking Spring Nationals at Jackson."
Some weekends were more painful than others for TMAC. "Sitting in my seat felt better than anything," he says. "The seat insert was designed for me. It formed around my body. Tracks like Knoxville and Jackson, it went pretty smooth. When we went to Farmington (Missouri) at the end of May…that was the hardest. I was a hurting unit there."
As the summer wore on, he only got stronger. In August he was able to win both the 360 Nationals and his preliminary feature on Thursday night of the Knoxville Nationals. From the promoting side, the 20th Annual $20,000 to win Front Row Challenge was a success as well. "Of the ten races we won, five of them paid $10,000 or more," says TMAC. "I think that's the most we've had in a year. We were able to win 'Mr. Sprint Car' for the second time. We definitely had a good week there."
TMAC holds his win at the Nationals in high esteem. "Thursday night of the Nationals was such a dream night for us for so many reasons," he says. "I missed the front row by one spot. Danny (Lasoski) and I qualified almost identical, and he was up there on the pole. All year long, he had been up there. To win that race from ninth was awesome. The eight cars we had to pass were incredible cars. That may be the highlight of my career so far. The Offill brothers (Country Builders Construction) and Craig Smith surprised me flying in from California. Jeff and Stacy from Snowplow.com were up in the suite. All my friends and partners were there, and that made it a very special night."
TMAC was poised for Saturday night at the Nationals. "We were running well in the feature and I packed the right front full of mud trying to pass Joey (Saldana)," he says. "We fought that the rest of the second half. We were sixth the first half and fell to eleventh."
TMAC would go on to win his third Jerry Richert Memorial at Cedar Lake Speedway, the $10,000 finale at Huset's Speedway (his 100th overall win at Huset's on its final night) and on the final night at the Trophy Cup in Tulare, California in September. "It was cool to win the 50 laps," he says. "We were tied for fifth in the final points, so that was a good payout too."
It was by far, TMAC's biggest year in some time. "We started this team from scratch six years ago, and I'm proud of where we are," he says. "You get used to all those years of twenty feature wins. We've had that or were close a lot of those years. It took a long time to rebuild an infrastructure. Sometimes when you're in your late 40's, people think you're washed up. You have to go out and prove yourself. We went out and won championships at Knoxville and Huset's in 2012. Austin was my crew chief at 18 or 19 years old. That's one of my proudest moments. It was just our family."
He acknowledges those who have made his team what it is over the years. "I've been lucky to have a lot of people stick with me like Bosma Poultry, Rossie Feed & Grain, DeBerg Concrete and Country Builders Construction," says TMAC. "The key for us this year was Jeff and Stacy with Snowplow.com and Randy Anderson, who gave me an engine when he retired. Doug Rankin was a real key too. He's been a really stable guy and a hard worker all year round. It's hard to find guys like that. That really clicked for us. He's moved on now and getting away from the racing for a while. Even on the local level, it requires a lot of time and a lot of hours. The crew guys have it the toughest."
TMAC is weighing his options for 2015, knowing he has a lot of options to race a 410 in the Midwest. "We're not sure yet," he says. "It's a business and every team needs marketing partners. Without that, we can't do it. We lost a couple, and I think we've gained a couple. Destiny Motorsports will be back on board with us. Sponsorship is a never-ending battle. We're still slowly building an arsenal here. We could use a couple more engines to do what we really want to do. Austin's trying to put his own deal together, and so is Carson. Carson has a car, but no motor or truck and trailer. He's trying to find sponsorship too."
TMAC's enthusiasm is at an all-time high when he looks toward 2016. "I'm pumped about next year," he says. "I think we're in the strongest part of the country right now as far as 410 racing goes. It's a great time to not only be a driver, but a fan in our area. With Badlands and Jackson Motorplex, Knoxville and the NSL…there's decent money out there for drivers and owners. I'm really looking forward to the next few years. Right now, I'm hoping on racing in Yuma in January."
McCarl Family Websites!
Driverwebsites.com develops the websites for the McCarl boys. Check out www.TerryMcCarl.com, as well as www.AustinMcCarl.com and www.CarsonMcCarl.com!
This Year in TMAC History!
TMAC picked up ten wins in 2015. In order, those wins came with the World of Outlaws in Las Vegas, the Folkens Brothers Trucking Spring Nationals in Jackson, Minnesota, Knoxville with the NSL, a $5,000 win at Huset's Speedway, the Knoxville 360 Nationals, the preliminary feature of the Knoxville Nationals, the Jerry Richert Memorial with the NSL and IRA, a $10,000 win at Huset's Speedway, the finale in Tulare, California at the Trophy Cup, and at Carolina Speedway with USCS.
"Tuesdays with TMAC"!
"Tuesdays with TMAC" is an up close and personal look at colorful sprint car veteran Terry McCarl. To receive "Tuesdays with TMAC", send an e-mail to sprntcar@hotmail.com with "TMAC" in the subject line.
TMAC Motorsports would like to thank sponsors Country Builders Construction, Rossie Feed and Grain, Bosma Poultry, SnowPlow Snow Pushers – www.TheSnowPlow.com, DeBerg Concrete, Destiny Motorsports, Searsboro Telephone Company, A.R.T. Speed Equipment, Berryhill Racing, Phil and Vivian, Justice Brothers/Gillund Enterprises, Vortex Racing, Mastell Brothers Trailer Sales, Hoosier Tire, Chris Spaulding – Attorney at Law, SuperFlow, Schoenfeld Headers, K&N Filters, Rens Trucking, NutriShop – Maple Grove, MN, HRP, All Pro Cylinder Heads, Bob and Beulah Elder, Engler Injection, Snap On Tools, Sposato Paint, Winters, Kilani Fender, Inc., DriverWebsites.com, CM Rock, Taco Bravo, Brown and Miller, Pro Shocks, Ben Cook, Bell Helmets, Burnett's Rock and Landscaping, Octane Ink, Morgan Strawberry Farms, Dynasty Stucco, Aurora Rod Ends, Crow Safety, KSE Steering, Snyder Lawn & Landscaping, Strange Performance, Saldana Racing Products, Scribner Plastics, Waterman Fuel Pumps, Butlerbuilt and Mote Fasteners.