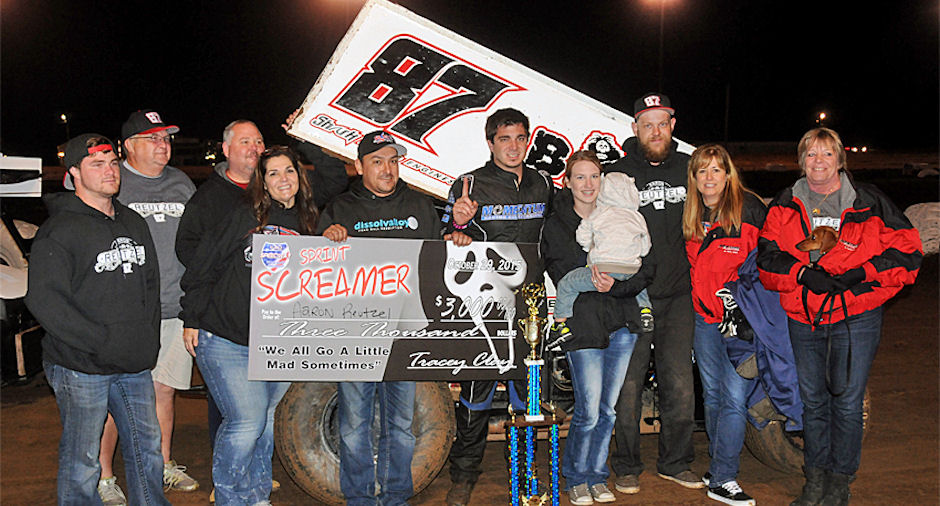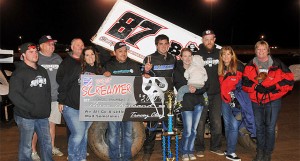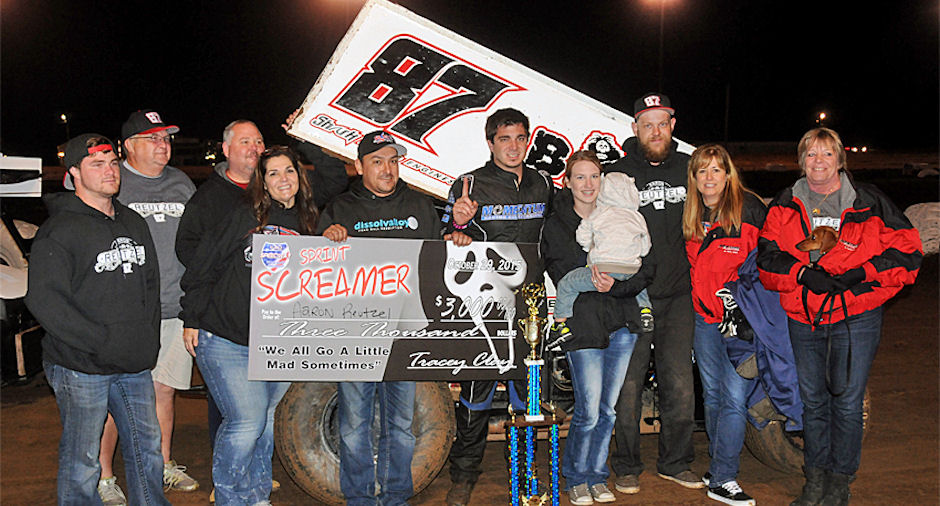 From Bob Baker
Aaron Reutzel of Clute, Texas, was voted the 2015 "Driver of the Year" by the North American 360 Sprint Car Poll voting panel of media members, promoters, sanctioning officials and manufacturers for the first time. Ruetzel, the American Sprint Car Series (ASCS) national tour champion, earned seventeen (17) of the twenty-one (21) first-place ballots cast in the year-end poll. Aaron Reutzel earned the "Team of the Year" award, too. Finally, Aaron Reutzel will share the "Wild Card Award" for exciting sprint car performances with Morgan Turpen.
Those drivers ranked second through fifth, respectively, are ASCS Speedweek champion Wayne Johnson of Oklahoma, Seth Bergman of Washington, Johnny Herrera of New Mexico, and Empire Super Sprints (ESS) champion Steve Poirier of Quebec, Canada. Rounding out the 'top ten' for the season are Ocean Speedway champion Justin Sanders, Civil War Series champion Andy Forsberg, United Racing Club (URC) champion Curt Michael, United Sprint Car Series (USCS) champion Morgan Turpen and Knoxville Raceway champion Clint Garner, respectively. In addition to Aaron Reutzel, others receiving one first-place vote each were Wayne Johnson, Steve Poirier, Justin Sanders and Morgan Turpen.
Knoxville Raceway Rookie of the Year Ryan Giles of Iowa earned the North American 360 Sprint Car Poll "Rookie of the Year" title in his first full season of winged 360-cubic-inch sprint car competition. Jack & Bonnie Elam of J&J Auto Racing will receive the "Builder/Manufacturer of the Year" honors for 2015. In addition, Allan Holland of www.hoseheads.com will receive the "Media Member of the Year" award. Pete Walton of the United Sprint Car Series (USCS) earned the "Promoter of the Year" award.
The North American 360 Sprint Car Poll is an annual awards program of the National Sprint Car Hall of Fame & Museum Foundation, Inc., of Knoxville, Iowa. All awards will be distributed in 2016 at tracks throughout North America. The awards were announced on the third day of the Lucas Oil Chili Bowl Midget Nationals in Tulsa, Oklahoma.
Final 2015 North American 360 Sprint Car Poll
rank, driver (first place votes), hometown, state/province, points
1., Aaron Reutzel (17), Clute, TX, 1700
2., Wayne Johnson (1), Mustang, OK, 765
3., Seth Bergman, Snohomish, WA, 453
4., Johnny Herrera, Albuquerque, NM, 390
5., Steve Poirier (1), St. Mathieu de Beloeil, QC, CAN, 262
6., Justin Sanders (1), Watsonville, CA, 236
7., Andy Forsberg, Auburn, CA, 196
8., Curt Michael, Ocean View, DE, 174
9., Morgan Turpen (1), Cordova, TN, 143
10., Clint Garner, Sioux Falls, SD, 119
11., Derek Hagar, Marion, AR, 115
12., Jack Dover, Springfield, NE, 92
13., Terry Gray, Bartlett, TN, 88
14., Mark Smith, Mechanicsburg, PA, 81
15., Justin Henderson, Tea, SD, 71
16., Jonathan Cornell, Sedalia, MO, 67
17., Shane Golobic, Fremont, CA, 54
18., Sam Hafertepe, Jr., Sunnyvale, TX, 45
19., Tim Crawley, Little Rock, AR, 35
20., Jason Barney, Constantia, NY, 33
21., Sean Becker, Oroville, CA, 32
22., Sammy Reakes IV, Palermo, NY, 31
23., T.J. Stutts, Liverpool, PA, 30
24., Kevin Ramey, Fort Worth, TX, 28
25., Jason Solwold, Burlington, WA, 27