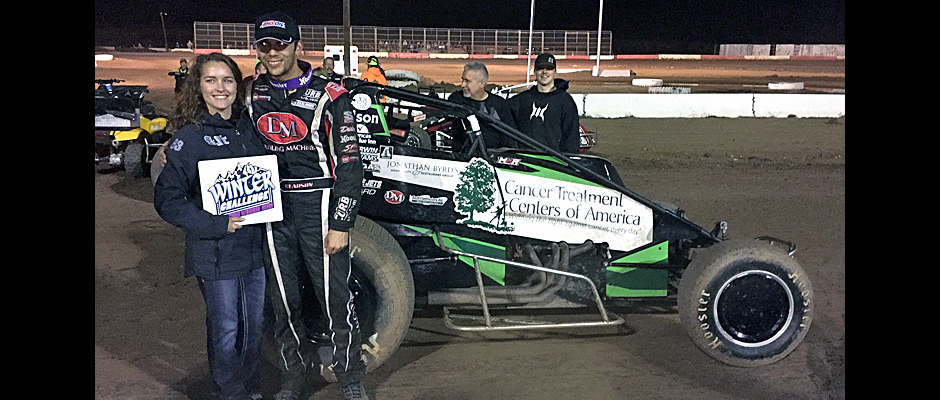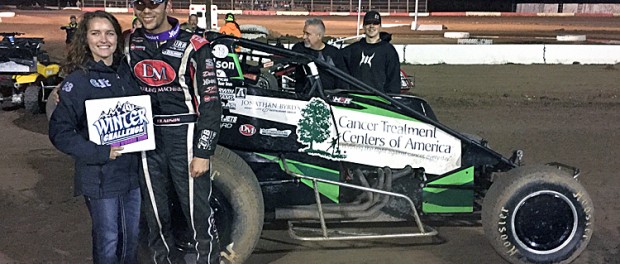 From Lonnie Wheatley
Bryan Clauson and Hunter Marriott took center stage by posting Saturday night feature wins as 101 cars filled the pit area at Canyon Speedway Park for the second of five Winter Challenge rounds of competition.
While Indiana's Clauson bested the USAC Southwest vs. USAC West Coast non-wing Sprint Car ranks for the second night in a row, Missouri's Marriott bested Friday night winner Ricky Thornton, Jr., for IMCA Modified honors.
Along with Clauson and Marriott, other Saturday night winners included George Fronsman in IMCA Stock Car vs. Pure Stock action, Colton Hardy in Micro Sprints and Josh Rivera in Mod Lites.
After winning Friday night's USAC Southwest vs. USAC West Coast Sprint Car Winter Challenge opener, Clauson and the Mike Martin-owned team found themselves in scramble mode when mechanical woes surfaced.
"We had a little trouble with the Cancer Treatment Centers of America No. 16b, we were able to jump into Mike's backup car," Clauson explained. "I can't say enough about how hard those guys work, we didn't have any laps in that car when we went out for the heat race and we were able to get it working well enough."
While Clauson gridded the feature field outside the second row, Brian Hosford set the early pace before spinning to a stop in turn three after getting together with a lapped car after eight laps.
Charles Davis, Jr., assumed the point with R.J. Johnson, Josh Hodges and Clauson dicing for position in his wake. Clauson made his way up to second by the time a red flag flew after 17 laps for Guy Weedman, who got on his side in turn one, and then charged by Davis, Jr., on the high side of turns one and two on the restart to take command.
"I screwed up on the restart, I went to the bottom and that wasn't the right thing to do," Davis, Jr., commented afterward.
Johnson followed Clauson around Davis, Jr., and tried to mount a late charge, but to no avail. "I tried a couple of Hail Mary's, it just wasn't enough."
Clauson's second win in as many nights came atop the 1/3-mile clay oval that has been friendly to home over the years. "This is kind of like a home away from home, I don't really know what it is but we always seem to get around here pretty good."
Clauson took the checkered flag ahead of Johnson and Davis, Jr., with Hodges crossing the stripe fourth and commenting that, "I don't think the driver got it done tonight, the car was good enough but I didn't put it in the right places a few times."
After his early spin, Hosford rallied back through the field to round out the top five.
USAC SOUTHWEST/WEST COAST "Special Event" SPRINT CAR RACE RESULTS: January 23, 2016 – Peoria, Arizona – Canyon Speedway – "5th Winter Challenge" – "Arizona Speed Week"
FIRST HEAT: (8 laps) 1. Josh Hodges (#74X Hodges), 2. Dennis Gile (#13 Gile), 3. Guy Weedman (#27W Weedman), 4. Bob Strait (#45 Strait), 5. David Dykes (#4 Dykes), 6. Mike Martin (#16 Martin). NT
SECOND HEAT: (8 laps) 1. Bryan Clauson (#16B Martin), 2. Charles Davis Jr. (#50 Massey), 3. Kenny Perkins (#0K Perkins), 4. Tom Ogle (#48 Ogle), 5. Tanner Grau (#34 Grau), 6. Will Perkins (#50X Perkins). NT
THIRD HEAT: (8 laps) 1. R.J. Johnson (#51 Martin), 2. Brian Hosford (#22B Weber), 3. Michael Curtis (#11W Turner/Wheeler), 4. Mason Keefer (#12K Keefer), 5. Connor Strait (#58 Strait), 6. Matt McCarthy (#5X McCarthy). NT
FEATURE: (30 laps) 1. Bryan Clauson, 2. R.J. Johnson, 3. Charles Davis Jr., 4. Josh Hodges, 5. Brian Hosford, 6. Dennis Gile, 7. Tom Ogle, 8. Kenny Perkins, 9. Mike Martin, 10. Michael Curtis, 11. Tanner Grau, 12. David Dykes, 13. Bob Strait, 14. Connor Strait, 15. Will Perkins, 16. Mason Keefer, 17. Guy Weedman, 18. Matt McCarthy. NT
—————————-
**Weedman flipped during the feature.
FEATURE LAP LEADERS: Laps 1-8 Hosford, Laps 9-17 Davis, Laps 18-30 Clauson.
WINTER CHALLENGE POINTS: 1- Bryan Clauson-144, 2-R.J. Johnson-128, 3-Charles Davis Jr.-128, 04-Josh Hodges-126, 5-Dennis Gile-110, 6-Brian Hosford-105, 7-Tom Ogle-89, 8-Michael Curtis-89, 9-Kenny Perkins-87, 10-Mike Martin-74.
NEXT USAC SOUTHWEST/WEST COAST "Special Event" SPRINT CAR RACE: January 24 – Peoria, AZ – Canyon Speedway – "5th Winter Challenge" – "Arizona Speed Week"