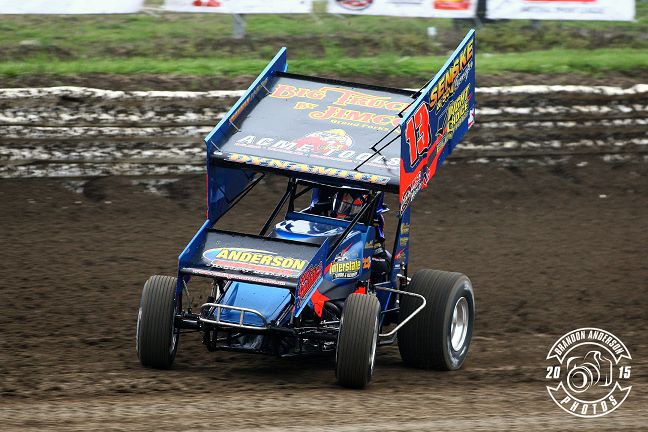 By Bill W
June 15, 2016 – Mark Dobmeier's 117th career win at River Cities Speedway in his hometown of Grand Forks, North Dakota came in record time last Friday. Starting eighth, Mark steered the Jimco Motorsports/Polaris #13, covering the 25-lap distance in four minutes and fifty-eight seconds. He added a top five finish Saturday at Badlands Motor Speedway near Brandon, South Dakota. This week, the team plans three events. They will be defending their home turf against the World of Outlaws at River Cities Friday, head to Badlands again Saturday and finish the weekend up with the WoO in Aberdeen, South Dakota on Sunday.
Things started well in Mark's heat on Friday at River Cities. "It was probably one of the stickiest tracks I've seen at River Cities in many years," he says. "It was rocket fast, but we were able to move up to second there from the back in the heat race."
He would start eighth in the main event. "It was a fast sticky track that went green to checker," says Mark. "My hat's off to everyone that was in that race. It was heavy, and everyone was bicycling and bouncing all over. But no one spun out, got upside down or anything. It was amazing."
Mark avoided the scrapes that he encountered in his last win in Grand Forks. "Unlike our last race there, I kept the original top wing on all the way through," he says. "There were some close calls in traffic, but I was able to kind of escape them all. I was able to pick off a few guys right away and I got up to Corey Mack. He was running really well."
He would make his winning move in traffic. "I think it was the midway point of the race where he got stuck behind some lapped cars and I snuck underneath him," says Mark. "After that, it was just game on, running through the lapped cars. It was cool to set the 25-lap record too."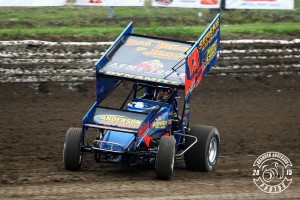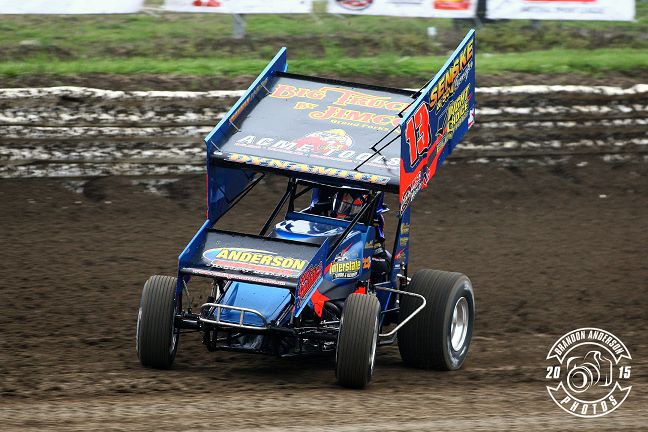 Mark would time in seventh quick at Badlands Saturday. "We started outside pole in the heat, and took off from the start," he says. "We got back to our pill drawing skills and got the eight again. That's two sevens, a six and an eight so far at Badlands. I think we're saving the good draw for the $50,000 to win race later on."
His run from outside row four took him to fifth at the checkers. "The track was fast around the bottom," says Mark. "There was a little bit of moisture down there. It just wasn't that racy of a track. Nonetheless, I was trying to get some traction up top. We were able to get to fifth place. The top kept getting slower, so I bit the bullet and went back down and got in line. At the end, I tried the top again, but we couldn't get any better than fifth."
Though he has three World of Outlaws victories (two at Huset's and one at Wilmot), and a win in a prelim at the Knoxville Nationals, Mark has never beat the WoO on his home track. He's hoping that changes Friday.
About Polaris…
Polaris Industries Inc. (NYSE: PII) is a global powersports leader with annual 2015 sales of $4.7 billion. Polaris fuels the passion of riders, workers, and outdoor enthusiasts with our RANGER®, RZR® and POLARIS GENERAL™ side-by-side off-road vehicles; our SPORTSMAN® and POLARIS ACE® all-terrain off-road vehicles; VICTORY® and INDIAN MOTORCYCLE® midsize and heavyweight motorcycles; SLINGSHOT® moto-roadsters; and Polaris RMK®, INDY®, SWITCHBACK®, and RUSH® snowmobiles. Polaris enhances the riding experience with parts, garments, and accessories sold under multiple recognizable brands, and has a growing presence in adjacent markets globally with products including military and commercial off-road vehicles, quadricycles, and electric vehicles. www.polaris.com
Follow Jimco Motorsports and Mark Dobmeier Racing on Facebook…
https://www.facebook.com/Mark-Dobmeier-Racing-329718337235441/?fref=ts
Jimco Motorsports would like to thank Polaris, Senske & Son Transfer, Big Trucks by Jimco, Right Choice Electric, Acme Tools, Interstate Towing & Recovery, Kyllo Trucking, B/L Strong Box, Steffes, Dahlstrom Motors, GLB Transport, Tireboss, Forx Radiator, Anderson Auto Body, Gary Gruhot Farms, Willow Ridge, Rose Creek, Herberg Custom Harvesting, Great Plains Plumbing & Heating, Ironman Welding, DAV, Rendezvous Region Construction, High Mark Snowmobile Rentals, Boss Signs & Graphics and Dobmeier Bonding for all their help!
Photo: Mark wrapped up win #117 at River Cities Friday (Mike Spieker Photo)