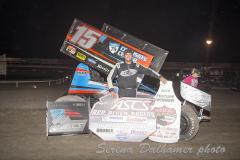 By Bill W
June 13, 2016 – Sam Hafertepe Jr. and the Keith Dobbs #15H team kicked ASCS Speedweek off right with a win at Route 66 Motor Speedway near Amarillo, Texas Saturday night. The Sunnyvale, Texas driver also climbed into a tie in the Lucas Oil ASCS National point standings with Johnny Herrera. There is a lot of season left, however, and Speedweek continues with five nights of racing in a row, starting tomorrow night at Devil's Bowl Speedway near Mesquite, Texas.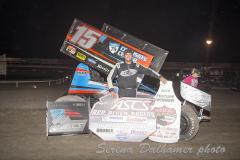 Sam was making his first racing trip to Amarillo, but the team had confidence heading in. "We feel our car is pretty good every time we hit the racetrack right now," he says. "That definitely helps our confidence heading into the races. We were a little skeptical about all the water they were putting on the track. With the wind in west Texas, that was a blessing in disguise. It may have taken a little while to roll in, but it made for a great racing surface, top to bottom."
He would line up seventh in his heat. "Most guys were trying to slide up the racetrack in the heat, and we kind of stuck to the bottom," says Sam. "I wouldn't say it was easy. We got to fourth pretty quickly, but it took us a while to run down third. We kind of ran out of laps after that."
Third was enough to qualify for the feature redraw, and Sam would pull the six pill. "We were confident in our car getting through there," he says. "There were other good cars and drivers that were in front of us, but again, we're confident in our car. We were able to get to the front and battle for the lead there. We were running three-wide for the lead early there with Wayne (Johnson) and (Josh) Baughman. We were able to get by (Aaron) Reutzel there for the win. The fans definitely got their money's worth."
That pulled him into a tie with Herrera for the series' lead in points. "We've been drawing in the back of the heats quite a bit," says Sam. "That discourages you sometimes, because you don't know what kind of racetrack you're going to get. Saturday, it worked out. Johnny was in our heat, and the two of us are quite a few points in front of the other guys right now. In the heat, we were able to come out on top. That set us up good for the feature, and it was a good point night."
Sam is not a point watcher, however. "You can't really look at the points from race to race," he says. "You have to look at the bigger picture, and there's a lot of races left. A guy may have a bad night one night and have a DNF, but at the same time, they may have a fast racecar. There's just a lot that happens during a season."
This week is a prime example. After racing at Devil's Bowl Tuesday night, ASCS Speedweek moves on to Lawton Speedway in Oklahoma Wednesday, Creek County Speedway near Sapulpa, Oklahoma Thursday, Missouri State Fair Speedway in Sedalia Friday and Lucas Oil Speedway near Wheatland, Missouri Saturday.
Sam Online
Website: www.Sam15.com
Twitter: @SamHafertepeJr
Facebook: www.facebook.com/pages/Sam-Hafertepe-Jr-and-The-Plumbfast-Racing-Team/116304711773031?ref=br_tf
Sam's Weekly Releases
If you'd like to be added to Sam's e-mail list for weekly releases, e-mail sprntcar@hotmail.com with "Sam" in the Subject Line.
Sam would like to thank Highway 79 Collision Center, the Sparks Family, Kiebler & Sons Lawn and Landscaping, Keizer Aluminum Wheels and Champion Oil.
Photo: Amarillo by Morning, Up from Sunnyvale (Serena Dalhamer/ASCS Photo)