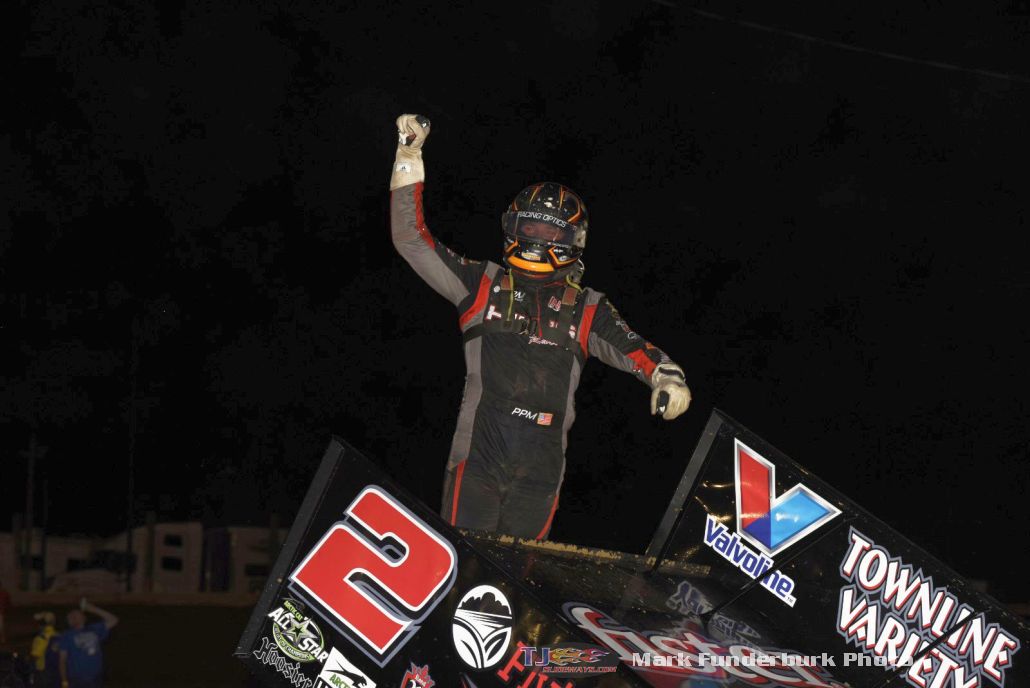 PETERSEN MEDIA
A busy week of action saw Parker Price-Miller run second in Canada, before picking up two feature event wind during MOWA Speedweek.
"It was a busy week of racing, but we had some success," Price-Miller said. "Big thanks to everyone who helped us out on both cars over the last week."
Kicking his busy week of racing off on Monday night at the Ohsweken Speedway, Price-Miller would find himself in a torrid battle with Kasey Kahne as he piloted the Hill's Racing entry.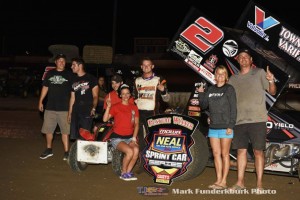 Giving Kahne everything he had, Price-Miller would settle for second place on this night.
Staying at the Ohsweken Speedway on Tuesday night to take on the World of Outlaws, Price-Miller would time in 15th fastest before finishing fourth in his heat race.
Moving into the feature event, Price-Miller would grid the field from the 12th starting position for the 30-lap feature event. Again battling with Kasey Kahne on this night, Price-Miller would finish in the 13th spot.
Wednesday night, Price-Miller would join his Agee Motorsports team at the Peoria Speedway in IL for their first night of MOWA Speedweek.
Finishing fourth in his heat race and just missing out on the transfer by one position, Price-Miller would pick up the win in the B Main and put his FlyingAG/Royal Life Centers/360 Yield No. 2 entry in the feature event, where he would work his way up to finish in the 13th spot.
Taking to the Quincy Raceways on Thursday night, Price-Miller would time in third fastest before scoring a second place finish in his heat race.
Showing he had a very strong car in the feature event, Price-Miller would battle with Paul Nienhiser, before finally getting some breathing room and racing his way to his third feature event win of the 2016 season.
The busy week would carry on to Friday night as the team checked in at the Jacksonville Speedway. Again timing in third fastest, the Kokomo, IN driver would win his heat race and move into the feature event.
Battling with Zach Daum for the race lead, Price-Miller would again flex his muscle as he would go on to win his second feature event with the MOWA in as many nights with one final night left during the grueling week.
Timing in second fastest in time trials, Price-Miller would continue to stay hot as he raced his way to the heat race win, and looked to close out Speedweek with his third win.
Having an off night compared to the two previous nights of action, Price-Miller would end up closing his week out with a ninth place finish.
"It was a tough week of racing, but it was really nice to get a couple of wins," Price-Miller said. "We have some big races coming in the next couple of weeks so hopefully we can keep this speed up and pick up some more good results."
Price-Miller and his team would like to thank FlyingAG, Royal Life Centers, 360 Yield Center, Pfister, Encirca, Valvoline, Townline Variety, Indy Race Parts, and Agee Farms for their support in 2016
2016 BY THE NUMBERS: Starts- 36, Wins- 4, Top 5's- 10, Top 10's- 12
STAY CONNECTED: Stay connected with Parker by following him on Twitter @Parker_PM9.
PETERSEN MEDIA: Petersen Media is a promotional agency that can handle your public relations, marketing, and any other promotional needs. Petersen Media utilizes multiple tactics to help you reach your intended audience, and boost awareness.
For more information contact sales@petersenmediainc.com, by phone at 916-342-3424, visit www.petersenmediainc.com,  www.facebook.com/PetersenMedia, or follow www.twitter.com/Petersen_Media.