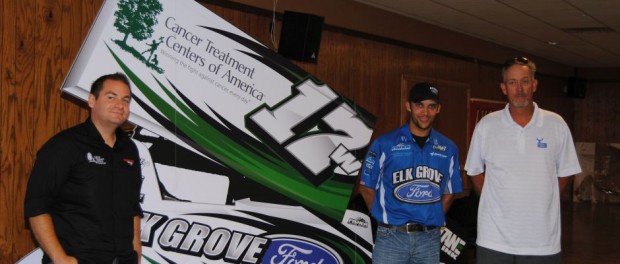 By T.J. Buffenbarger
Bryan Clauson was a better person than he was a driver. If you saw him wheel a race car, that is saying something.
Over the years I have had the pleasure of covering personalities in all facets of the sport. I would be hard pressed to think of a more humble, genuine person than Bryan. If you are reading this you likely experienced it for yourself. If you did not I'm sorry you didn't get to experience it. Even if you are not a social media fan go to Twitter, search for Bryan's name, and that gives you an idea how many lives Bryan impacted.
Professionally Bryan was accommodating and a pleasure to interact with. My philosophy on racing is not to cheer for particular driver, but pull for a safe night of racing and ending up with a good story. Clauson often delivered those stories. Of all of them my favorites may have been his foray into the Knoxville Nationals. Showing up with only a handful of winged sprint car starts to try the Nationals in 2013, solidly making the show in 2014, and announcing the chasing 200 tour and winning Friday night's feature event last year were among my favorites to cover during my 20+ year career.
When people we know pass away we often learn stories of kind gestures, comments, or interactions with other people. With Bryan we already knew of countless moments like this long before his passing. As accomplished as Bryan was on the race track his impact off will be a longer lasting legacy. From my first knowledge of Bryan through mutual friends in the 600cc micro sprint ranks about how talented he was and to keep an eye open for him in the sprint car ranks, becoming the most anticipated USAC rookie I can ever remember, and Bryan's career path that took him through so many different forms of motorsports everyone would mention Bryan's talent the caliber of person he was.
I found myself interacting with his father Tim frequently when we would cross paths at the races throughout the season. I would bounce ideas and thoughts off of him about racing, but over the years our conversations evolved more into discussion about kids and work. As a father I myself I made sure to mention how impressed I was by Bryan as a person in those discussions.
Today I find myself wondering how such a great person could be taken from us so soon. Over time though I suspect my view will change to admire how much Bryan accomplished while he was here.