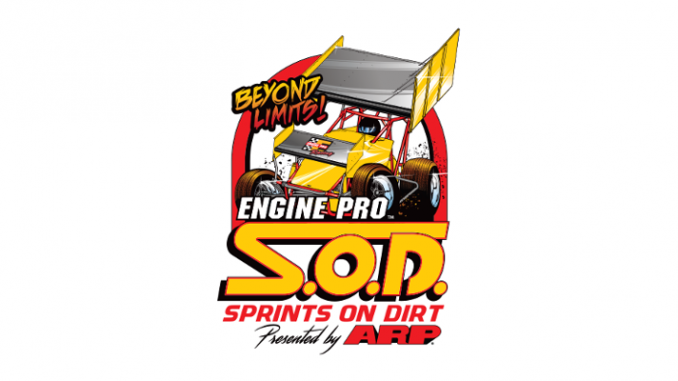 From John Naida
ERIE, MI (August 11, 2016) – This Saturday is the highly anticipated return of the Engine Pro Sprints On Dirt presented by ARP to Butler Speedway for the Butler Bash presented by ACL Race Series Engine Bearings.       People are still talking about the SOD show at Butler on May 21 that was highlighted by the largest sprint car field of the year at Butler and a dramatic finish line pass for the win by SOD point leader Brian Smith over former Butler champion Doug Zimmerman.
With all the anticipation, who has the most to prove? Is it Smith who wants to prove the win was no fluke and the only question should be why he didn't take the lead sooner? Or is it Doug Zimmerman who will be out to prove that the only reason he didn't win was that he was maybe a little over-confident?
Maybe it is Steve Irwin, second in SOD points, who finally overcame struggles with the wings to win the last SOD show at Crystal on July 16. Could be Fremont, Ohio's Dustin Stroup or Fostoria, Ohio's Shawn Valenti who finished second and third at Crystal.
How about Butler point leader Shelby Bilton who can prove he isn't intimidated by SOD's or Butler's best.       Or will it be senior citizen Ken Mackey who won at Butler last week?
Don't forget veterans Mark Aldrich, third in SOD points, and John Gall, fourth in SOD points, who both have countless laps with both SOD and Butler. We certainly can't forget SOD's Brad Lamberson who already has a win and a second at Butler this year.
What about 305 cubic inchers Tom Schinderle and Dan McCarron? They are out to prove that bigger isn't necessarily better, giving away 105 cubic inches to the big dogs. Schinderle has a second and third and McCarron has three top fives in SOD competition this season
Or is there someone else lurking in the shadows with something to prove and is ready to pounce?       So who is going to be the 2016 Sprints On Dirt Butler Speedway ACL Bash Master? We will know Saturday night.