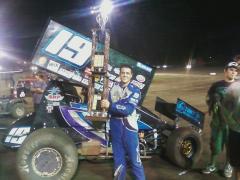 By Troy Hennig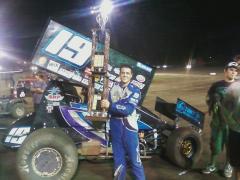 Chico, CA (August 15, 2016)…The image of Tyler Wolf standing in victory lane holding the 6ft. tall Pepsi Night trophy on August 24, 2012 is something that I will never forget.  His beaming smile, the sparkle in his eyes and the humbleness he showed after winning that race will stay with me forever.  No one could have predicted that just two months later he would succumb to injuries sustained during a sprint car crash at Calistoga Speedway.  Wolf, just 20 years old at the time, was gone.
In 2011, Wolf became the youngest 410 sprint car champion in the history of the speedway at just 19 years old.  During his career Wolf amassed three main event wins at Chico and numerous fast time awards.  The night he won his final main event, the Pepsi trophy, still resides at the Wolf residence.  His name will be the last one ever printed on that perpetual trophy.
Once the racing community was able to grieve and begin the process of moving on, the thought of naming a point race after Tyler became a must.  While the first memorial race started in 2013, no one could have predicted it would turn into what it has become.  With help of family and racing friends, this year's version of the Wolf Memorial will feature extra lap money, at least a $600 bonus for fast time and numerous contingency prizes.  There will be a follow up release focusing on the sponsors of the event and the sprint car incentives.
What we do know is this, Friday nights race will feature talented sprint car drivers vying for the perpetual Wolf Trophy and the extra money.  Los Angeles driver Tyler Walker will look to repeat the Wolf night win for car owner Clyde and Mariam Lamar #3c.  Walker won the most recent 410 sprint car race at Silver Dollar Speedway.  A week later he won the sprint car main event at Marysville Raceway.  Challenging Walker for the win this Friday night is Paradise driver Kyle Hirst.  The local resident has a knack for winning big races at Chico.  This season he has already won the Dave Bradway Jr. and David Tarter Memorial at Chico.
The sprint car championship has still not been decided.  Five-time track champion Sean Becker holds a 14-point edge over two-time track champion Andy Forsberg.  At this point, Forsberg needs to win every time the #92 hits the track.  The 410 sprint car rookie of the year battle is tightening.  Kalib Henry holds a five point edge over Seth Nunes.  Both drivers have been a welcomed addition to the speedway this year.  Mason Moore, Michael Ing, Chase Majdic and Keith Bloom Jr. should all have a chance to win the Wolf Memorial.  Jake Morgan and Kenny Allen are other young drivers who have a shot to win it all.
Friday night general admission is $14.00 for adults, $11.00 for seniors and juniors.  Children ages 6 – 11 are $6.00 while kids five and under are free.  Pit gate opens at 4 PM with the front gate opening at 6 PM.  Winged sprint car qualifying is scheduled for 6:30 PM.
The economy sprints will wrap up their season long championship this Friday night.  Mike Ficklin has scored two main event wins in route to a three-point edge over Wyatt Brown.  Brown is fresh off an impressive win at Marysville Raceway this past Saturday night.  Mike Sayre is only nine points behind Ficklin for the lead.  These three cars are set to battle it out for the championship.
Ryan McDaniel holds a narrow five point lead over Ken Micheli in the Limited Late Model standings.  As with economy sprints, this Friday is the final point race of the year for this division.  McDaniel has two wins while Matt Micheli has won the other two events.  If McDaniel wins, it will be his fourth consecutive championship in the limited late models and give him eight overall for his career at his home track.
The street stocks and hobby stocks will join the Wolf Memorial event.  Both divisions will also return next Friday for Championship night.  Brian Compton holds a huge lead over James West in the hobby stock battle.  The street stock division is as close as it can get.  Shawn Smith leads by just five points over Brent Lawrence and Phillip Shelby.  Lawrence and Shelby are tied for second.  Brent Hall, Gary Newman and Mike Slightom along with Phil Marino add top notch driving skills that bolster this talented division.
For more information please visit http://www.silverdollarspeedway.com/