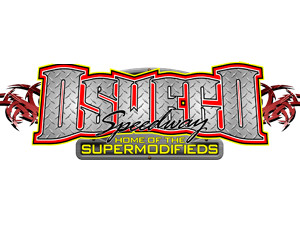 By Danny Kapuscinski
OSWEGO, NY (August 17, 2016) – Oswego Speedway veterans Michael Barnes and Syrell Racing are on the doorstep of a Novelis Supermodified track championship at the 'Steel Palace' with only current point leader Dave Gruel standing in their way at this Saturday's $5 admission championship finale presented by Bosco's Food Market and U-Pull U-Save Auto Parts.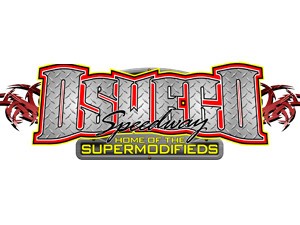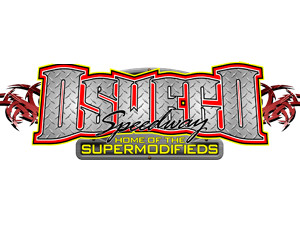 Barnes is the only one of the four main title contenders with a main event win this season, coming at the Speedway's 66th opening night special all the way back in May.
From that point, Barnes would stand as the Speedway's Novelis Supermodified track championship point leader after four separate race events coming on May 14, May 21, June 11, and July 16 – more than any other driver, but now finds himself trailing Gruel for the title top spot by a mere 12.5-points with one event remaining.
Through the season Barnes swapped the championship lead on two occasions with Otto Sitterly, who sits fourth in the current rundown, and most recently with current leader Gruel.
With a win, seven top five finishes, and eight top ten runs, Barnes trails only Gruel as far as feature event points scored this season. Unfortunately, Barnes lost another 6-points to Gruel in qualifying action as well, making the 12.5-point deficit.
To some a 12.5-point gap may seem insurmountable; however of the six lead changes in the Novelis Supermodified standings this season the swing in points has averaged exactly 12.5-points with the highest point swing being 21-points in a single night for the championship lead.
Barnes' run at the championship this season is his first true quest for the title since driving for Strong Racing in 2012 and 2013. Barnes would finish 9th and 7th in the championship in those two seasons.
Back in 2007, driving for Double Deuce Racing, Barnes fell short of Greg Furlong in the championship battle by an 18-point margin.
Saturday's action at Oswego Speedway will feature a 50-lap Novelis Supermodified main event as well as 30-lap Pathfinder Bank SBS feature presented by U-Pull U-Save Auto Parts and Bosco's Food Market with green flag racing scheduled for 6:30 p.m.
The season's second driver autograph session will also take place at 5:15 p.m. and fans are encouraged to wear teal to support Ovarian Cancer Awareness.
Adult general admission will be set at only $5 for the evening with kids 16 and under free with paid adult.
For more information on Oswego Speedway visit online at www.oswegospeedway.com, follow on Twitter @OswegoSpeedway, or like on Facebook at facebook.com/OswegoSpeedway.
About Oswego Speedway: Oswego Speedway, a sports entertainment company, is a 5/8 mile semi-banked pavement racing oval located off the shores of Lake Ontario in scenic Oswego, NY. Oswego Speedway has been a continuously run weekly racing venue since August, 1951. The premier open-wheel pavement short track cars in the world, Supermodifieds, run weekly at Oswego Speedway making Oswego the only weekly Supermodified racing venue in the world. The Small Block Supermodifieds accompany the full blown Supers on a weekly Saturday night schedule which runs from May through September. Oswego Speedway is mentioned in racing circles as the "Indy of the East," as no fewer than a dozen past and present competitors have competed at the famed Indianapolis Motor Speedway including Mario Andretti, arguably the greatest driver of all time, two-time Indy 500 champion Gordon Johncock, along with former International Classic Champions Bentley Warren, Joe Gosek, and Davey Hamilton.