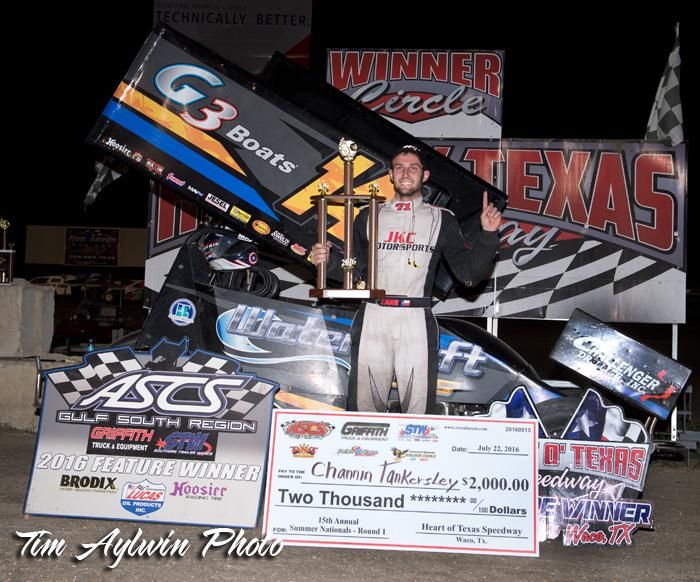 Inside Line Promotions

HIGHLANDS, Texas (Aug. 30, 2016) – Channin Tankersley is one weekend away from scoring his second career ASCS Gulf South Region championship.
Tankersley enters this weekend's doubleheader with a 121-point lead in the championship standings. If he finishes last – 20th – in the A Main both nights and the driver ranked second in the standings sweeps the weekend Tankersley will still win the title by one point.
"I've tried not to look at the points, but it's not a lot of pressure on me," he said. "We're going to go out there and attack and try to get two more wins."
The weekend begins on Saturday at Battleground Speedway in Highlands, Texas, before Golden Triangle Raceway Park in Beaumont, Texas, hosts the finale on Sunday.
"I really like Battleground," he said. "I've had good success there over the years. It fits my driving style of hammer down.
"We struggled at Golden Triangle for four or five years really bad. Within the last year or so we've turned that around. We've won a race and ran second a couple of times. I'm looking forward to both of the tracks this weekend because we race relatively well there."
Tankersley is also only one win away from setting a season high for victories.
SEASON STATS –
18 races, 4 wins, 10 top fives, 11 top 10s, 13 top 15s, 15 top 20s
UP NEXT –
Saturday at Battleground Speedway in Highlands, Texas, and Sunday at Golden Triangle Raceway Park in Beaumont, Texas, with the ASCS Gulf South Region
MEDIA LINKS –
Facebook: https://www.facebook.com/ChanninTankersley
Twitter: https://twitter.com/TankRacing
APPAREL –
Tankersley has t-shirts ranging from youth medium to XXL for sale at his race trailer.
SPONSOR SPOTLIGHT – Watercraft Plus, LLC
Watercraft Plus, LLC is a marine sales and service shop located in Beaumont, Texas. It has been in business for more than 20 years and has been a leader in boat service in Southeast Texas for more than 18 years. For more information, visit http://www.WatercraftPlusLLC.com.
"Eric from Watercraft Plus, LLC came on board last season and has been a huge support," Tankersley said. "I really appreciate all of his help and I look forward to our future success."
Tankersley would also like to thank G3 Boats, Challenger Drilling, Blackfoot Electric, Yamaha, Day Motorsports, Blazer Boats and Sea Chaser Boats for their continued support.
INSIDE LINE PROMOTIONS –
Inside Line Promotions specializes in affordable public relations and media management for motor sports drivers, teams, sponsors, tracks, series, events, organizations and manufacturers. ILP Founder Shawn Miller leverages professional journalism with new media technologies and social networking to improve your exposure and the return on investment for your sponsors.
To meet the media relations needs of your program by joining Team ILP, contact Shawn at 541-510-3663 or Shawn@InsideLinePromotions.com. For more information on Inside Line Promotions, visit http://www.InsideLinePromotions.com.
*PHOTO BY JAY HALLAS*