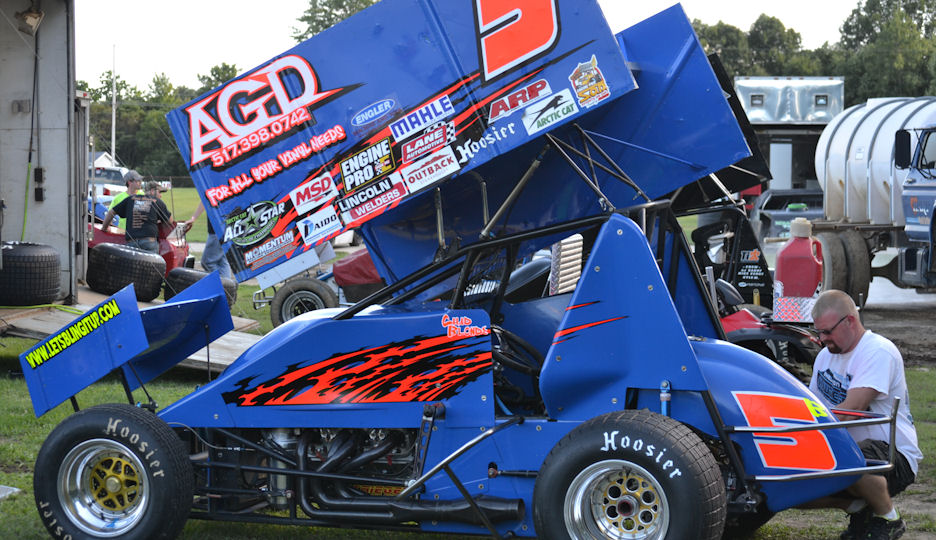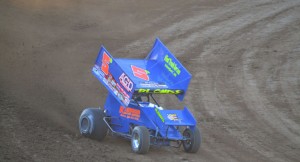 HARTFORD, Mich. (September 2, 2016) — Chad Blonde won the Engine Pro Sprints on Dirt presented by ARP 20 lap feature Friday night at Hartford Motor Speedway. Blonde charged from eighth starting spot for the victory over 10th starting Ryan Ruhl and and Steve Irwin.
Linden Jones would start from the pole and led the first four laps. A caution on lap four slowed action as Joe Swanson got over the left rear of the 2t of Brian Smith. Smith suffered some wing damage and a flat LR. Swanson and Smith made quick repairs and both were able to restart at the tail.
As the green flew once again Mark Aldrich looked strong and swept around Jones to take the top spot and led until lap eight when 8th starting Chad Blonde took over the point. 10th starting Ryan Ruhl was on the prowl moving up to 3rd and and by lap twelve had taken over 2nd with Steve Irwin 3rd with Aldrich dropping to 4th.
The top four remained the same until the checkers flew with Blonde taking the victory on the fast half mile.
Heats were won by Brian Smith and Ryan Kirkendall.
1
5B
Chad Blonde
Rod End Supply
2
16
Ryan Ruhl
KSE Hard Charger
Rod End Supply
3
0
Steve Irwin
Rod End Supply
4
1A
Mark Aldrich
Racing Optics
5
7
Joe Swanson
ATL Racing Fuel Cells
6
19J
Linden Jones
King Racing Products
7
10S
Jay Steinebach
Ti22 Draw Winner
8
4T
Josh Turner
9
2+
Brian Smith
10
46
Robert Huisken
11
81
John Gall
DMI Draw Winner
12
27K
Ryan Kirkendall
Engine Pro Lucky Dog
13
1
Eric Smith
14
8
Justin Ward
15
57
Tyler Fitzpatrick
16
91L
Lexi Adgate
DNS
7K
Robert Bulloch
DNS
23
Joe Geibe