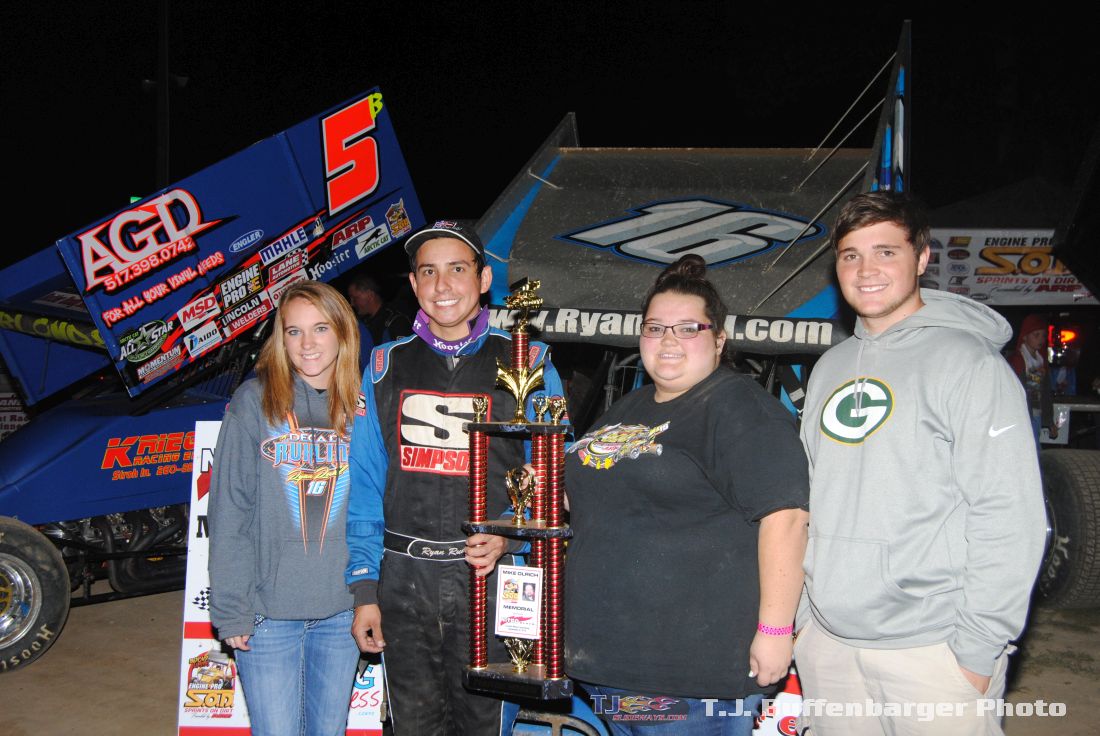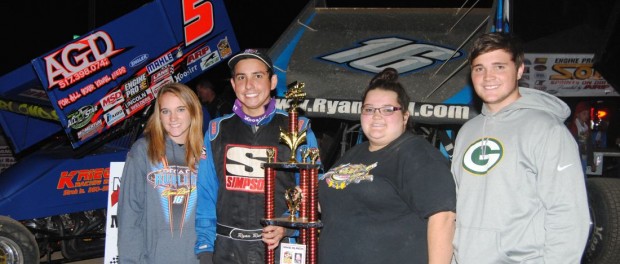 By T.J. Buffenbarger
CRYSTAL, Mich. (September 3, 2016) – Ryan Ruhl ended the 2016 Engine Pro Sprints on Dirt presented by ARP season the same way he started it.
In victory lane.
Ruhl backed up his season opening win in May by leading all 30-laps in route to winning the Mike Olrich Memorial Saturday night at Crystal Motor Speedway. Ruhl, from Coldwater, Michigan, collected the $2,000 top prize for winning the final SOD event of the 2016 season.
"The car was a dream to drive. I would have been pretty disappointed to start on the pole and lose it," said Ruhl following his dominating performance. "I was starting to worry it was a 60 lap race, I never thought it would be over."
For Ruhl the Olrich Memorial win was special.
"I was buddies with Mike. He was the SOD director the first year I ran the series," said Ruhl. "I happy to win for him. I still talk to the family. It feels great to win it for them."
With a sixth place finish Fremont, Ohio resident Brian Smith picked up the 2016 Sprints on Dirt championship. By virtue of it being Brian's first full season with SOD he also picked up rookie of the year honors.
Ruhl started on the front row with Josh Turner and took the lead going into turn one while Turner and Smith raced for the second position with Smith dropping Turner back to third. Steve Irwin ended up with a run under Turner one lap later to take over third.
Smith briefly closed in on Ruhl through slower traffic, but Ruhl was able to get around a group of slower cars on lap seven that boxed in Smith a lap later to extend his lead. Smith's momentum was held up enough for Irwin to take over the second spot on lap eight.
Brett Mann also was making his presence felt from seventh starting spot. Mann cracked the top ten by lap five and moved into fourth around Turner on lap six followed by a side by side battle for third with Smith for two laps before taking over third on lap 11.
Mann soon found himself under fire from Friday's SOD feature winner Chad Blonde from ninth starting spot. After several laps jockeying for position Blonde took over third on lap 20. Blonde continued his charge taking over second on lap 24 and set out after Ruhl. Blonde ran out of laps though as Ruhl maintained over a straightaway lead for the victory. Blonde held on for second with Irwin, Mann, and Dan McCarron rounding out the top five.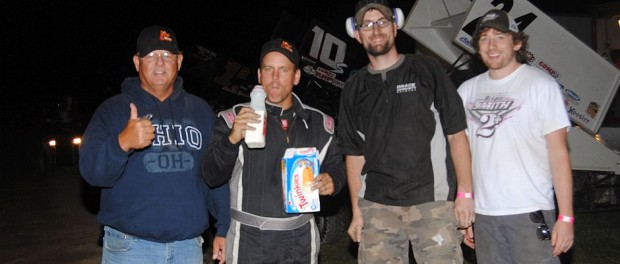 Engine Pro Sprints on Dirt presented by ARP
Mike Olrich Memorial
Crystal Motor Speedway
Crystal, MI
Saturday September 3, 2016
Fast Qualifier: Chad Blonde, 12.390.
Heat Races (Top 16 in points from qualifying and the heat races transferred to the A-Main)
Heat Race #1 (8 Laps): 1. 4 – Josh Turner, 2. 19 – Brett Mann, 3. 16 – Ryan Ruhl, 4. 22M – Dan McCarron, 5. 10S – Jay Steinebach, 6. 6 – Tyler Bearden, 7. 91L – Lexi Adgate. DNS: 57X – Tyler Fitzpatrick.
Heat Race #2 (8 Laps): 1. 17 – Dain Naida, 2. 2+ Brian Smith, 3. 27 – Brad Lamberson, 4. Jared Lamberson, 5. Mike Astrauskas, 6. 8 – Justin Ward, 7. 89 – Chris Pobanz, 8. 35 – Mark Strpko.
Heat Race #3 (8 Laps): 1. 1A – Mark Aldrich, 2. 0 – Steve Irwin, 3. 5 – Chad Blonde, 4. 46 – Robert Huisken, 5. 81 – John Gall, 6. 77X – Alex Hill, 7. 31 – Tanner Astrauskas, 8. 24 – Eric Smith.
B-Main (12 Laps): 1. 89 – Chris Pobanz, 2. 8 – Justin Ward, 3. 6 – Tyler Bearden, 4. 24 – Eric Smith, 5. 35 – Mark Strpko, 6. 91L – Lexi Adgate, 7. 31 – Tanner Astrauskas. (First four finishers transferred to the A-Main)
Feature (30 Laps): 1. 16 – Ryan Ruhl, 2. 5B – Chad Blonde, 3. 0 – Steve Irwin, 4. 19 – Brett Mann, 5. 22M – Dan McCarron, 6. 2+ – Brian Smith, 7. 17X – Dain Naida, 8. 4T – Josh Turner, 9. 1A – Mark Aldrich, 10. 46 – Robert Huizken, 11. 10S – Jay Steinebach, 12. 77X – Alex Hill, 13. 3A – Mike Astrauskas, 14. 27X – Jared Lamberson, 15. 8 – Justin Ward, 16. 81 – John Gall, 17. 24 – Eric Smith, 18. 6 – Tyler Bearden,19. 27 – Brad Lamberson, 20. 89 – Chris Pobanz.
Lap Leaders: Ruhl 1-30