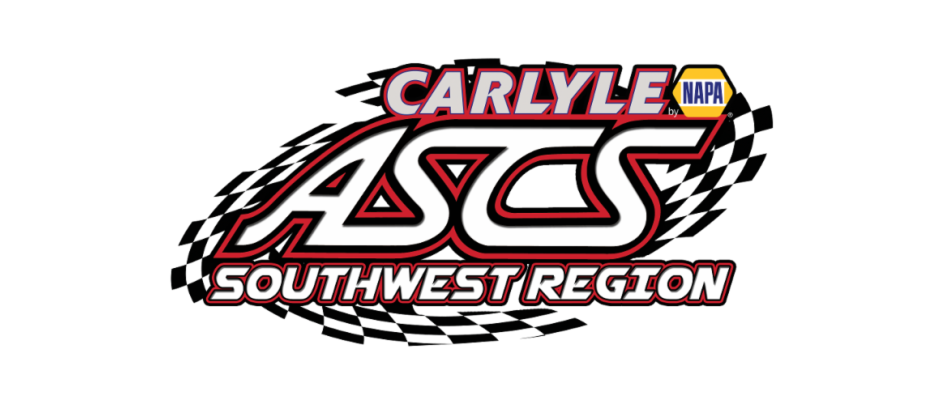 From Bryan Hulbert
QUEEN CREEK, Ariz. (September 24, 2016) — It didn't take long for Rick Ziehl to rebound in the chase for the 2016 Carlyle Tools ASCS Southwest Regional Championship, as the New Mexico shoe posted his third victory of the 2016 season at the Arizona Speedway in Queen Creek, Ariz. on Saturday night.
A DNS in the series previous visit, Ziehl entered Saturday with a slim 25 point advantage, but has extended that to 61.
Picking off the win from the ninth starting spot, Ziehl had his work cut out for him as Lorne Wofford ran the show from the drop of the green flag. Finding the No. 18 on Lap 19, the pair exchanged the lead several times before Rick was finally able to secure the top spot on Lap 22.
Making it a New Mexico one, two; Lorne Wofford held on for second with Arizona's J.T. Imperial taking the final step on the podium. From 11th, Colton Hardy climbed to fourth, and in doing so, has advanced to second in the tour standings. Lance Norick made up the top five.
Making the trip from Montana, Jeremy McCune was the night's SpeedMart Hard Charger from 17th to sixth. Alex Pettas followed from 16th. Billy Chester III, Josh Shipley, and Jeff Slinkard completed the top-ten.
The Carlyle Tools ASCS Southwest Region will again grace the clay of the Arizona Speedway on Saturday, October 8. For continued updates on the Carlyle Tools ASCS Southwest Region, log onto http://www.ascsracing.com.
Race Results:
ASCS Southwest Region
Arizona Speedway – Queen Creek, Ariz.
Saturday, September 24, 2016
Car Count: 22
Heat 1 (8 Laps): 1. 22X-Jesse Baker; 2. 75X-J.T. Imperial; 3. 20Z-Rick Ziehl; 4. 91-Casey Buckman; 5. 4U-James Aragon; 6. 0J-Jeremy McCune; 7. 21AZ-Stevie Sussex III; 8. 9-Ryan Linder
Heat 2 (8 Laps): 1. 01JR-Josh Shipley; 2. 90-Lance Norick; 3. 5H-Rocky Silva; 4. 14USA-Jeff Slinkard; 5. 8X-Mindy McCord; 6. 29-Darrell Sickles; 7. 69R-Damon McCune
Heat 3 (8 Laps): 1. 8-Bob Ream Jr; 2. 18-Lorne Wofford; 3. 5C-Billy Chester III; 4. 74-Colton Hardy; 5. 2-Alex Pettas; 6. 14-Cody Sickles; 7. 17K-Kyle Danielson
A Feature (25 Laps): 1. 20Z-Rick Ziehl[9]; 2. 18-Lorne Wofford[1]; 3. 75X-J.T. Imperial[3]; 4. 74-Colton Hardy[11]; 5. 90-Lance Norick[2]; 6. 0J-Jeremy McCune[17]; 7. 2-Alex Pettas[16]; 8. 5C-Billy Chester III[8]; 9. 01JR-Josh Shipley[5]; 10. 14USA-Jeff Slinkard[6]; 11. 4U-James Aragon[13]; 12. 69R-Damon McCune[21]; 13. 17K-Kyle Danielson[20]; 14. 8-Bob Ream Jr[7]; 15. 29-Darrell Sickles[15]; 16. 8X-Mindy McCord[14]; 17. 14-Cody Sickles[18]; 18. 91-Casey Buckman[12]; 19. 22X-Jesse Baker[4]; 20. 21AZ-Stevie Sussex III[19]; 21. 5H-Rocky Silva[10]; 22. 9-Ryan Linder[22]