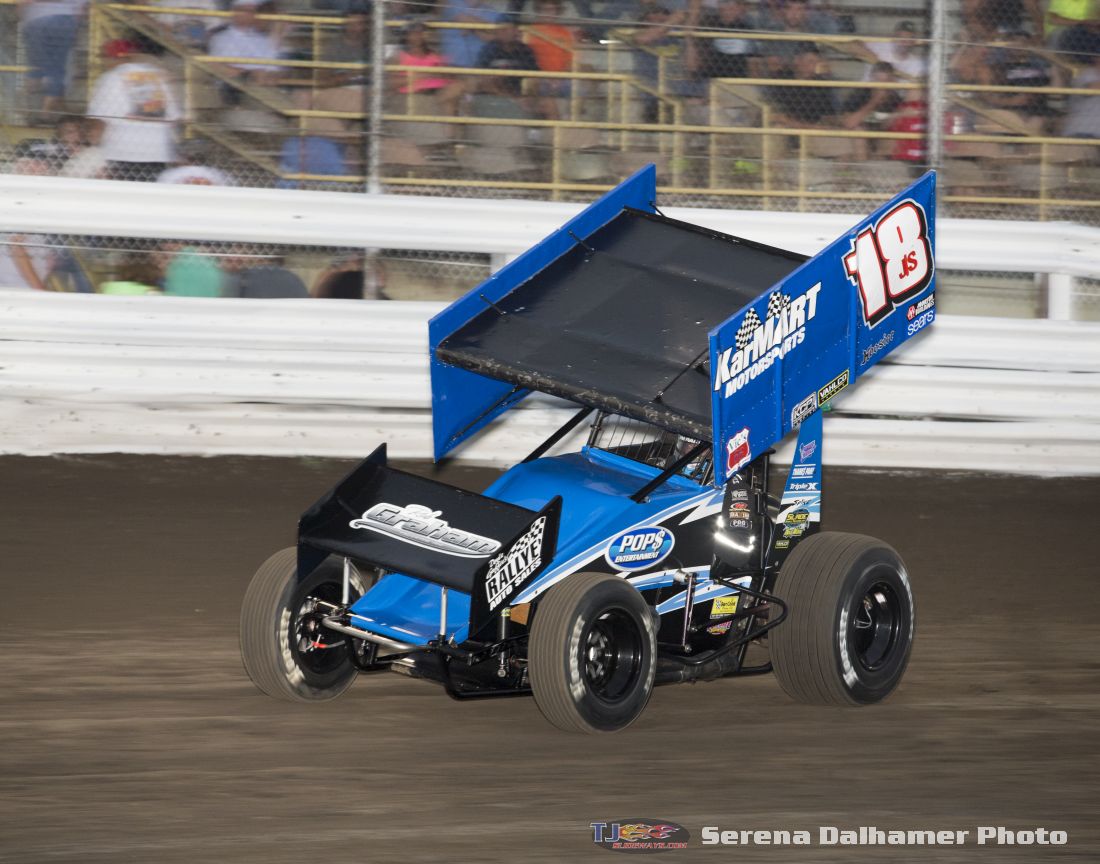 PETERSEN MEDIA–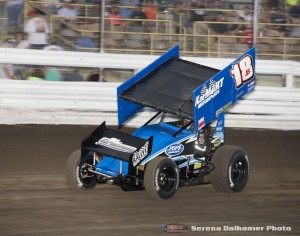 Getting back to work with the Summer Thunder Series over the weekend, Jason Solwold would pick up the win on Friday night before seeing some bad luck get him while leading Saturday night's feature event at the Yakima Dirt Track.
"We had an awesome car all weekend, and should have picked up two wins but stuff happens in this sport," Jason Solwold said. "It was good to get the win on Friday night, and I have to thank my guys for their hard work."
Lining up in the second row of the Friday night feature event, Solwold showed he had an extremely strong Shaylen Raye Motorsports entry. Quickly working his way forward, Solwold would soon find himself out front aboard the Scottie's Plumbing/NW Team Excavating/KarMart Motorsports machine.
Out in front, Solwold could not be touched as he turned in a dominating performance to record his sixth with on the 2016 season.
Returning to the Yakima Dirt Track on Saturday night for the Fall Brawl finale, Solwold would find himself in the third row for the feature event. Just as he did on Friday night, Solwold would flex his muscle as he carved his way forward and took over the race lead early in the feature event.
Looking like it would be hard to catch the Burlington, WA driver, Solwold would blow his right and left rear tires on the 13th lap and be forced into the pit area. With a little damage from the tires letting go, Solwold would be unable to make the call and his night would come to a close.
Though he would not finish the Saturday night feature event, Solwold's body of work in 2016 was enough to give him and his team the 2016 Summer Thunder Sprint Series Championship.
"It is great for our team to win a series title, and win another race for all of our partners," Solwold added. "We have had some rough patches this year, but everyone works hard, and we continue to run well."
Solwold and the Shaylen Raye Motorsports team would like to thank Scottie's Plumbing, NW Team Excavating, KarMart Motorsports, Doyle Guffie's Rayle Auto Sales, Pops Entertainment, Vic's 66, Speedmart, After Hours Painting, Triple X Race Co., Al Parker Race Engines, Wings Unlimited, Slade Shocks, Rob Graham Trucking, Wings Unlimited, Meyer Sings, Vahlco Wheels, Fuel Safe, and Pro Signs for their continued support.
ON TAP: Solwold and the Shaylen Raye Motorsports team will return action on Saturday night at the Skagit Speedway.
2016 BY THE NUMBERS: Starts- 37, Wins- 6, Top 5's- 20, Top 10's- 24.
PETERSEN MEDIA: Petersen Media is a promotional agency that can handle your public relations, marketing, and any other media needs. Petersen Media utilizes multiple tactics to help you reach your intended audience, to boost awareness.
For more information contact sales@petersenmediainc.com, by phone at 916-342-3424, visit www.petersenmediainc.com,  www.facebook.com/PetersenMedia, or follow www.twitter.com/petersen_media.