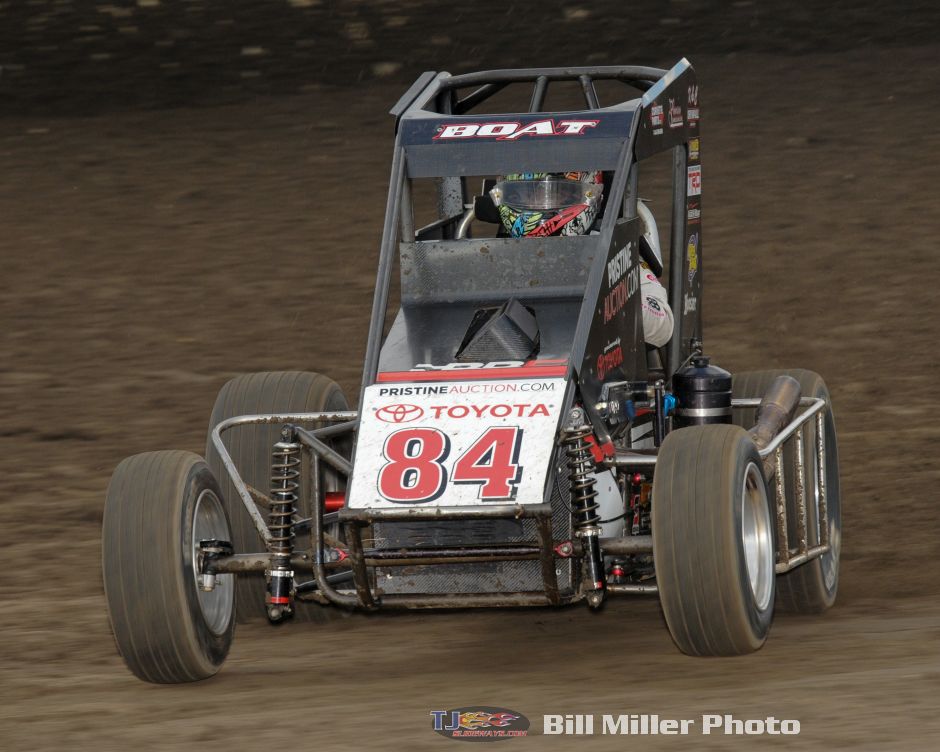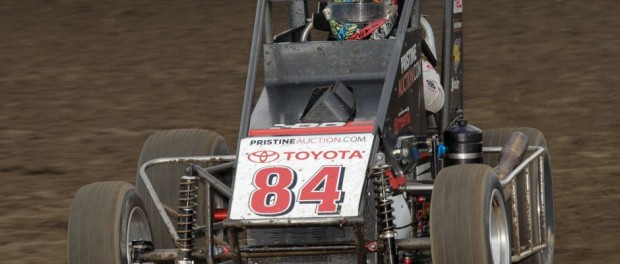 From Richie Murray
VENTURA, Calif. (November 21, 2016) — Thursday's 76th "Turkey Night Grand Prix" returns to California's Ventura Raceway for the first time since 1997, concluding a 2016 USAC points racing calendar that features a four-way battle for the USAC National Midget Championship.
Among the four drivers who mathematically have a shot at winning the title are Nevada's Tanner Thorson, the defending "Turkey Night" Champion, who holds a slim nine-point edge over runner-up Spencer Bayston from Indiana.
Both are seeking their initial series titles, while Chat Boat and Brady Bacon have long-shot hopes of overhauling the leaders, trailing Thorson by 65 points each.
Ronnie Gardner of Corona, Calif. virtually locked up his record fourth consecutive USAC Western States Midget crown Saturday night at Bakersfield (Calif.) Speedway. He passed Frankie Guerrini on lap 21 at Bakersfield and led the final 10 laps in his Baldozier Racing/Esslinger Engineering Stewart/Esslinger.
Trailing the Woodland Auto Display fast qualifier at the checkered flag were Guerrini, Chad Boat, Cory Elliott and the series' top rookie in points, Courtney Crone.
A stout field of "Turkey Night" combatants is expected to include former winners Thorson (2015) and Kyle Larson (2012), plus 2016 Western States Champ Gardner, 2016 AMSOIL National Sprint Champ Brady Bacon, 2016 AMSOIL USAC/CRA Champ Damion Gardner, 2016 USAC Southwest Sprint Champ R.J. Johnson and 2016 USAC Indiana Midget Champ Carson Macedo.
Fan Favorite Rico Abreu is also among pre-race favorites as he seeks his initial "Turkey Night" victory.
Winners of the 1997 "Turkey Night Grand Prix" at Ventura, Billy Boat and car owner John Lawson, will serve as Grand Marshals Thursday.
"Turkey Night" is one of America's most storied motorsports histories, dating back to 1934 and having been won by many of the sport's most accomplished champions.
The "Turkey Night Grand Prix" begins Wednesday at Ventura with an open practice for the USAC Midgets. Furthermore, an autograph session featuring all the star drivers will be held at the track during intermission.
In addition to the midgets, the USAC West Coast Sprint Cars will be competing both nights. On Wednesday, they will qualify, race heats and compete in a 25-lap feature event. On Thursday, the sprint cars will return with semi-feature events, followed by a 30-lap feature.
Advance tickets for the 76th Turkey Night Grand Prix are available by calling 805-648-7223.
Both Wednesday and Thursday night, the pit gates will open at noon, with the drivers meeting at 2:45pm. Cars are set to be on track at 3:30pm with racing scheduled for 5:30pm.
If you cannot make it to the event in person, both nights of "Turkey Night" will be streamed LIVE on http://www.loudpedal.tv/live!