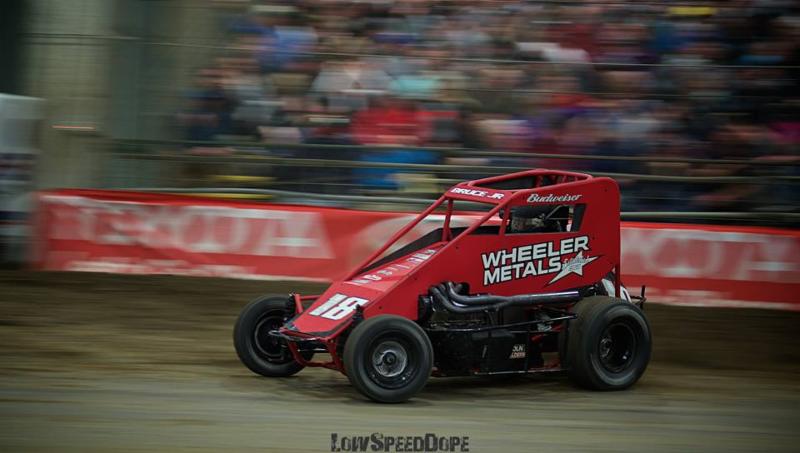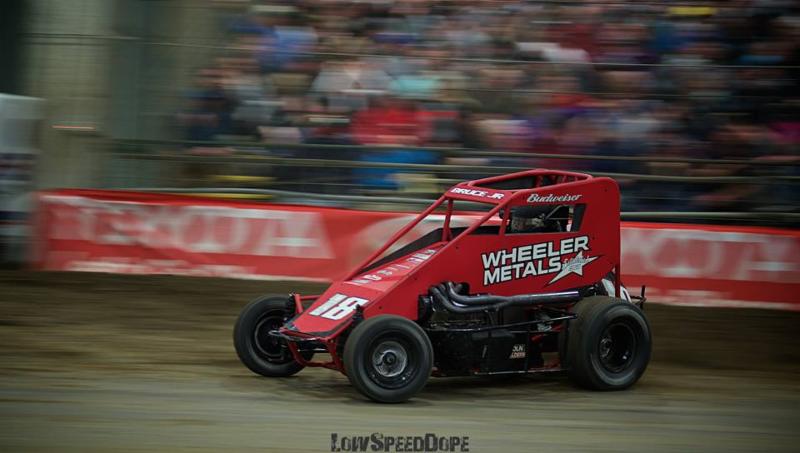 From Inside Line Promotions
DQ QUOIN, Ill (December 20, 2016) — Tony Bruce Jr. produced his career-best result in a midget last Saturday during the Junior Knepper 55 at Southern Illinois Center.
Bruce Jr., who was driving for Team Eights and was tackling only his seventh career midget event, opened the night by winning a USAC Midget Racing Series heat race after overcoming a slow start.
"We started on the outside of the front row and didn't get as good of a start as we wanted," he said. "The track was one lane around the bottom so we got shuffled to third on the opening lap. I tried to stay patient and run consistent laps and we were able to get around the two guys in front of us to win."
That ranked Bruce Jr. third in overall points out of nearly 50 competitors following heat race competition and it started him on the outside of the third row in his qualifier.
"Again we started on the outside and didn't get a great start," he said. "I rode in sixth for a bit before I started picking cars off one by one. The track had a bottom and a top groove come in so we could maneuver around."
Bruce Jr. advanced to a third-place result, which ranked him fourth in overall points and locked him into the fourth starting position for the 55-lap main event.
"Even though we had good starting positions we started every race on the outside all night," he said. "We fell back to sixth on the first lap of the feature. I made it up to fourth and was battling for third when I made a couple of mistakes. I went to the bottom and a guy went around me so I moved up the track, but a couple more got by me. I fell back to eighth, but we got a late caution that allowed me to take a breath and refocus."
Bruce Jr. rebounded to rally into fifth place before fellow Team Eights driver Chad Wheeler made a late-race pass. The sixth-place result still marked a career-best effort for Bruce Jr.
"We are very happy with how the night went and our momentum entering the Chili Bowl next month," he said. "Chad and I debriefed and for only our fourth race together we feel pretty good. We definitely have the speed. I just need to do better about being patient. With more experience I think we'll continue to do better."
Bruce Jr. will return to action Jan. 10-14 at River Spirit Expo Center in Tulsa, Okla., for the 31st annual Chili Bowl Nationals Presented by General Tire.