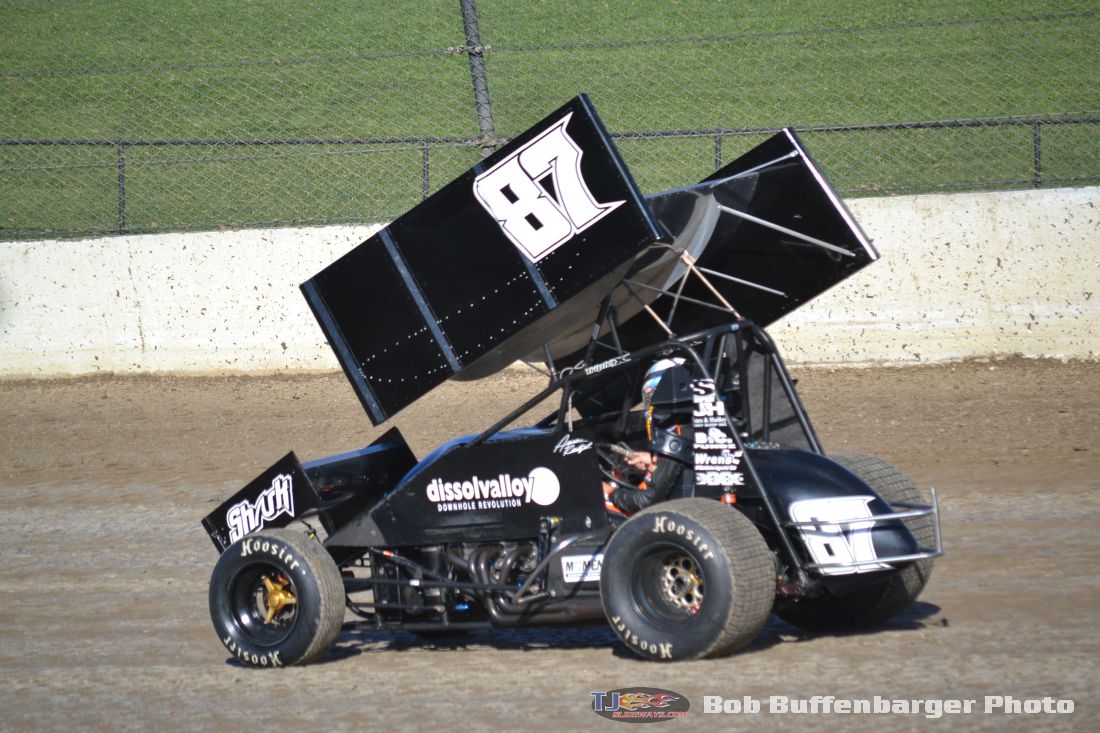 From Lonnie Wheatley
CLUTE, Texas (February 8, 2017) – Another full season of racing is about to fire off for Aaron Reutzel as the Clute, TX, racer is set to take on the All Star Circuit of Champions in this weekend's trio of events at Ocala, Florida's Bubba Raceway Park.
While Reutzel and the Dissolvalloy Downhole Revolution/BC Fundz No. 87 Triple-X Sprint Car team set sights on a second Lucas Oil ASCS National Championship in three years after capturing the 2015 title, a full dose of Florida action is on tap first as Reutzel embarks on an ambitious schedule of more than 80 events.
"We've always got around there pretty good, we just haven't always had the greatest luck," Reutzel relates. "We won an ASCS race there a couple of years ago and were leading one All Star race when we had engine problems. Hopefully we can have a little luck on our side and get 2017 off to a good start."
Following this weekend's All Star Circuit of Champions triple, action shifts to Barberville's Volusia Speedway Park for five nights of Winter Nationals competition on February 15-19 including the opening three nights of World of Outlaws action before shifting to Tampa's East Bay Raceway Park for the $10,000-to-win "King of 360's" Ronald Laney Memorial on February 23-25.
Another pair of World of Outlaws weekends in Texas and Las Vegas will then await the Wren Motorsports/Momentum Racing Suspensions team before the Lucas Oil ASCS National Tour campaign swings into action at Devil's Bowl Speedway near Dallas, TX, on March 17-18.
While Reutzel and the Nattress Construction/Wings Unlimited team fire into action after a 2016 season that included eight overall feature wins, Reutzel has already seen some on-track action in 2017 with last month's 31st Annual Chili Bowl Midget Nationals at the Tulsa Expo Raceway.
"It was a last minute deal," Reutzel said of the pairing aboard Tyson Hall's Midget, whom he formerly competed against in the Micro Sprint Car ranks.
Reutzel made the most of his first full Midget outing after his rookie Chili Bowl effort in 2016 was plagued by mechanical problems.
This time, Reutzel took on a field of more than 90 entries in the Tuesday, January 10, Chili Bowl qualifier and raced from 18th to 12th in the "A" Main after topping one of the twin "B" Mains. Among the field of 365 entries, Reutzel raced from a Chili Bowl "C" Main in the Saturday championship finale and then had a transfer position within sight in "B" Main action before getting collected in a late tangle.
"When we got up to ninth, I really thought we had a shot of making it to the feature," Reutzel said. "For a last-minute deal, it went really well."
Now, Reutzel and the Wright Way Logistics/Walker Performance Filtration team are set to take on the All Stars at Ocala. The uniquely-shaped track is one that Reutzel has enjoyed success at before with some strong 410-ci outings to go along with an ASCS triumph in 2015.
He'll try to add to the win column beginning on Thursday night.