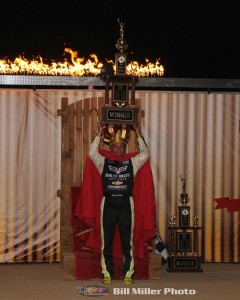 By T.J. Buffenbarger
There is a growing trend of modern athletes' choosing to step away from their sport at the top of their game. In Motorsports along we have seen sudden retirements of top flight drivers from NASCAR and Formula One. For eight time World of Outlaws champion Donny Schatz early retirement is not in the plan as long as he can stay healthy.
As Schatz closes in on age 40 in August he does not plan on leaving the Outlaw tour anytime soon, looking to add to his 229 career World of Outlaws victories that ranks him third on the all-time win list.
"I have a very good lifestyle racing with the World of Outlaws," said Schatz. "I get to go home a lot, which makes it a lot better for myself and my family. That makes things a lot better and may allow me to extend my career as long as I wish."
When it comes to how long Schatz might stay on the tour with the World of Outlaws he looks to the success Steve Kinser had in the later part of his career as a benchmark.
"In every aspect of our sport Steve Kinser has set the benchmark. Whether it be wins, whatever. For Steve to k compete to the age he did a year ago is incredible. I hope I'm in that position that I'm able to do that."
Schatz is taking full advantage of the tools given to him to extend his career. Schatz has taken on a serious workout regimen the past several years. In addition Schatz does have luxuries a lot of sprint car drivers in earlier eras did not have such as flying his own airplane two and from races and more safety technology to use inside the car, but there are other pressures outside the car that can weigh into the decision. Yet Schatz seems unphased by the challenges.
"It's probably a lot more stressful in today's environment than what it was 20 years ago, but it's just a different time and you have to adapt to the changes and times," said Schatz of his early days on the tour. "I hope when I'm Steve's age I'm still around and still competitive and enjoying myself and people are still coming to watch. If that's the case, barring injury, I hope I'm still here."
Schatz won't have to contend with one of the first challenges of every racing season, picking up his first victory of the season after picking up two wins with the Arctic Cat All Star Circuit of Champions at Bubba Raceway Park last week.
"The first win of the year is always the toughest. It feels like that's the tallest order of the year is getting that first one out of the way. When you can come to the first couple nights of the year and have that happen it does feel great."
While Schatz believes it is important to start off on the right foot with the Outlaws at Volusia, the venue is so unique with it surface and high speeds that it's difficult to use it as a barometer for how a team might fare the rest of the season with the Outlaws.
"Volusia is really a momentum place. A guy can go there and you can be fast right out of the box. You can feel great about how things go at Volusia and then you can leave Florida and go to the next place and be absolutely terrible or you can be terrible in Florida and leave there and be really good. It's a place that's very unique in its own, it's very fast, the race track has unique dirt the way it races and it's something you have to keep an eye on, but it's hard to say that anything you learn or do there is going to be applied anywhere else in the next three months."
Notes:
Sunday I was sad to learn of Gill Sonner's passing on Sunday. While the 2016 Knoxville Nationals will be remembered most for Jason Johnson's victory, one of the best stories from during the week was Jeff Swindell driving Sonner's 50th entry into the Nationals into Saturday night's A-Main. Over the years some of the biggest names in the sport have driven the legendary 47 car at Knoxville and beyond. Personal highlights of Sonner's #47 include Danny Lasoski dominating at $10,000 to win event at I-96 Speedway and Johnny Herrera's improbably Kings Royal victory in 1996.
The biggest non-story that turned into a story was Tony Stewart opting out of competition on Saturday with the Arctic Cat All Star Circuit of Champions at Bubba Raceway Park. Even though he owns the series Stewart deciding not to compete did not seem that big of a story to me considering he is not chasing any points or championships in 2017 and ran near the back of the field the first two nights. The story was way larger than I anticipated, actually crashing SpeedSport.com once they broke the story. As a litmus test I posted a short piece on it and it was one of the most read stories of the weekend, continuing my streak of underestimating how much the reader's value news about Smoke.
While Schatz stole most of the headlines do not undervalue quick starts by Kerry Madsen and Tim Shaffer. Madsen nearly won the opening night at Ocala before losing a right rear tire and is up to speed right away in the Muddy Trail Cameras/Big Game Treestands car. Shaffer also was in the hunt every night at Ocala and showed good speed throughout the weekend. It will be interesting to see how both drivers fare at Volusia.