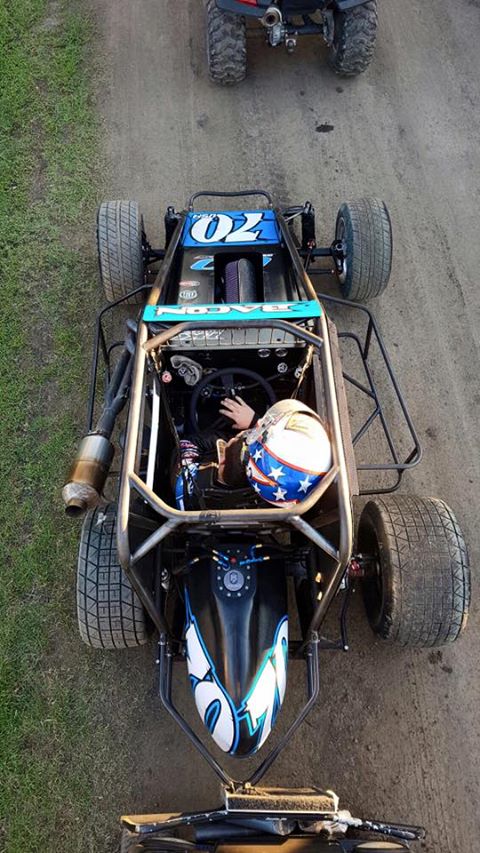 From Bill Wright
February 21, 2017 – Brady Bacon and the Dooling/Hayward #63 race team are heading to Bubba Raceway Park in Ocala, Florida this week to tackle the three-night opener for the USAC National Sprint Car Series. The defending USAC champ will practice there Wednesday night before competing Thursday, Friday and Saturday. Brady had a successful trip "Down Under", where he notched three second place finishes aboard the Gavin Ohlback #70 midget.
Brady has paired with Joe Dooling and Brodie Hayward to campaign several big non-wing events this season. "I'm really excited about our first race together," he says. "I'm really excited about getting the season started stateside."
He has tasted success at the tricky Ocala 3/8-mile oval in the past. "We've won a couple of races there (2014 and 2015)," says Brady. "It will be good to be on that track three nights in a row. Hopefully, the track will be good and we can get everything shaken down quickly."
Brady and the team have been hard at work getting ready for Florida. "These are new cars and motors, so we are ready to go," he says. "We're pretty confident. We've spent a lot of time getting things ready. So hopefully, our results will show the preparation that we've put in."
His midget finishes in Australia came over three weekends. "We had three second place finishes," says Brady. "We had obstacles to overcome about every night, but we got through there. Things just didn't go our way to finish up front like they did for Rico (Abreu). We had to pass a bunch of cars every night. We had the speed capable of winning. We just weren't presented the circumstances we needed."
Brady is thankful for his hosts "Down Under". "I'd like to thank Gavin and Linda Ohlback," he says. "They are the owners, and they're very hospitable. Rusty Kunz did a great job working on the car. It was good every night. We had new equipment and had never worked together before, so we were really pleased about how quickly everything came together."
A bird's eye look at the Gavin Ohlback #70 midget that Brady piloted in Australia.