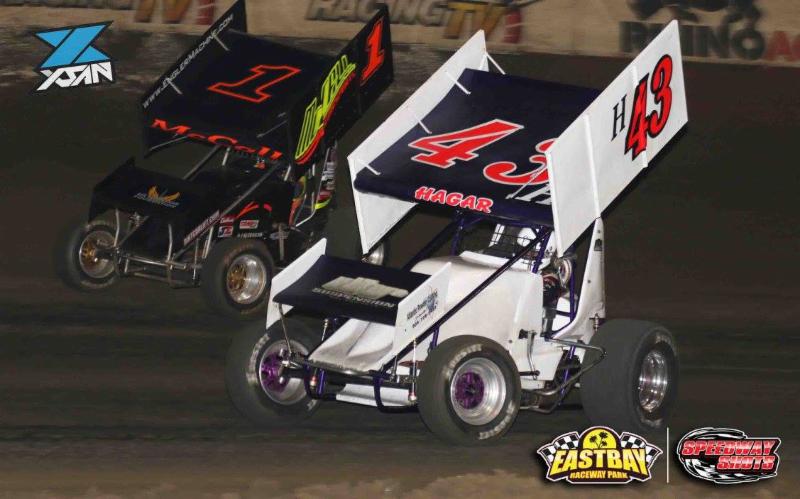 From Inside Line Promotions
TAMPA, Fla. (February 28, 2017) – Derek Hagar earned a top-five result last weekend during his season-opening event.
Hagar, who was piloting a sprint car for Witherspoon Racing, garnered a fourth-place finish during the middle race of the ASCS Southern Outlaw Sprints tripleheader at East Bay Raceway Park during the 16th annual Ronald Laney Memorial King of the 360s.
"It was great to start the season with a top five and do it while running for the first time with a new team," he said. "The guys were ecstatic that we could run fourth out of 60 cars. It was a great accomplishment."
The event began on Thursday when Hagar finished where he started – fifth – in a heat race. That relegated him to the sixth starting position in a B Main.
"We got the car a little better for the B Main and were able to get up to third place, but on a restart Tony Stewart got by and we finished fourth to miss a transfer by two positions," he said.
Hagar fared much better at the bullring on Friday when he powered from eighth to second place in a heat race to record the most points out of the 60-plus competitors. That locked him into the feature redraw, where he pulled the No. 3 to start the 25-lap main event on the inside of the second row.
"The track took rubber in the B Mains so it was pretty locked down once the main event started," he said. "There wasn't much passing and everyone was single file on the bottom. It was great to get a top five to start the season and for the guys at Witherspoon Racing."
Hagar maintained fourth place throughout the feature before ending in that position.
The event concluded on Saturday when Hagar placed fourth in a heat race. That lined him up on the outside of the third row in a B Main.
"We needed to move forward or at least maintain our starting position in the heat race, but since the races were lined up by event points the guys in front of us were really good," he said. "In the B Main we fell back a little on the start and then got back to where we started. We fell short of making the A Main, but we can't hang our heads. It was a good weekend for the team."
Hagar will make his debut in his own sprint car this Friday at Hattiesburg Speedway in Hattiesburg, Miss., and Saturday at Magnolia Motor Speedway in Columbus, Miss., with the USCS Series.